The shake-up continues. Hrishikesh Desai is now in charge at Farlam Hall near Carlisle, Luke Selby and his brothers are embedded in the lavender-edged beauty of Le Manoir aux Quat'Saisons in Great Milton (surely the most country house of country house hotels), and there's the game-changing Newt in Somerset.


Rothay Manor, Ambleside

Dan McGeorge's refined, considered cooking is a delicious draw for visitors to Ambleside. The recently refurbished interiors feel at their best in summer when light pours into the dining room from the terrace and garden.

READ MORE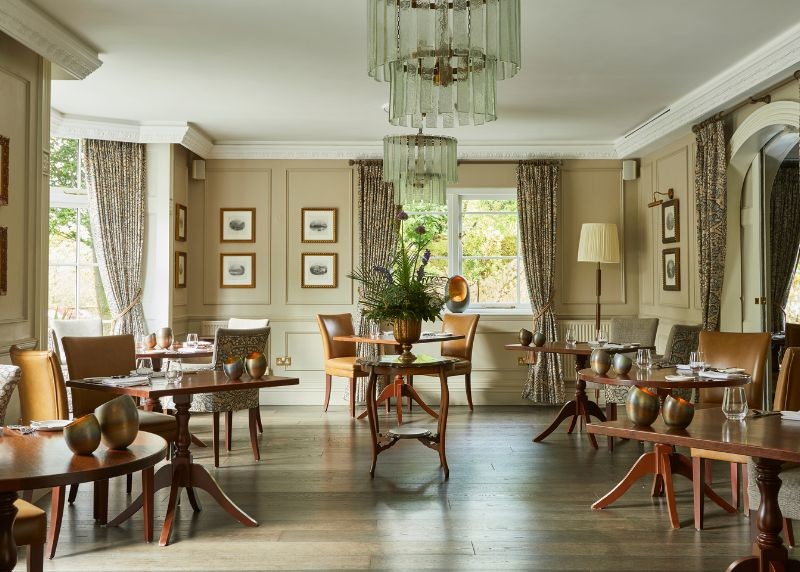 Grace & Savour and Smoke at Hampton Manor, Solihull
Traditional Peels restaurant closed at the beginning of 2023 as Hampton Manor steered its focus towards more contemporary Grace & Savour and Smoke. The two restaurants make this grand Victorian building in leafy Hampton in Arden a tempting staycation spot for food-lovers.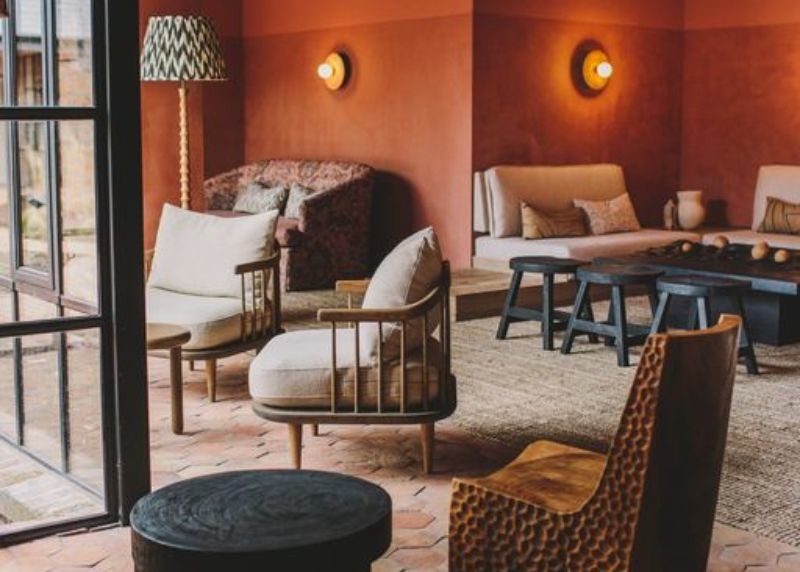 The Pig at Bridge Place, Canterbury
Step into any one of the (eight) Pig hotels to find a collision of style and comfort, special-occasion and informality, contemporary cool and respect for heritage. In the case of the Kentish Pig that means rock-n-roll – Led Zeppelin and Pink Floyd once gigged here. The food is on-message too, with kitchen gardens and a '25-mile menu' embedding the hotel in its immediate location.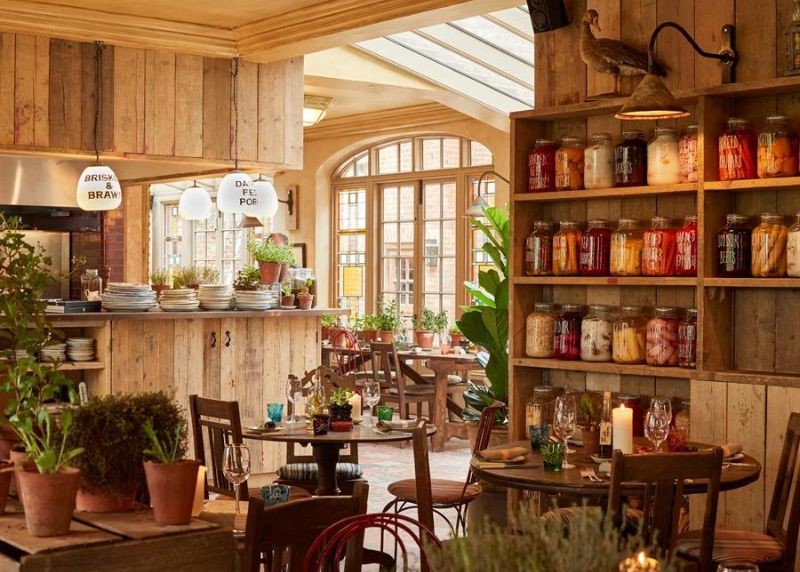 Woven by Adam Smith, Coworth Park, Ascot
For chandeliered excess, you'll have to go elsewhere. Adam Smith's acclaimed restaurant, Woven, looks no further than the natural world for inspiration. Its contemporary, pared-back design, clever lighting and gentle colour scheme provide a magnificently modern backdrop for Smith's exceptional cooking.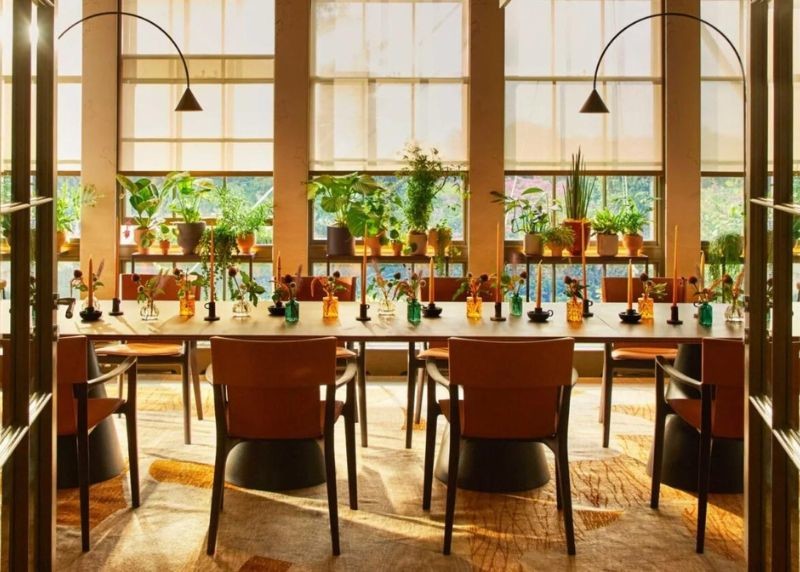 Shaun Rankin at Grantley Hall, Ripon
Step into this plumped-up dining room for Shaun Rankin's ultra-classical cooking. The grand space and Rankin's food deliver when a special occasion calls for it, and the chef's ten-course Taste of Home menu (he has Yorkshire roots) keeps things locally inspired. Check out the new Kitchen Table experience, offered from May 25th, which welcomes just six guests to eat in the heart of the kitchen.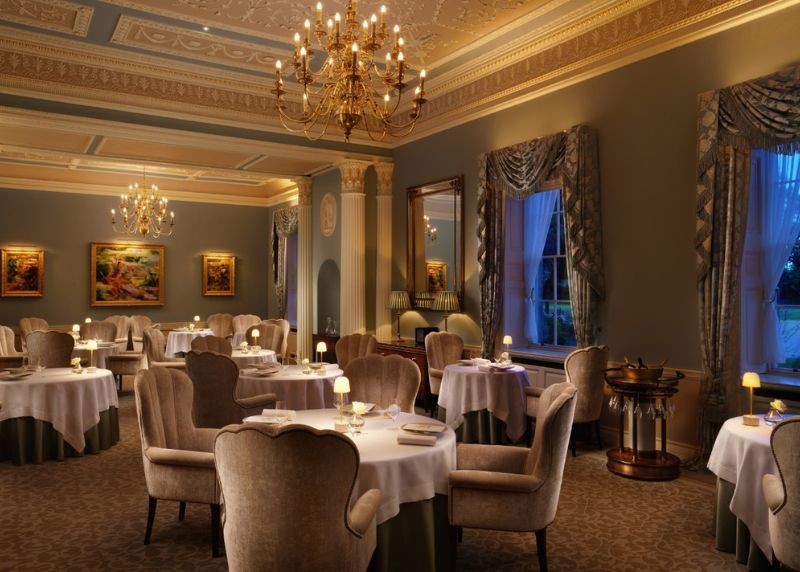 Edinbane Lodge, Isle of Skye
Where once hunters would lodge, now guests stay and dine in style. The gentle colours and textures of the Skye landscape meet every possible comfort in this renovated 16th century building, and Calum Montgomery's food celebrates the delicious abundance of the island.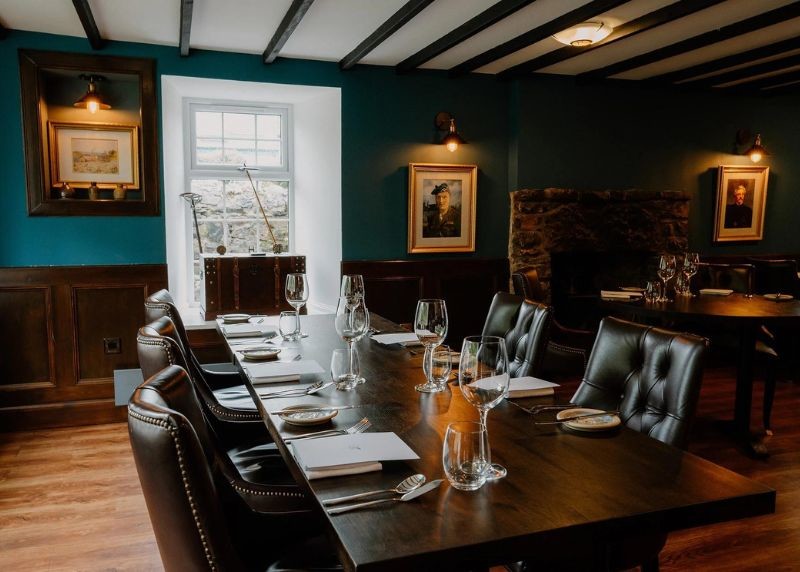 Lympstone Manor, Exmouth
Contemporary interiors inspired by the natural world – not least the estuary bird-life after which rooms in the main house are named – set the tone for chef-patron Michael Caines' superlative modern-classical cookery. Lympstone Manor's spectacular setting above the Exe estuary makes the summer terrace an unforgettable spot to sip a glass of the hotel's own fizz, nicely chilled.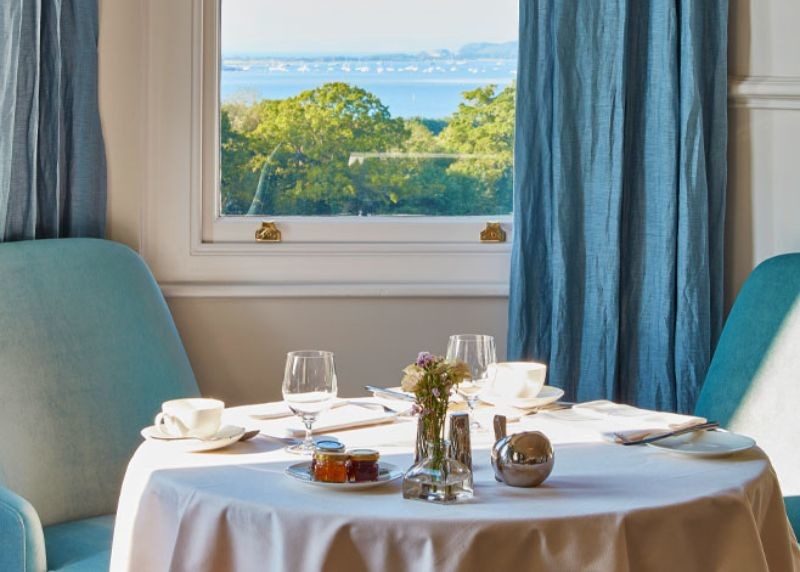 Gravetye Manor, East Grinstead
Look up from your plate and through the dining room's glass wall to see Gravetye's ebullient gardens. Look back to your plate to find couldn't-be-fresher fruit, vegetables and leaves from those beds, including small complimentary servings tucked through the menu that present an ingredient at its absolute peak. This is a place of friendly generosity rather than stuffy formality.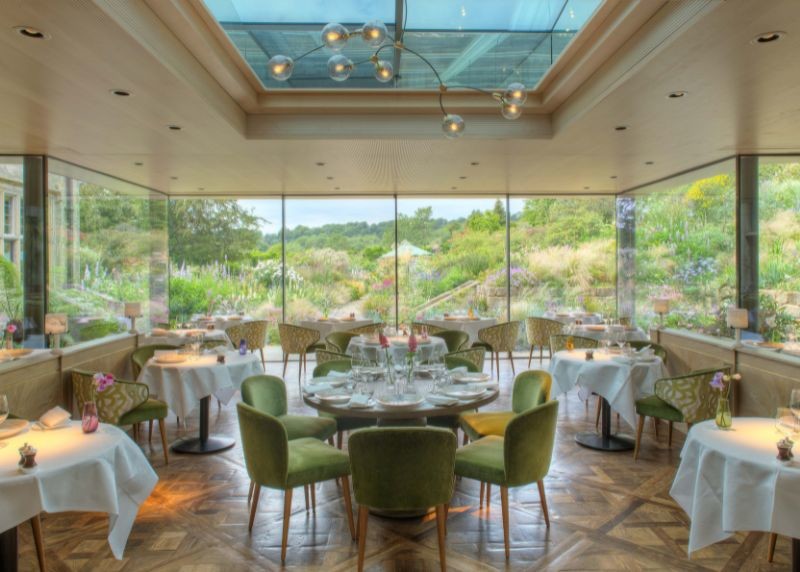 The Forest Side, Grasmere
From the outside, Forest Side imposes, stamping no-nonsense Victorian authority onto a steep fellside near Grasmere. Step inside, however, and you're fast-forwarded to 2022. There are respectful memories of history in the shape of lofty ceilings, preserved architectural details and tweed-waistcoated waiters, but the setting is fresh and contemporary.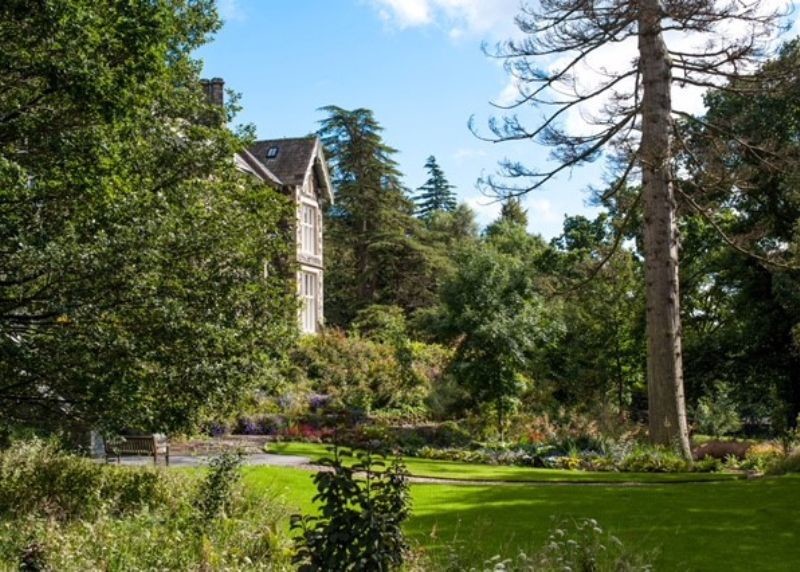 Moor Hall, Aughton
Dating from the 13th to 16th centuries – the entrance hall filled with fine wood carving and dark panelling, a wonderfully ornate moulded ceiling in the sitting room, with large impressive fireplaces, it's elegant, comfortable. But head through to the dining room to find a modern dining room for the 21st century, glass walled down one side, with views to a lawn, ornamental lake and the Barn, Moor Hall's second restaurant. Here dangly Tom Dixon mis-shapen glass bauble lights, a modern wood beamed ceiling, elegant plain wood tables, a state-of-the-art open-to-view kitchen, a small cheese room - it looks and feels like a serious restaurant for serious diners.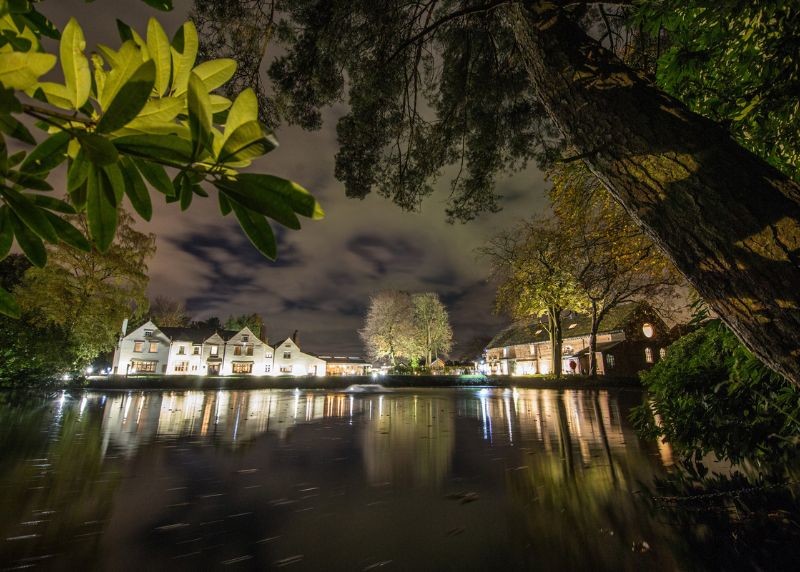 Ynyshir, Eglwys Fach
Once a country retreat for Queen Victoria, Ynyshir shook off its country house hotel vibe some years ago. The middle-of-nowhere house, now painted black and rebranded as a restaurant with rooms, offers Gareth Ward's top-end cooking (with prices to match) presented in a highly casual, vibrant, almost irreverent setting. The food is served by the chefs themselves (who clearly enjoy being there) against a backdrop of seemingly black walls, wooden floorboards, wood and metal tables, and high-backed wooden chairs, positioned so that diners look towards the open kitchen, theatre-style. It feels more like Shoreditch than deeply rural Wales.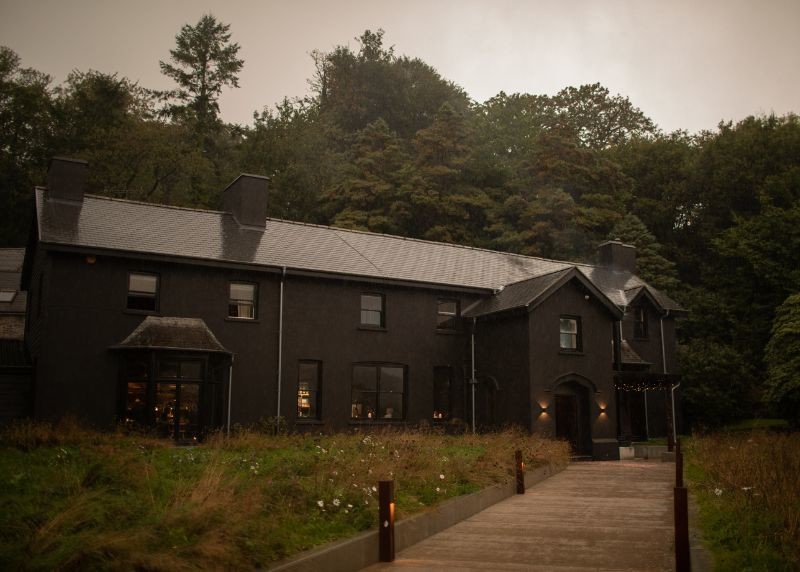 Heckfield Place, Hampshire
It's not often that luxury and sustainability come together in glorious harmony and you don't have to be a hotel guest to get a taste of what all the fuss is about. This grand house and park has been impeccably restored and Skye Gyngell, a chef known for searching out the best ingredients and making them shine, has been involved from the start. Marle is one of two restaurants – the other is the more relaxed Hearth, housed in the former stables – overseen by Gyngell. It is found in a beautiful modern extension with fantastic views over the grounds and a huge terrace for when the weather is kind.