With its dark walls and open kitchen at one end, Carters of Moseley is still down-to-earth, relaxed and friendly, but is now rated Exceptional in the Guide and, as of last October, recognised as one of The Good Food Guide's Top 20 Most Exciting Restaurants in Britain. Achieving that rating and the Top 20 spot are the pinnacle of a journey that was kick-started, say the Carters, by winning the GFG Readers' Restaurant of the Year – now the Best Local Restaurant Awards – 2015.
'That was a massive milestone,' says Brad. 'I remember being shocked to the bone. We'd never been to awards before, and we went along thinking we were just guests. We had missed the voicemail saying that we had to be there. It was all completely out of the blue.'
Recognition from other guides duly followed, and the national media started to take an interest in Brad's cookery with its focus on British ingredients and historical context. Holly's engaging leadership front of house was warmly recognised too. 'That award put us in the heads of people outside Birmingham. Local people are vital, but you want to appeal further too. It was the turning point for us.'
The review published in the 2015 Good Food Guide nodded to popular dishes: a black pudding Scotch egg; smoked wood pigeon with a soft hen's egg and wild garlic barley risotto; devilled crab with samphire and new potatoes; Cornish lamb with peas, bacon and 'wonderful mint sauce'. It was bistro fare done well over a set five-course dinner (£45) or two/three-course lunch (£18/£20).
But the award gave Brad confidence to push his creativity and find his style without losing his DNA as a British – and specifically Midlands – cook. Now, the kitchen prepares a single tasting menu of 9 or 11 servings at dinner, and 6, 9 or 11 at lunch, offering 'our riff on British landscape and culture', and a style of cooking that Brad says is 'getting better with age.'
Part of the confidence manifests in playfulness. One of our inspectors described the chicken thigh serving, knobbly in its batter and looking 'like a mould-covered mushroom' as 'one of the single most savoury things I have ever eaten, a superlative take on a junk food classic'. A whole thigh is battered (but greaseless), dusted with vinegar powder, and served with a pot of aged soy sauce that contains chunks of savoury clear jelly made from the chicken bones. 'There's nothing else to that dish', says Brad. 'I know that it's a perfect couple of mouthfuls. It needs nothing more. A few years ago I wouldn't have thought like that'.
It's a dish that was months in the making and achieved, in part, by Brad's love of culinary history and study. 'Someone wrote a PhD on batter. I've never done a PhD, but I've read one, and I worked on the theories [it set out] to get the right batter'. Lockdown gave Brad time to dive deeply into the story of Midlands food over hours spent in the Library of Birmingham. 'We haven't got a rich back-catalogue, being an industrial city and not close to farms or coast – but I did find Birmingham Soup'.
The soup of beef, veg and bread was created by the 18th-century Midlands industrialist Matthew Boulton who would make it in a cauldron for his workers, ladling it up for a penny a portion. Brad's is a step up. He makes a consommé with braised brisket and shin split with charcoal oil for beefy, smoky depth. The broth is poured onto discs of turnip from the restaurant's kitchen garden, and diced beef heart tartare with preserved wild garlic. The dish is topped with a delicate potato crisp that references the architectural pattern on the façade of the Library, homage to the place he had learnt about the dish.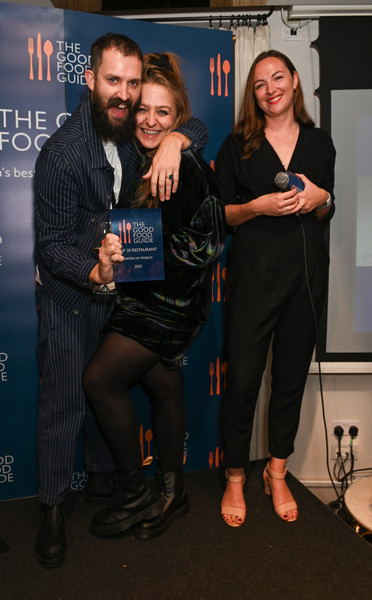 Eight years on from winning the 2015 award, Carters of Moseley is a big-hitter, as the Top 20 awards in October confirmed. 'That was all a surprise too', Brad says. 'I thought we were there to hold the canapés'. He's proud that the scope and quality of Birmingham restaurants was recognised with The Good Food Guide crowning the city Britain's Most Exciting Food Destination that same evening, and fellow Midlands restaurants The Wilderness and Grace & Savour at Hampton Manor also gaining Top 20 spots. 'That was pretty special. When I came out of college, Birmingham was seen as a stepping stone to a real job in London, and even ten years ago you could choose the nicer places to eat on one hand. In the past four, five years we've seen a lot of really good, casual places opening'. Seeing the suburbs do well is gratifying too. 'It feels like people are doing what we did, cooking for their community'.
Brad pays his own success forwards, showing particularly affection for Tropea that opened in August 2021 in Harborne. 'It is the best opening in a long time', he says of the Italian neighbourhood restaurant owned by manager Ben Robinson-Young and chef Kasia Piatkowskaa. 'They remind me of me and Holly 10, 12 years ago. They met at college in Birmingham, and their love for the industry is more than a plate of food. You can feel it. They've given us an Italian restaurant to be proud of. They've got a cool 80s soundtrack, the drinks are great, the wine's perfect, they use produce from Tropea in [the southern Italian province] Calabria, hence the name, and it's just a nice place to go. I want them to do well'.
Where next for Carters? He feels the restaurant is the best it can be, but that doesn't stop him pushing. 'The focus is on every service being better than our previous one, and on our customers' enjoyment. People comment all the time on how Holly makes them feel like they've come to her house. That's incredible'. He hints at another project. 'The magic of what we've done here will never be replaced, and whatever we do next will be an extension of that'.
- Tessa Allingham
Nominate your favourite local in this year's Best Local Restaurant Awards