How does a restaurant get into The Good Food Guide?
Every entry in the Guide is visited anonymously by one of our 30 inspectors stationed across the country. The longlist for potential entries is drawn up from the huge volume of feedback we receive from our discerning readers throughout the year. No establishment can pay for inclusion in the Guide and we never accept free meals in exchange for a review.
How do diners send you feedback?
Diners can send us their feedback using our online feedback form. 
Can we actively encourage diners to send feedback to you?
Yes, we're happy for you to direct your diners to our online feedback form from your website and social media.
Do you have any marketing materials we can give to diners in order to encourage them to send you feedback?
Yes, you can add the below icon to your website and link it directly back to the online feedback form here: thegoodfoodguide.co.uk/feedback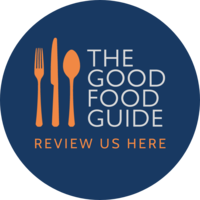 Are we in this current edition of The Good Food Guide?
All restaurants featured in The Good Food Guide are emailed within a few days of their entry being published. Please add editors@thegoodfoodguide.co.uk to your safe senders' list to ensure you receive emails from us.

We were in the last print edition. Does that automatically mean we will be in the next one?
No, the Guide is revised in full each year, and inclusion is not automatic.
I don't like our score/can I please have some feedback regarding our score?
We don't discuss restaurants' scores or inclusion in The Good Food Guide. 
Do you have a telephone number we can contact you on?
If you wish to contact us, you can send an email to editors@thegoodfoodguide.co.uk. This account is regularly monitored, and we will reply to your query as soon as possible.
We would like to be removed from the Guide. How do we do this?
The Guide was founded in 1951 to highlight the best restaurants in Britain. It's our longstanding policy to provide independent and trusted advice, so to remove somewhere we deem recommendable would be a disservice to our readers. If a restaurant meets our high standards, we will continue to include it. 
We have some updates to tell you. How do we keep in touch?
If you have previously been provided with a login for our Establishment Hub, please log back in and resubmit your form with the updated details. If you need a reminder of your login information, you can email us at editors@thegoodfoodguide.co.uk
Some details in our review are incorrect. How do we update them?
If it is basic information such as your address, phone number and website/social media details, please update this information on the Establishment Hub. If the issue is more complex, please email us at editors@thegoodfoodguide.co.uk
We would like to send you some new images. How do we do this?
Please upload any new images to the Establishment Hub. If you need help logging in, please contact editors@thegoodfoodguide.co.uk. Please note: by submitting an image, you consent to it being used on the Good Food Guide website. If your photo has a credit, please state this clearly in the file name.
We've had a diner try to use a voucher, but we don't remember signing up for this. What can we do?
Get in touch with us at editors@thegoodfoodguide.co.uk. We'll be able to refer to your original questionnaire to check if you agreed to participate.
Someone said they were from The Good Food Guide and tried to get a free meal. Was that you?
No. All of our inspections are anonymous, and we pay for every meal we review.
One of my stickers was damaged. Can I have a new one?
Email us at enquiries@thegoodfoodguide.co.uk, and we will be able to provide you with a new sticker. Note that we can only provide stickers for the current year.