'One of the reasons I am the way I am is because of the restaurants I worked in,' says Morse on an unseasonably cold and drizzly spring morning in Edinburgh, as he's walking his seven-month-old daughter. 'But also, without getting too David Copperfield, I grew up really below the poverty line. We used to grow some veg, mum used to feed us as much lamb offal as she could because it was really cheap. But at the same time, we'd fill the table on a Sunday because we'd want all our friends round.'
This inherent sense of hospitality is imprinted in the DNA of The Palmerston, a restaurant which scores a solid 'exceptional' for warmth in The Good Food Guide and which sent one of our anonymous inspectors off with a freshly baked loaf to compensate for not being able to accommodate their walk-in.
Bread comes from the hands of Alex Sage, formerly of London's Jolene and Big Jo bakeries, who also turns out beautiful pastries on offer from 9am Tuesday – Sunday. At weekends it's not uncommon to have lines out the door. 'He's one of the nicest humans on the face of the planet, never fazed, a complete machine,' says Morse of his baker. 'He is also unbelievably talented. We have a huge collection of regulars that are in a couple of times a week, once a week, or once a month - but some come in to get pastries and coffee every day. Financially, you know, we might have a really busy morning, and we'll take a big chunk of wages before we've even opened for lunch.'
Does the bakery side of the equation help keep The Palmerston affordable for customers? 'It probably helps us a little bit with the bottom line,' he says, 'but what makes us affordable is the work that I put into butchery, into buying veg properly, into sourcing raw ingredients without charging up the wall for it'.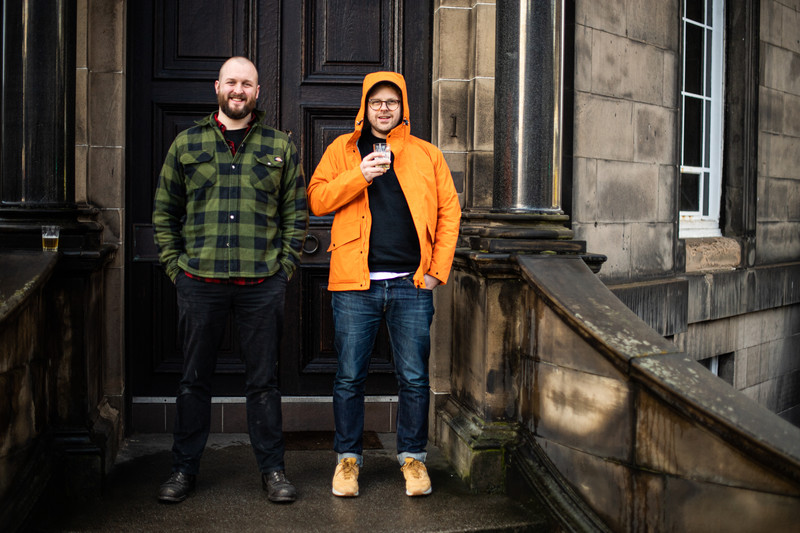 Morse attributes some of his schooling in whole-animal butchery to the now-closed restaurant Magdalene near London Bridge. At The Palmerston they only buy in carcasses - whole sheep, half cows - and do all the butchery themselves (a skill which Morse believes is a chef's responsibility to pass on to the next generation). Buying a whole sheep costs a lot less than buying in a loin or a rack of lamb. 'You get a lot of trim from the whole animal. A lot of which goes into our set lunch. It's why we do lots of ragùs, lots of mince on toast. It's more sensible cookery, more ethical.'
It sounds a little like the Scratch menu at Spring, where Morse was sous chef in the opening year, although that menu (which makes use of offcuts from the à la carte) came a little later. 'One thing that I learned from Skye [Gyngell], that gave me my philosophy when it comes to a lot of what I do, is that Mother Nature does the hard work and we just have to not fuck it up. I love her so much for giving me that and she said it on such a whim, but I thought, that is coming with me to the grave.'
Interestingly, an ankle injury while out jogging took Morse out of the kitchen and up the supply chain to Jane Scotter and her farm Fern Verrow in Herefordshire, which at the time was establishing its close partnership with Skye Gyngell and Spring. The chef's first day was a harvest day, and he was aghast at the swathes of spinach beds that needed to be picked to reap just a few kilos. 'I learnt more about vegetables working at Fern Verrow than I did working in any kitchen,' he says. It was a solid five-month stint and Morse credits his time there with learning the importance of the relationship with producers.
From there, the journey to Edinburgh and The Palmerston was influenced in part by Morse's Edinburgh-born wife. He'd grown up outside Sydney in the Blue Mountains, fishing, hunting, hiking, camping and swimming in rivers, and the more time he spent in Scotland, the more he came to love it. 'I can live in Edinburgh and I can drive 35 minutes and be in the wild picking mushrooms. It's a really nice place to live. The Scots are so friendly, it's a European city. I love living up here.'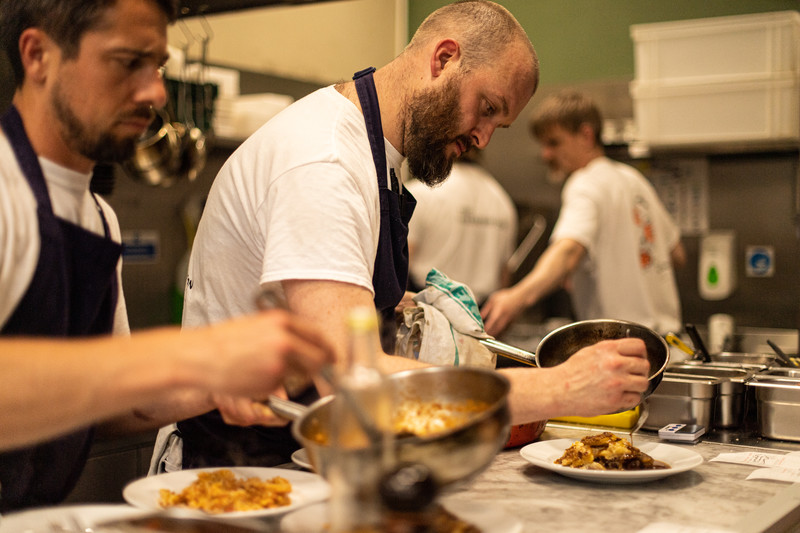 Morse and his Palmerston partner James Snowdon, who comes from managing The Harwood Arms in London, found the Edinburgh scene lacking the type of restaurant they both loved to eat in. It turns our discussion to the tasting menus that dominate the Scottish capital and the chef recalls the precise point at which he was turned off. One day, working at Sydney's superfine-dining restaurant Quay, he watched endless plates of Murray cod with asparagus risotto, white truffle and silver leaf, fly of the pass in quick, perfect uniformity. 'I remember standing there looking down the line and watching these four chefs plate this food and I said to myself, I don't want to do this.' A meal later that night at another Sydney restaurant Coast – a big Italian dining room with seafood, fresh pasta and in-house butchery – would pave his way to The River Café and, ultimately, to opening The Palmerston.
Despite the firm vision (which he would go on to create with Snowdon), Morse spent a good two years working in Edinburgh, getting to know suppliers and fellow chefs and restaurateurs. 'I'm a big loud Australian and I just made myself known everywhere,' he says, self-mockingly – though it's this people-first approach that is paying dividends in The Palmerston's success.
Now that he's fully integrated into Scotland's restaurant scene, who will Morse be nominating in The Good Food Guide's Best Local Restaurant Awards? 'Oh, I tell you where: Gloriosa in Glasgow. Rosie [Healey]'s a good friend of mine and we're about to cook a dinner together which is going to be great. But my favourite restaurant in the world is The Kinneuchar Inn in the East Neuk of Fife. What James Ferguson and his partner Alethea have created there is the best'.
Read more interviews by signing up to The Good Food Guide Weekly here.