In his room, Dan takes trim, peelings, surplus, and by-products and turns them into something either newly saleable such as jarred ferments, kombuchas or hot sauces, or usable on the menu.
'We're just doing our bit,' Daniel says. The 'we' refers to himself and Acme co-founder and fellow chef, Andrew Clarke, the 'bit' to the pair's commitment to minimising food waste. 'You've got to make the most out of everything. We consume and throw so much now, it's ridiculous. If we all started chipping away…' You can finish the sentence roughly with 'it would make a difference'. The figures have become familiar. With a third of all food produced globally for human consumption binned, according to anti-food waste charity WRAP (9.5m tonnes in the UK alone), and accounting for 10% of greenhouse gas emissions as it decomposes, the situation is financially, environmentally and morally at crisis.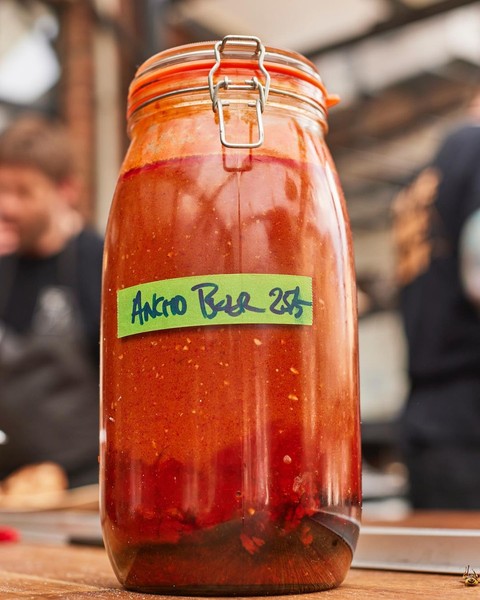 So Dan does his bit. He's talking from Aldeburgh on a short holiday after celebrating – hard, it seems – Acme's first birthday. Even away from his room ideas have been fermenting and he's collected young magnolia blossom to make some syrups for the bar.
Back in London, the room is a hive of circular activity. 'Nothing actually goes into a bin,' says Dan. 'Surplus or trim from the kitchen is put into a big box and sent down to me, and I turn it into food and send it back.' Kohlrabi leaves and celeriac, onion or carrot peelings become 'little vegetable krauts and kimchees' maybe to go with Turkish kofte made with aged beef mince and bone marrow. Citrus bodies, flesh and juice having been used, are chopped and combined with chilli and salt to make the Japanese paste, kosho, or compressed in sugar to make syrups. 'I don't even throw herb stalks away. I salt them, make capers, and give them back to the kitchen for a salsa verde.' Even the blackened outer skins of leeks are used, ground and mixed with butter to make a charred leek butter. The skins had previously protected the leeks' tender innards as they cooked buried in embers before being chopped and mixed with a green pepper and pistachio romesco, and drizzled with leek oil made from the ends of the leek.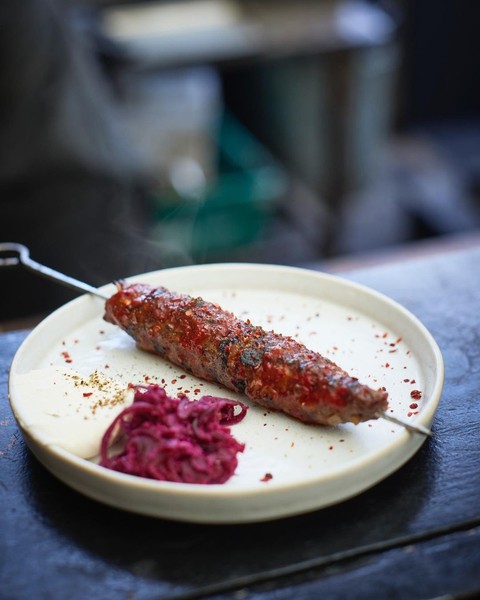 Shelves are filled with carefully labelled jars including split pea, roast garlic chilli, or sourdough miso, the latter made from trim from The Dusty Knuckle bakery next door. There are jars of fermented fenugreek stalks, garlic cloves, fennel and onion shoots, green tomatoes, and green beans; they are the makings of one of Dan's favourite dishes, an attractive plate of pickles and krauts. Veg dominates, much bought from Cambridgeshire-based regenerative farm, Flourish Produce, or similarly eco-conscious Natoora.
Spent grain from 40FT Brewery, opposite Acme, becomes miso, or is dehydrated and ground (some is used to make hop-free dog biscuits). Leftover brewers' yeast becomes 'an incredible, grown-up Marmite', a hefty load of butter and pecorino tempering the bitter edge of the hops. And his ancho chilli koji hot sauce made with chillis soaked in 40FT's dark lager, is almost ready to jar and sell. 'We call it a hot sauce but actually it's mild, fruity, smoky, sweet, there's loads of umami. The magic is the koji. We use it with an ox cheek dish, but it lends itself to most things.'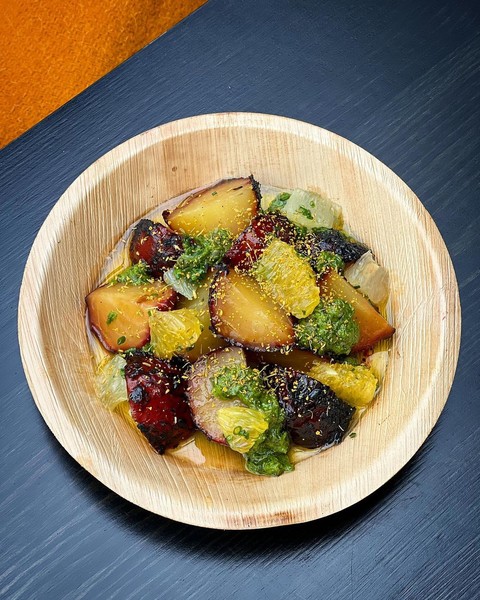 The collaboration with 40FT Brewery tracks back to the beginning when Acme took on a permanent space after running wildly popular lockdown pop-ups at London Fields Courtyard. 'We thought we'd carry on doing cool pop-ups and selling merchandise. We wanted it to be fun, and to be more than a restaurant.' It is. You can sit down at inherited tables on inherited chairs and be served food on compostable plates (there's no dishwasher or plate-warmer, so it makes practical as well as eco sense). There's covered outside space around the grill and smoker, or in the industrial, pared-back interior. You can buy into the brand, pick up a t-shirt, a jar of miso – and soon some hot sauce – and have a few 40FT drinks.
It's a resourceful approach that's woven into the Acme identity. Dan and Andrew aren't alone in their zero-waste ambitions, of course – check out other game-changers such as Doug McMaster at Silo, Skye Gyngell at Spring and Heckfield Place, Chantelle Nicholson at Apricity, Jan Ostle at Wilsons, Mark McCabe at The Ethicurean, and Sam Buckley at Where The Light Gets In. Click on the links to find out more, and join the Good Food Guide Club HERE to read our reviews in full.
- Tessa Allingham