Here are 21 restaurants where you'll be welcomed just as warmly for a single plate of food as you would be going for the full experience.
Harbour Street Tapas, Whitstable
This light-filled corner tapas restaurant celebrates the pick of seasonal produce. Look out for daily lunch specials like whole mackerel smoked in house with potato salad and a glass of wine for just £12.
Another Hand, Manchester
The precursor to this accomplished restaurant on Deansgate Mews was the beloved 3 Hands Deli, so while you can splash out on a sophisticated evening meal, the AH Rueben is a mainstay of the lunch menu: £10.50 for a satisfying wedge of smoked brisket, kraut, remoulade, pickle and Ogleshield.
The Pig & Whistle, Beverley
Flavour-forward tapas and melty cheese are hallmarks of James Allcock's European bistro but so is accessibility. Stop in for a Kaltbach Gruyère and York ham croque monsieur for just £5 at lunch, or in the evenings try the £12 'posh dog' from the bar menu with a Lishman's of Ilkley beef frankfurter, bread and butter pickles and crispy onions.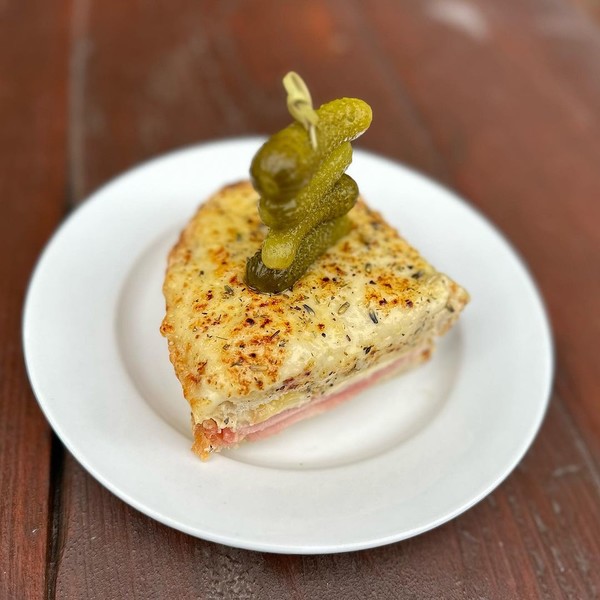 Lahpet West End, Covent Garden
This fiercely authentic Burmese spot runs an excellent value express lunch menu on weekdays. £15 gets you a warming bowl of Rakhine mohinga (spicy fish noodle soup) or coconut noodles with chicken, plus a side of your choice.
Ophelia, South Gosforth
Swing by this first-rate French bistro on a Thursday evening or Saturday lunch to make the most of their steak frites menu. Dry aged rump, pommes frites and peppercorn sauce is the definition of a one-dish wonder. As one reader put it: 'It's fancy enough to feel like a treat but simple enough you could eat there every week'.
Ultracomida, Aberystwyth
It's hard not to get carried away in this warmly lit, warmly run little pocket of Spain – particularly where the deli is concerned. But pull up a bar stool and order a plate of hand carved jamón served with patatas fritas and a crispy fried egg for £14.
Gloriosa, Glasgow
The effortlessly stylish Gloriosa was crowned one of Scotland's Best Local Restaurants of 2023 and their new 'Sunday's Sausages' format is the perfect way to experience the flavour-packed simplicity in one dish – perhaps the Toulouse sort with borlotti beans and salsa verde (£18).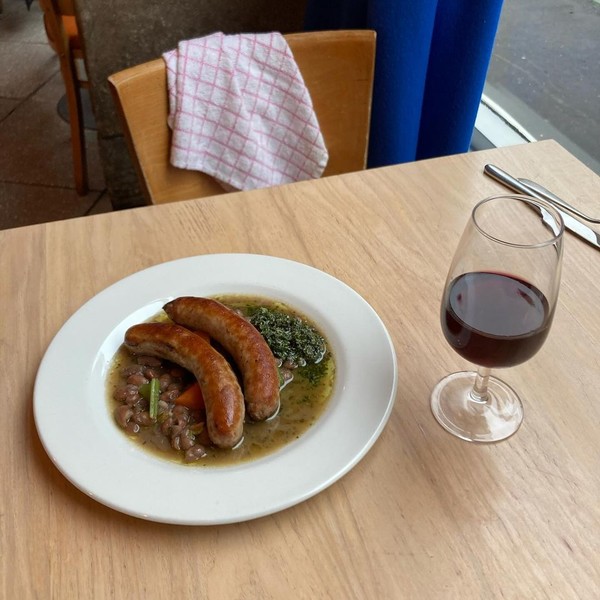 The express one-course pasta lunch at this convivial wine shop-cum-restaurant is a steal. How better to stave off a chill autumn day than with a bowl of pumpkin ravioli, drenched in butter, showered with aged parmesan, and a well-chosen glass of wine, beer or a soft drink – for just £15.

Pompette, Oxford
It's 'Moules and Picpoul' with a side of fries on Thursday evenings at this popular north Oxford spot. With mussel season in full flow and a fresh Languedoc-Roussillon picpoul a perfect pairing, it's a £23 meal that appeals.

Imad's Syrian Kitchen, Soho
Pop into this friendly Kingly Court spot for a swift one-course mezze lunch with a generous dose of Syrian warmth. On offer from 12-4pm midweek is hummus, baba ghanoj, salad and pita with either lamb or chicken (£18) or falafel (£16).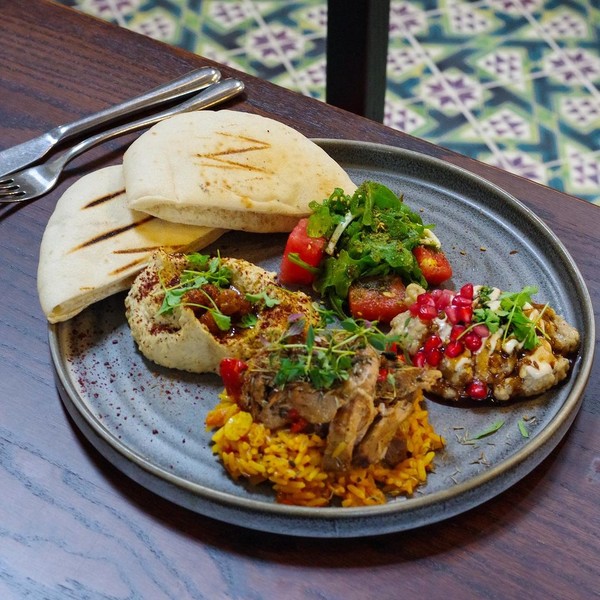 Sculthorpe Mill, Fakenham
Braised venison pie anyone? Served with sprouting broccoli, parsley mash and a glass of something nice (a juicy Portuguese Evaristo, or local Barsham Brewery Oaks bitter, maybe) it's a fantastic-value one-dish lunch or dinner option at a gorgeous Norfolk spot.

Shibden Mill Inn, near Halifax
Do book the full tasting menu experience at this acclaimed country pub, but there are times when a sandwich – a proper one, mind – fits the bill perfectly. Look out for the menu of £10 toasties and sandwiches including the likes of brisket, swiss cheese, gherkins, mustard mayo and sauerkraut, served with skinny fries and salad.

Dishoom, London, Edinburgh, Manchester, Birmingham
Biryani makes for a perfect spice-warmed one-dish meal either to share – or not if you're hungry. The vegetarian option at Dishoom freckles jackfruit and rice with barberries and sultanas; the non-vegetarian is made kacchi-style with chicken, garlic, herbs and spices. Both deliver a tasty meal for just £15.90.

The Black Bull, Sedbergh
New from Nina Matsunaga's Yorkshire kitchen are Pie Mondays and Curry Tuesdays. Fill a one-course hunger gap from 5pm each day with regularly changing warmers such as Courtyard Dairy cheese and onion pie with greens and mash (pies from £18.50), or a northern Thai fish curry with halibut, prawns, pollock and rice or crispy noodles (curries from £13.95).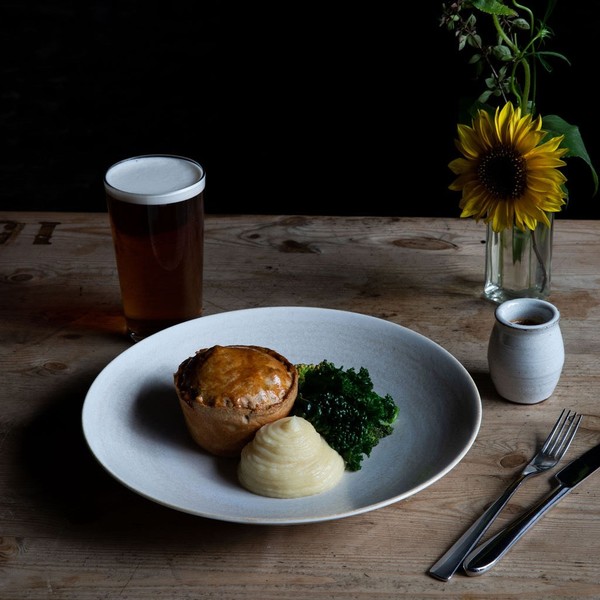 The Baring, Islington
The Baring has had its share of plaudits since opening in summer 2022, not least for what we praised as 'straight-to-the-point cooking'. Drop in for this week's lunchtime simple one-course special - steak-frites for just £12, or £15 if you add a glass of wine or beer. Definitely a straight-to-the-point offer.

The Goods Shed, Canterbury
There's always plenty to tempt the food-lover at this Canterbury favourite with its spectacular array of seasonal Kentish produce, cheese, meat and fish. Those of slighter appetite will be relieved that you're very welcome in the restaurant even for just a couple of starters such as cheddar & truffle beignets or lamb scrumpets (both £6).

Lisboeta, Fitzrovia
Fancy a taste of Lisbon in London? Pull up a counter seat at this Charlotte St favourite for a quick one-course bifana (pork sandwich) for £12. It's a mustardy, juicy joy, traditionally eaten in Portugal as a late-night snack with a beer, but is every bit as delicious at lunchtime.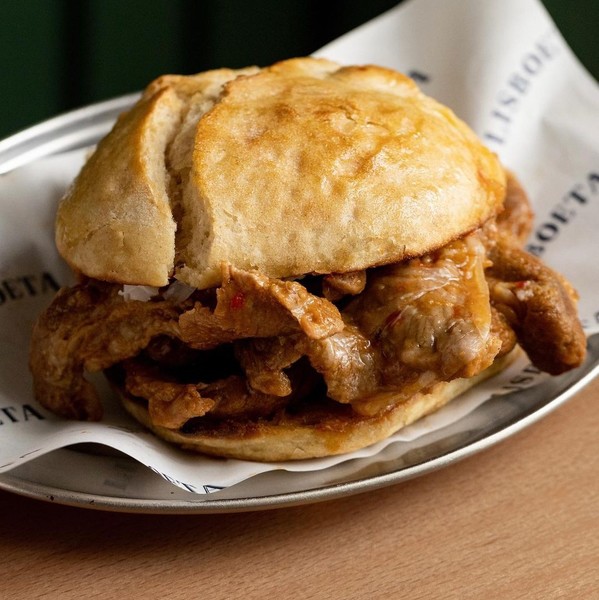 Bob Bob Ricard, The City
Lunch can be an indulgent affair at glamorous Bob Bob Ricard, but those on the clock should know about the £19 Express Lunch (only in the Leadenhall Street restaurant) where Hereford beef onglet-frites with peppercorn sauce, or Scottish plaice-frites with tartare sauce, plus a winter leaf salad, makes for a cracking-value City lunch.

The Three Fishes, Mitton
Whether it's a 'flying visit for one main course, or a full three-course meal' you'll be welcomed warmly at Nigel Haworth's pub near Clitheroe. Check out the Choice Menu to find substantial plates such as wild duck with beetroot (£28), or plant-based hispi cabbage with mushrooms (£25).

Blacklock, London
There are quick-fire one-dish options at all five Blacklock chop restaurants. A steak sandwich (£12), a pork belly bun with crackling, slaw and apple ketchup (£11), or a Blacklock double cheeseburger with caramelised onions (£12) are, as Blacklock puts it, 'particularly good at lunch'.

Bancone, London
'Stop in on the fly', they say at Bancone, and grab a counter seat at the Covent Garden, Soho or Borough Yards outlets for a quick bowl of daily made pasta. Like many, we're fans of Bancone's signature 'fazzoletti' or 'silk handkerchiefs' with walnut butter and confit egg yolk – a lush, swift one-course lunch for just £11.