This 12-acre site, a five-minute drive from L'Enclume and the unabashedly pretty Cumbrian village of Cartmel, has been cultivated by Simon Rogan and his team since 2011. It began as a means to access better produce than was readily available, and over the past decade has burgeoned into a military operation of production that now feeds the kitchens of not only L'Enclume but Rogan & Co and Aulis (also in Cartmel), Henrock (overlooking Lake Windermere) and London's outpost of Aulis.
In the early days you might have found Dan Cox working the land here - a radically passionate chef-farmer now making his own waves with Crocadon in Cornwall - or perhaps Mark Birchall, of Moor Hall and its picture-perfect kitchen garden. In fact, Rogan's principal of never dealing in second best, whether in hospitality or in raw materials, courses through the DNA of the group and through the roots of its influential alumni beyond.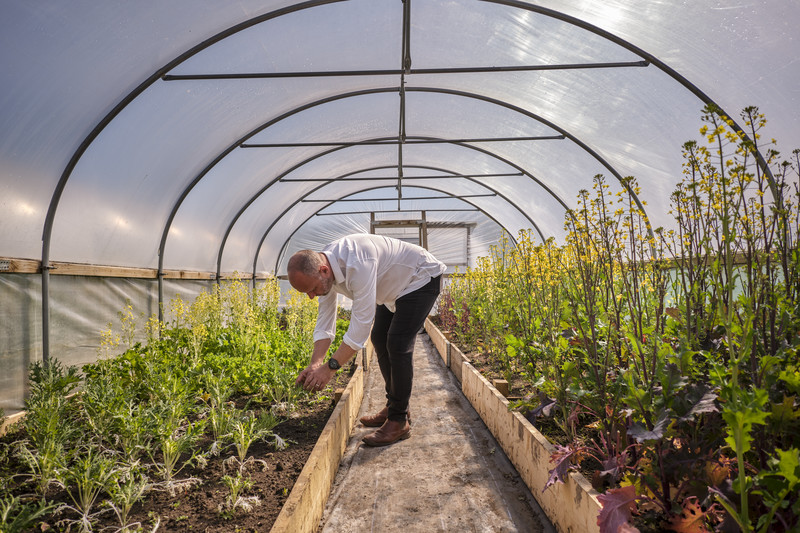 Conservatively, a meal at L'Enclume will set you back £300 per head with a drink or two and service, nudging closer to £400 for a blowout kind of experience. It's a ticket to 15 courses that distil the essence of Cumbria onto the plate. At a recent inspection meal, a highlight was a dessert of strawberries and cream bursting with flowers and the fragrance of summer at Our Farm.
Guests of L'Enclume are welcome to add on a visit to the farm, to get the full flavour of Simon Rogan's vision for the Umbel empire. But for the first time this year, Our Farm has been putting on a show all of its own. Tickets cost £150 per person and offer an experiential feast to rival the pull of the mothership.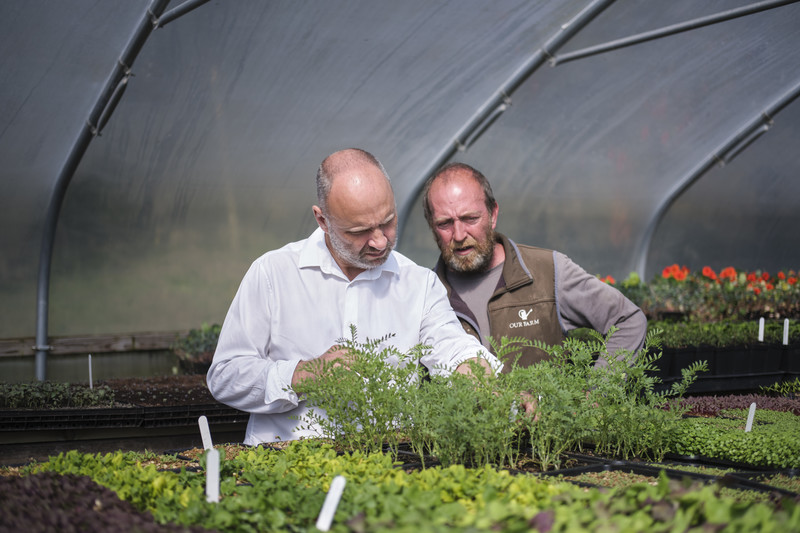 The man leading the show is Liam Fitzpatrick who, after nine years working for Rogan, has graduated to head chef of Our Farm. Aside from cooking on event days, he's the one responsible for processing and preserving the tonnes of produce – 500kg of broad beans here, 500 bulbs of Florence fennel there - that peak in the short Cumbrian summer and must sustain the restaurants for at least a year. No pressure. Among colleagues he is known as the pickle prince.
At his side, the man tasked with the substantial growing operation, is head farmer John Rowland - considered something of a legend among colleagues and the guests lucky enough to land him for their tour. He has been at the helm of the farm for the past three years and Fitzpatrick credits him with bringing a new level of knowledge and commitment to Our Farm.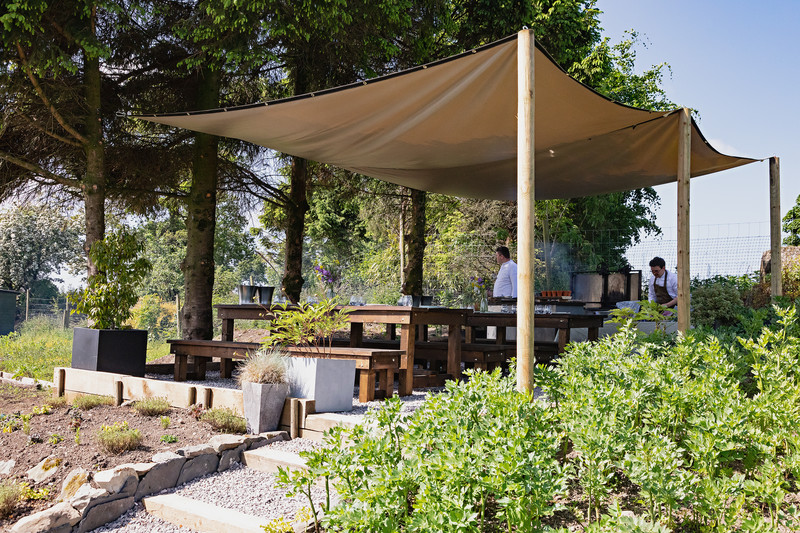 'I was self-employed before I came here and a chef coaxed me for three hours to come to have an interview,' explains Rowland. 'I didn't even know who Simon was. But when I came and saw what was going on, I understood Simon's ethos straight away; it runs true with the way I am in life about the environment and about nature.'
The soil in many areas of the farm only runs six inches deep (below is the bedrock of the Lake District), limiting cultivation space to about four acres, but Rowland's talent for growing is visually arresting. Behind bushy banks of shiso leaves sit dazzling rows of brassicas: emerald ice kale, red peacock kale and the electric pink-purple of kalibos cabbages. Banks of herbs and flowers – calendula, osteospermums, viola and verbena - are given more sprawling freedom, while at the far end, Rowland has restored an old pond, using the silty earth to build the soil by 18 inches and plant an orchard.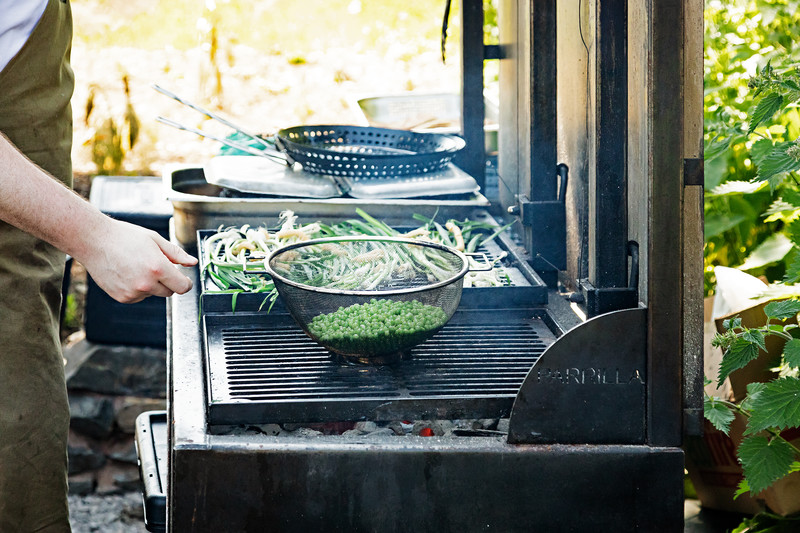 The Our Farm experience is limited to 16 guests and kicks off at 11am sharp with a refreshing shiso lemonade. First stop is a rundown of the all-important Ridan composters which are responsible for swallowing up the all the kitchen waste from the group's restaurant and kickstarting a transformation into 'black gold'. The process can take up to a year and the investment in the equipment underlines the seriousness of the approach to limiting waste.
The tour takes a uniquely immersive turn when snacks begin to arrive. At the allium beds there are delicate tartlets of leek and Old Winchester; in the cucumber polytunnels, jungle-like with climbing vines and hanging fruit, out come sparky bites of preserved passandra cucumber on fennel crackers. At the carrot beds mini terracotta pots full of 'soil' planted with baby carrots are a fun play to help guests taste what they're looking at.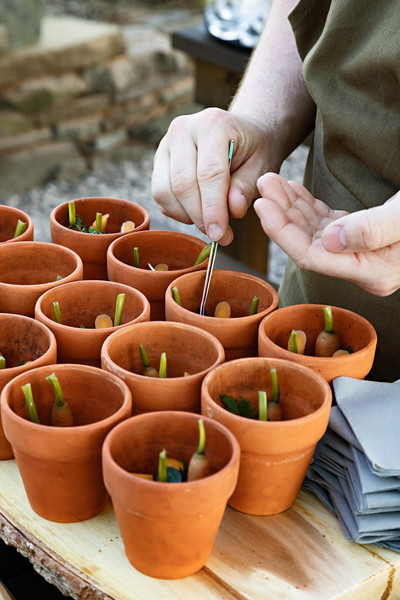 In the propagation tunnels, the beating heart of the farm, there's a sense of the precision at play. Hundreds of trays of microgreens are seeded every week, with L'Enclume taking 25-30 trays per day, harvesting the delicate leaves on-site just before service. Guests learn that Rogan likes his leeks Sharpie-sized, his New Zealand spinach leaves no larger than the size of a little fingernail. The new Charlotte potatoes, destined for a dish at L'Enclume should be barely bigger than a mini egg, with the outsized specimens headed to Rogan & Co or Henrock.
Getting to the roots of such an influential farm-to-table ecosystem holds immense appeal, both for the green fingered and the committed foodie. But sitting down to Fitzpatrick's feast – a kaleidoscope of flavour, with vegetables plucked fresh from surrounding beds or preserved from previous seasons – is better still. Confit Boltardy beetroot with shiso vinegar, a salad of Rowland's tomatoes, fermented cobra beans and tree cabbage are just some of the many dishes. A stuffed shoulder of Herdwick lamb would usually be the crowning glory but here, the vegetable is king. A Peregrine peach tree provides dessert: cream infused with the fragrant leaves and the first peaches of the summer plucked from the tunnel 20 yards away.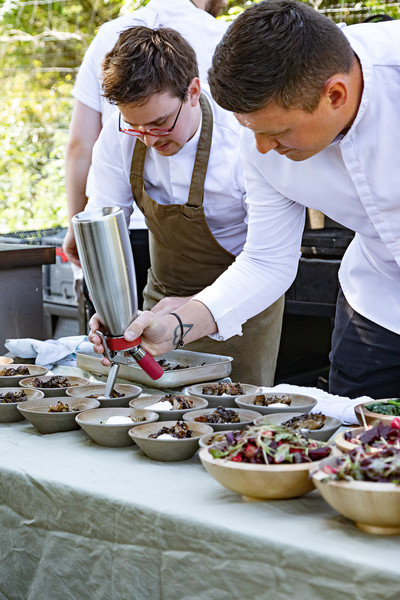 Meanwhile at L'Enclume, service is underway and it's down to head chef Paul Burgalières to translate the cream of the crop into unforgettable dishes. Alongside Rogan, he is responsible for working out what the land is providing and what the restaurant needs from it. But which comes first? 'That depends who you ask,' says Burgalières. 'Last year Simon says, I want double the amount of everything. So John grows double the amount of everything'.
But it's not always easy. If seeds aren't available, the alternatives might not grow as successfully. Beef tomatoes are out of the question, being too slow ripening in the Cumbrian sun, but cherry tomatoes are in; an aubergine trial produced delicious fruit but not nearly enough of it to be useful. If a crop is flourishing and producing well, a dish will be shaped around it explains Burgalières. 'In this way, the farm dictates everything.'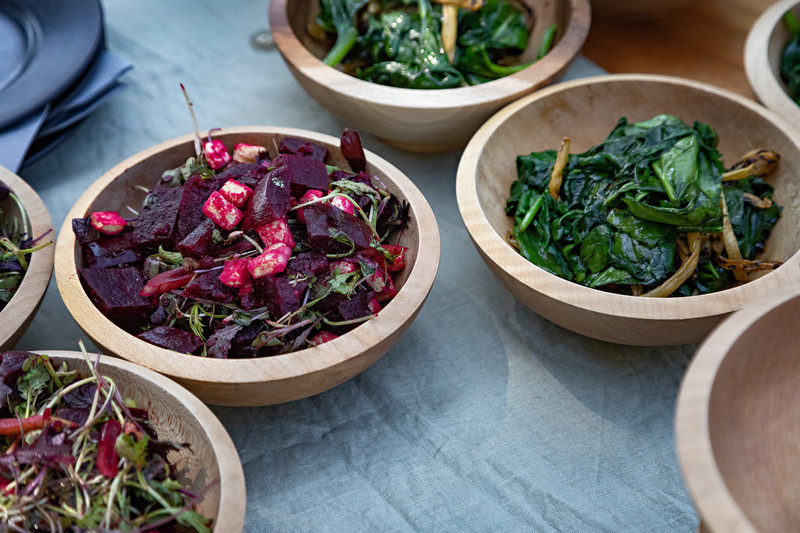 He and his sous chef Alex Rothnie are at the farm almost every day, keeping pace with the quickly changing crops and getting a dose of inspiration. 'Not being able to have everything makes us think differently,' says Burgalières. 'It's challenging but it forces you to be creative.' He mentions the time he saw the outer leaves of kalibos cabbages heading straight to compost and how it sparked an idea for fermented cabbage leaf juice - 'an incredible product'.
Chefs are not the only ones regularly on the farm. Fluidity of staffing means everyone gets their turn – from the L'Enclume kitchen team to the trainees of Simon Rogan's academy. Operations manager Nicolas Perdrier might serve your pineapple kombucha at Our Farm one day and your wine flight at L'Enclume the next; you're just as likely to see Burgalières pop up at the pass of Rogan & Co to cook breakfast as at the farm's outdoor grill cooking lunch.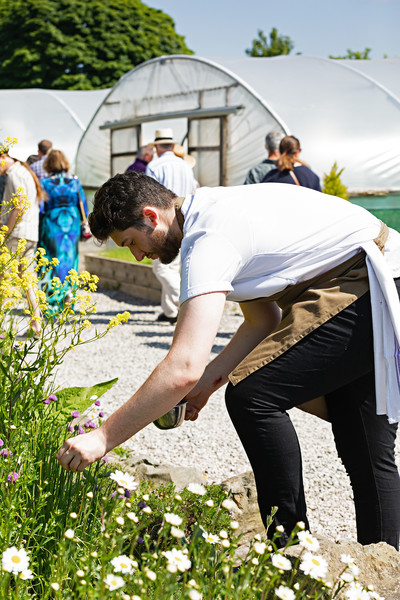 This collaborative system creates unity among the team, endowing staff with a depth of knowledge in tableside service that is passionate but not preachy. But it also puts Our Farm at the centre of everything. Rogan's decision to build his business from the soil up has created space for the experimentation and collaboration that keeps L'Enclume and its siblings at the top of the game, not to mention crafting a sought-after blueprint on how to make a World Class restaurant.
Want more? Read L'Enclume's entry in The Good Food Guide here. Rogan & Co here, Henrock here, Aulis here.