Mýse, pronounced 'meez' (Old English for 'eating at the table'), marks a return to restaurants for Joshua and Victoria Overington, who closed Le Cochon Aveugle and wine bar La Cave du Cochon, both in York, at the end of 2022. The restaurant with rooms opens tomorrow (29th June) in the former Hovingham Inn at Hovingham. 'At Cochon, creatively and economically, I was hitting the glass ceiling,' Joshua told The Good Food Guide Weekly. With 26 seats (there were just 14 at Le Cochon) a bigger kitchen and three bedrooms, Mýse 'suits what me and Vicky want to do'.
Ingredients in the multi-course tasting menu (£80 at lunch, £110 at dinner) celebrate Yorkshire and are presented in a less complex style than previously. The boudin noir macaron, a Cochon signature, is replaced by a black pudding pancake with grilled langoustine, local pork fat and pickled rose petals. 'I was determined I wasn't going to do [the macaron] anymore. It wouldn't make sense at Mýse. There needs to be a reason why you're eating a particular dish at a particular moment. It's about time and place.' Other dishes include a snack of ox cheek cooked in local ale, dipped in Yorkshire pudding batter and served with fermented cucumber, and a larger serving of Swaledale lamb cooked on the bone with tongue, spinach, local spelt, and anchovy sauce.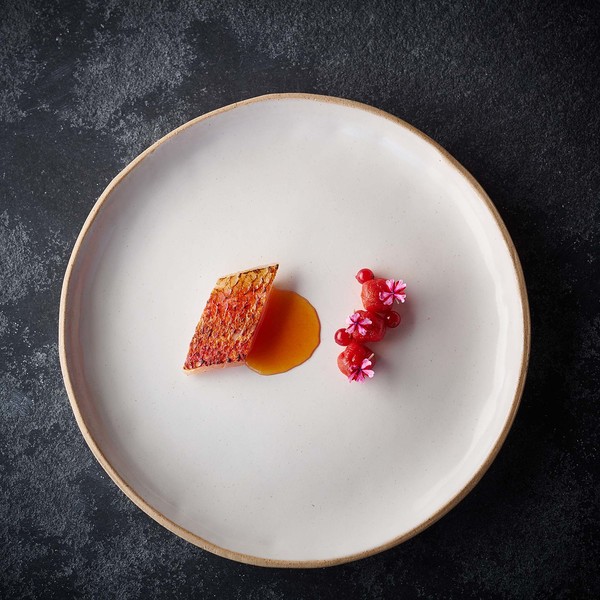 Unlike at Le Cochon Aveugle, the menu is not served 'blind'; guests can read the folded menu or not, as they wish. And a vegetarian option is available. 'It's all part of our 'softer' approach. I opened Cochon when I was just 26. We didn't cater for dietaries, it was a more aggressive "chef first, customer second" approach. As I've got older and more confident, I've realised the sort of chef I want to be, stopped trying to show off. At Mýse it's about good produce, good food with elements to elevate the dish, and good service."
Victoria has built the wine list in collaboration with Keeling Andrew & Co, the importers behind the Noble Rot restaurants, lining up an £85 wine flight with dinner (£60 at lunch), and a non-alcoholic flight (£65/£45) including house-made shrubs.