The Dartmoor Inn, Lydford, Devon
The smartly renovated, bright-white exterior ensures you won't miss this 16th-century hostelry as you head along the Okehampton to Tavistock road. Jay and Tess Barker-Jones revamped the oak-beamed, slate-floored property in 2019, creating a homely vibe with eclectic furniture and natural tones throughout the warren of dining rooms. As you would expect from a family-run, dog-friendly inn, service is warm and friendly, yet surprisingly polished. Matching the levels of service, chef Jay Barker-Jones works hand in glove with local suppliers to create a daily menu of flavoursome, crowd-pleasing dishes. Starters include rich, creamy whipped goat's cheese dotted between heritage beetroot, gingerbread and hazelnuts, and a delicate, fresh hand-picked Brixham crab salad with avocado and citrus fruits. Generous main courses could feature local 'red' venison loin paired with an intense haunch ragoût, kale, celeriac and red wine, and there's an extensive drinks selection covering everything from local ales to classic cocktails; a small but varied wine list that is both affordable and accessible.
Read more about The Dartmoor Inn in The Good Food Guide here.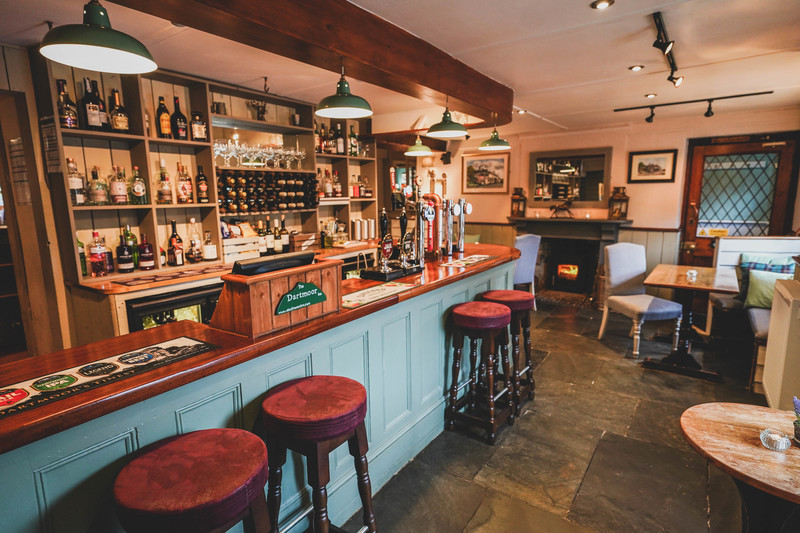 The Pack Horse, Hayfield, Derbyshire
At the Pack Horse, chef-owner Luke Payne and his partner Emma have created a stylish take on High Peak rusticity. The pub is in the centre of Hayfield, which has emerged from its 'working mill' heritage into a picture-postcard charmer. While still quenching the thirsts of locals, gallery browsers and walkers, Luke and Emma's focus has been on creating a true dining destination. Bar snacks of the 'posh nibble' variety (oysters, olives, charcuterie, chips) are available, but if you're looking for more it's a choice between a two- or three-course set menu served Thursday to Sunday. Starters might include a traditional chicken and pig's trotter terrine, comfortingly rich with gelatinous meat and cut through with punchy mustard mayonnaise and crisp homemade pickles. And it would be criminal not to showcase the local lamb, so delicate cutlets take centre stage against harissa carrots and a more traditional split-pea purée, with an intriguing duo of anchovy salsa verde and apricot ketchup in attendance. A good range of local beers and spirits, plus a small wine list give plenty of matching options for the food.
Read more about The Pack Horse in The Good Food Guide here.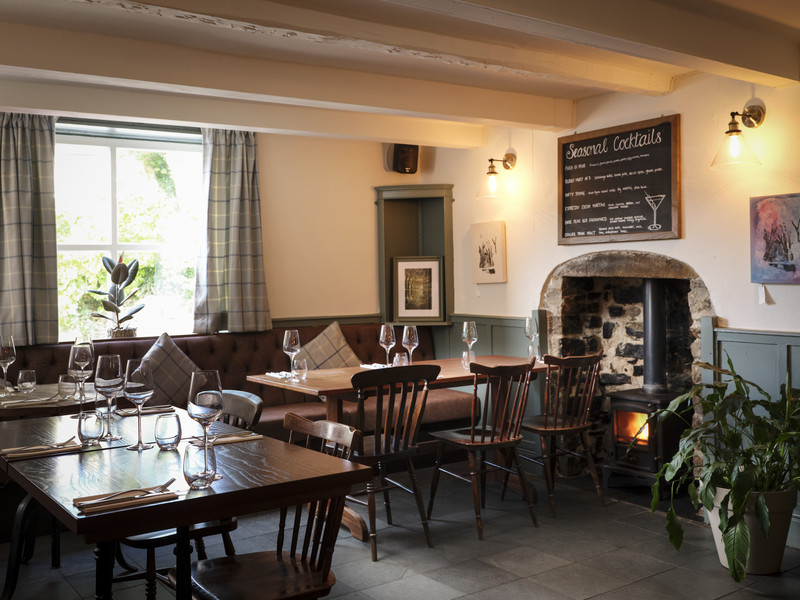 The Butcher's Arms, Eldersfield, Gloucestershire
In a secluded patch of countryside and surrounded by orchards, this is a 'lovely traditional pub with an immaculately kept garden'. Inside, the bar, with its open fires and dried hops, doubles as the restaurant, creating a cosy and welcoming atmosphere. The menu of 'good, simple, seasonal dishes' offers excellent value for accomplished homely cooking. Expect citrus-cured chalk stream trout with pickled kohlrabi, trout roe, samphire and dill oil; steak tartare made from Hereford beef with sourdough toast; and Scottish venison loin with smoked beetroot, savoy cabbage, pancetta and pickled quince. 'Perfect' desserts might include parkin cake with vanilla ice cream and butterscotch sauce, and a chocolate crémeux with homemade honeycomb and lusciously boozy cherries. Staff are 'super chatty, friendly and very efficient', and if the line-up of cask ales and ciders doesn't tempt you, there's also a short, reasonably priced wine list with bottles from £24.50. A gem of a place.
Read more about The Butcher's Arms in The Good Food Guide here.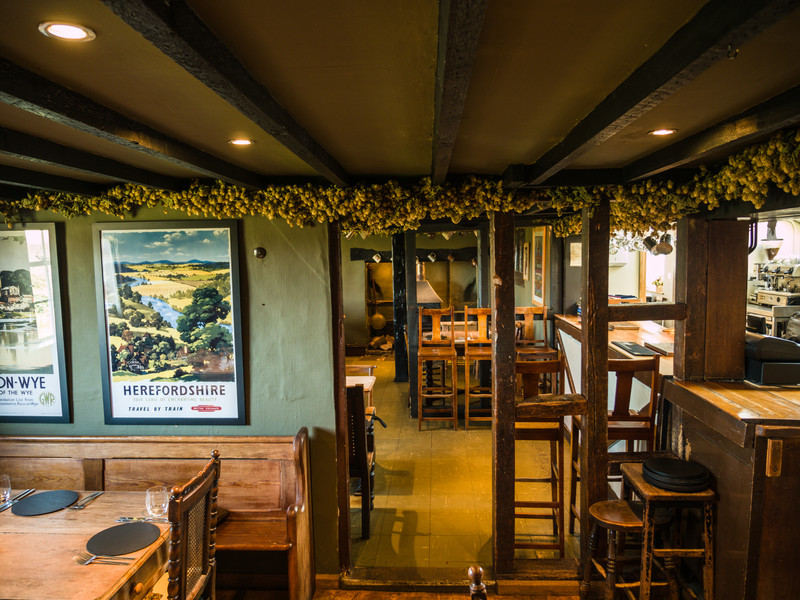 The Duck Inn, Stanhoe, Norfolk
Almost a decade ago, Ben and Sarah Handley took on this roadside pub with a simple ambition: to tell Norfolk's food story through the accomplished, fuss-free cooking of local ingredients. Nothing's changed, thankfully, and Arthur Howell, a legendary local butcher, still provides the meat for a Sunday lunch renowned well beyond East Anglia's edges. Midweek dishes include beef short rib (perhaps with chimichurri aioli or sweetcorn and coriander relish), and a majestic pork chop from nearby Swannington that always satisfies with its spears of crackling, celeriac purée and a crisp pig's head and black pudding torchon. The seaside town of Cromer offers up its magnificent, sweet crabs, served late in the season as a bisque with a crab beignet, rémoulade and fennel. Vividly fresh mussels and oysters swing down from Brancaster, while there is peerless salmon from Staithe Smokehouse. A straightforward wine list opens in France at £22.50 but stay in Norfolk for a delightful Cobble Hill sparkling rosé, which is made from grapes grown just up the road at Burnham Market.
Read more about The Duck Inn in The Good Food Guide here.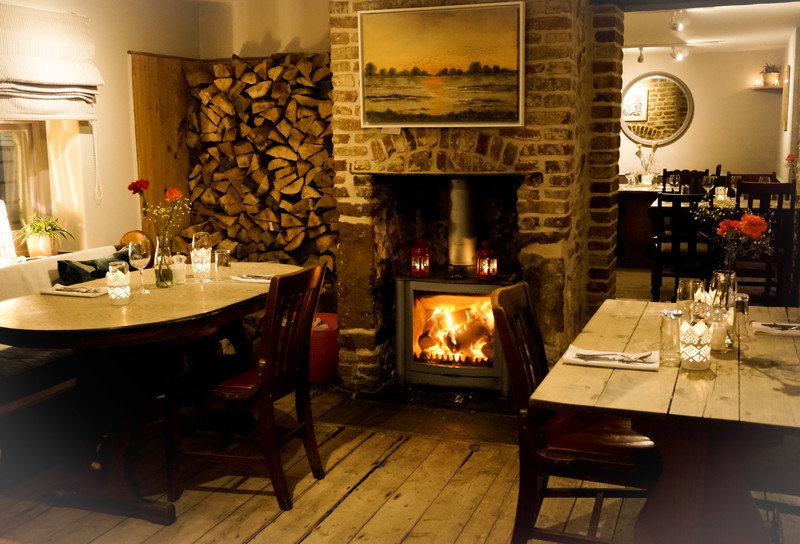 The Exmoor Forest Inn, Simonsbath, Somerset
When a Farrow and Ball palette meets the huntin', shootin' and fishin' set, visitors can expect gutsy dishes, confident cooking and billowing open fires. The estate and farms surrounding this cosy inn have been in the Greenall family (of Greenalls Brewery fame) for nearly 20 years. Local meats, day-boat fish and market garden vegetables are rightly celebrated on the menu, and chef Ben Ogden ensures his daily changing menu includes something for everyone. Dishes might be torched mackerel with beetroot and radish, purple sprouting broccoli tempura with goat's labneh, and a sizeable hogget rack, perfectly pink, served with crispy potatoes, pickled cabbage and a punchy salsa verde. It's hearty food, full of flavour but certainly not without finesse, and with the owner's family connections to the drinks industry, it's unsurprising that the wine and bar offerings punch above their weight. A benchmark for honest rural hospitality.
Read more about Exmoor Forest Inn in The Good Food Guide here.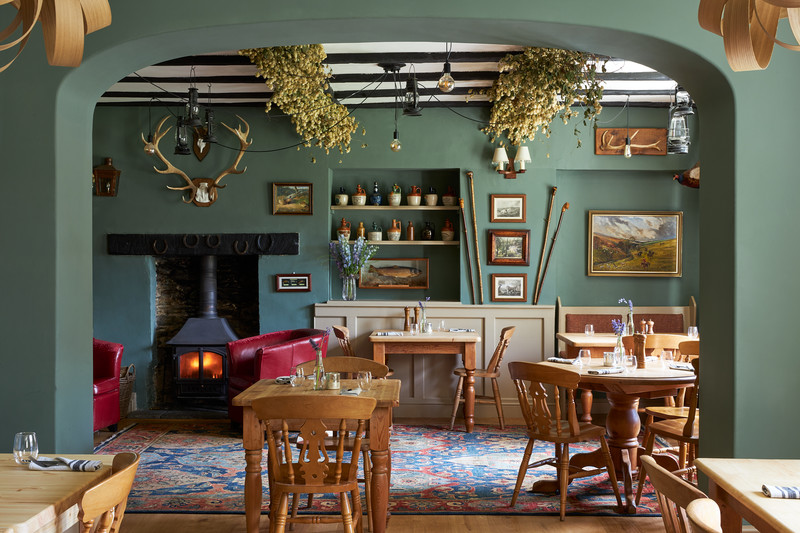 The Clachan Inn, St John's Town of Dalry, Scotland
The drive through the Galloway Forest Park (the largest forest in the UK) is jaw-dropping, even in dreich (Scottish for low mist or drizzle). As you drop into pretty St John's Town of Dalry, you'll find the Clachan Inn, proclaimed by visitors as 'possibly the best of all pubs'. The menu offered one lunch time delighted a Guide inspector, with plenty of pub favourites (the haggis Scotch egg is a 'belter': the golden yolk pooling gently over gamey meat and a sharpish piccalilli) alongside refined modern dishes such as mackerel with stewed 'nduja and heritage tomatoes, or wood pigeon with a 'perfect' pea risotto, black garlic and pickled girolles. Choose from the specials board and you might be rewarded with an accurately cooked piece of pork belly accompanied by North Sea squid, celeriac, romesco and a chorizo emulsion ('pure pleasure'). Dessert might be a riff on burnt Basque cheesecake alongside a decent rhubarb compote, or an excellent lavender créme brûlée. Wines from £18.
Read more about Clachan Inn in The Good Food Guide here.