In Devon, Coombeshead's sourdough is intense, dense and full of nutty, sweet-acidic flavour: best-in-class. Meanwhile Ballintaggart Farm's 'outstanding' bread draws rave reviews alongside acclaim for its accompanying butter and Scottish rapeseed oil.
The Beach House celebrates its gorgeous location on Oxwich Bay by putting laverbread in the centre of its hot mini loaves, while Skye Gyngell's deliciously nutty rye bread starts proceedings at Somerset House's Spring restaurant.
Covent Garden's Barbary teams its hot, blistered, chargrilled naan with zhug, harissa and pickled chilli, while the Tandoor Chop House serves a bone marrow butter-naan straight off the grill.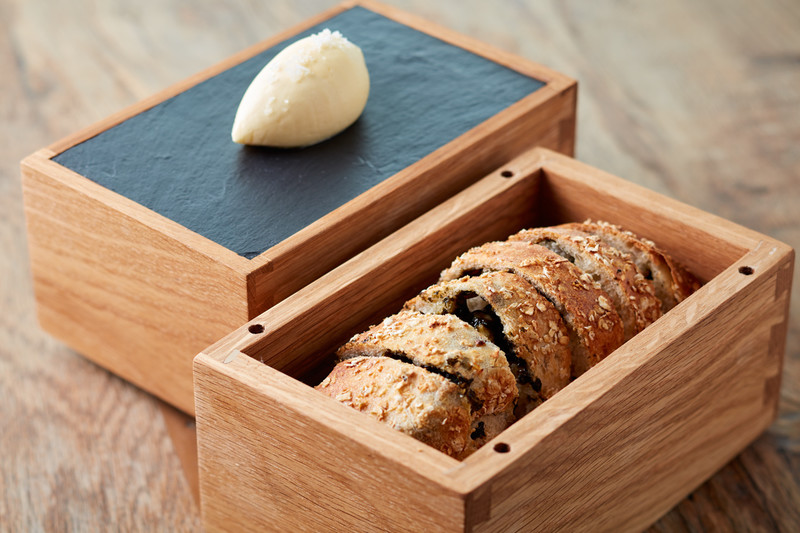 You butter believe it
What is bread without it's best friend, butter? Just when you think you know what butter is, along comes a chef to reinvent it for you. Butter is having a moment in the UK's restaurants, here are come of our inspectors' favourites...
Butter with coarse salt and charred leek ash at Mayfair's Kitty Fisher's.
Whipped parsley-butter in a pool of chive oil at Liverpool's Röski.
Funky, homemade wild ferment sour culture butter at Lake Road Kitchen, Cumbria.
Lamb-fat butter (partnering seaweed sourdough) at Perilla, Newington Green.
Melted seafood butter at Peckham's Kudu.
Guinness butter (with a mini Guinness loaf) at Restaurant Twenty-Two, Cambridge.
Caramalised butter at Wine & Brine, Moira.
Published February 2019
Updated February 2020