The Good Food Guide 1984
Richard Stein became the fish correspondent for Women's Realm last year, which is unlikely to distract from his main living because this is a serious fish place. Lobsters start at £9, plates of shellfish are £6.95, or there's a three-course menu at £8.
The dining room is white and well lit. Specialities are bouillabaisse – made without rascasse but with turbot, monkfish, brill, mullet, mussels and langoustines with a saffron liquor – and the local salmon trout, coated in clotted cream and tarragon, wrapped in puff pastry, baked eleven minutes and served with a reduced wine sauce. Fennel is rampant in these parts and he uses it to cure mackerel which is then served with smoked sea trout and mayonnaise.
There are good reports on non-aquatic items such as the watercress soup ('mmmmm'). Meat-eaters get a choice of steak or leg of lamb. The ice creams and sorbets are reliable but the vacherin aux fruits is the star attraction.
The wine list is inexpensive, has an unusually strong showing from a variety of areas and the mark-up's not greedy. The white Rhônes include Condrieu, Château de Rozay '80 at £14.85, a mark-up of around 30 per cent. House Sauvignon du Haut Poitou '81 is £5.05. Cellarman's choice: Fumé Blanc '79, Robert Mondavi, £11.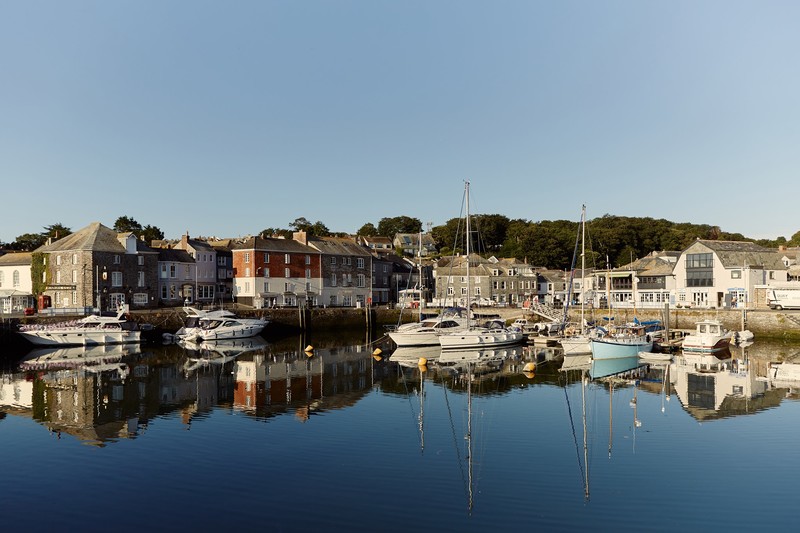 The Good Food Guide 1986
The supply lines are Real Food in the best sense – lobsters, crabs and crawfish from the local fishermen; mussels, cockles and winkles from the Camel estuary; oysters and clams from Porth Navas in Cornwall; langoustines from the Irish Sea via Newlyn in summer or overnight train from Loch Fyne in Argyll in winter.
The Good Food Guide 1989
Rick Stein has developed into one of the most sensitive and creative fish cooks in the country. In the mood of the late 1980s the décor offers a sense of light and space with bright white walls and plenty of daylight. The feel is almost Mediterranean. In June a delicatessen selling charcuterie and cooked dishes opened. Bedrooms overlooking the harbour have been added. All of this has grown from a small upstairs above a night-club in the late 1970s […] the menu is a grand sweep of modern thinking on fish cookery, at first seemingly a French derivative with its strident red-brown soup, its platter of ten shellfish set on ice, and its wary conservatism (no bad thing), as in grilled Dover sole with parsley butter and char-grilled steak. But hold on, there is more: Eastern spicing in the form of lemon-grass and chilli for grilled prawn brochette; ginger lime and pink peppercorns for salmon trout marinade; five-spice powder to season scallops.


The Good Food Guide 1991
There are not many fish restaurants approaching this calibre in the British Isles. To ensure survival, however, Rick Stein has turned himself into a veritable enterprise, with a prize-winning cookery book (and another in preparation), uncluttered but comfortable bedrooms above the restaurant with views over town and harbour, a delicatessen selling cheese, pastries, fish soup and other specialities from the restaurant, and now a bakery, using flour from Crowdy Mill in South Devon, baking for the restaurant and shop and making pasties to bolster out-of-season turnover - a giant step up from the refrigerated lorries that seem the only other source of Cornish pasties in the south west.
The restaurant is still the hub of all this whirling activity. Clear, white, hard-surfaced with lots of green plants and bright posters of every art exhibition possible, the place has an unlikely city atmosphere tor a small Cornish town that is half fishing port, half-holiday resort.
And the customers: 'Where do all these smart people come from?' asked one reader, who also said how surprisingly elegant the dining-room is. It takes some people by surprise, as if they expect only a small bistro with nets and glass balls hanging off the ceiling. Some of the splendour is to do with the cost, of course.
'I had probably the most expensive meal I have ever had - but the four of us were unanimous in our praise,' even if they did find the lighting too harsh. The money is not ill-spent for materials are generously dispensed and strenuously worked for. The menu is either set price with a choice from three dishes at each course or a carte of another dozen items. The prix fixe is not expensive at all, in line with any number of country places, but escalation may occur with supplementary specials that include turbot, crayfish, lobster and salmon.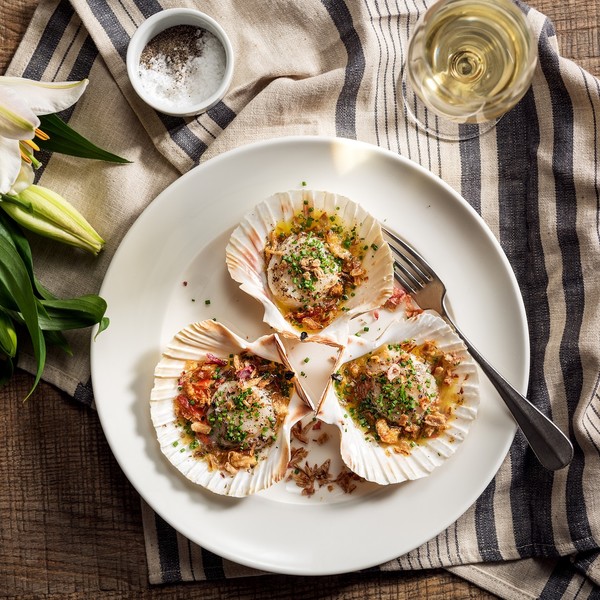 The Good Food Guide 1993
Rick Stein Inc. grows and grows. The shop and bakery (round the corner in downtown Padstow) have been refurbished and extended, there is talk of a coffee shop, a new book is due, and the restaurant is open for lunch every day. To achieve these ends, the brigade has been strengthened, and Rick Stein hopes consistency is improved. The Seafood shows that real restaurants – busy, good, bright and humming with every sort of life – can exist in Britain, and can make money. It is inevitable that this place gets differing ratings from readers – it serves so many of them.


The Good Food Guide 1994
'We meant to try some more places in Cornwall, but perhaps after the Seafood, they would have been a let down.' Thus the postcard from people reconciled to life at a table looking out over the estuary (bedrooms upstairs for the somnolent have even better views) in a restaurant that does not flag. Rick Stein is still an inventive cook making inroads on the prejudices of English people when it comes to eating fish. Try the plaice with steamed cucumber and coriander, or cod baked in salt, with aoïli and butter beans, or scallops with mange-tout and butter beans.
This is fish cooking that takes notice of the seasons, marries fresh foods sensibly without the heaviness and encumbrances of old-style sauces, and is not afraid of reality being left ungarnished if that is best for it. Hence moules marinière, grilled sole, seafood platter or simple oysters or langoustines are allowed their space. People who are mad for meat can always have something fleshy for first course - for instance, pigeon with potatoes, lentils and leaves - and there is usually a steak.
The set-price meals are a good deal and fairly costed if you have fewer courses than expected. What is such a pleasure here is that the room is bright and colourful, the chairs are comfortable without being ornate, and the atmosphere buzzes at almost any time of year.
Desserts are not afterthoughts. The lemon tart had 'the crispest pastry I have ever eaten', the cheeseboard is respectable, the tarte Tatin well loved. Some people raise voices at the prices, but they may have never bought fresh fish in their lives. Those who have see the reason.
For the wines, 'Our Selection' continues to offer a clever and interesting range that will suit most customers. The emphasis throughout is on white as might be expected, and quality is high; reds are not outdone and selection remains as secure. Prices are all very fair with much under £15. House wine is from £8.95.