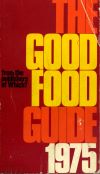 The Good Food Guide 1975
'The process of amoebic fission that has given the West Country two Perry-Smith restaurants instead of one was the best news of 1974 for those who were still mourning his departure from the Hole in the Wall. The patriarch's engaging stepson, Tom Jaine, and his wife run this harbour-front restaurant, with Joyce Molyneux cooking as though she never stopped, and the touch of class is unmistakeable from the first glimpse of the menu outside. Inside, there is a slight sense of exposure in the well lit room, with its picture window onto the boasts and the oilskins, and nothing between you and the kitchen. The décor is sensitively done, with Edward Lear landscapes round the walls, and from the first sight of the plump, glistening black olives and home-made cheese cookies you know you are in good hands.
Early accounts mumble dreamily of chestnut and celery soup, chicken liver pâté and rillettes, hors d'oeuvre that allow little tastes of many house favourites such as ceviche and mushrooms arménienne, and a noble summer pudding of redcurrants, raspberries and gooseberries (perhaps when the restaurant is older they will dare to shave the bread a mite thinner). Main courses, as of old, are divided into 'always' and 'sometimes'. The latter usually means fish, and the hot lobster, covered with a messine (a creamy-tarragony confection almost too thick to spread) will surely bring half Devon tearing down the hill into Dartmouth before long.
The Averys wine list has not yet been fully adapted to the seaside locale: the Loire whites stand up; the hocks collapse early. But you can drink decently for under £2, seriously for £5, and no doubt memorably for £30 (Ch. Latour '53). More reports, please before the honours list is thrown open.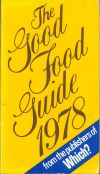 The Good Food Guide 1978
Last year we suggested an Awayday from London to Dartmouth to restore the hopes of disillusioned metropolitan eaters. 'A season ticket would be better,' someone replies, and someone else, after his second 'major detour' for the pleasure of dinner at Tom Jaine's graceful quayside restaurant, could only agree with the Guide inspector who ate a test meal during the autumn and found it hard, like Molly Bloom, to say anything but yes, and again, yes.
The family relationship between the Carved Angel and the Helford Riverside (q.v) is obvious from menu, wine list and indeed little details like the black olives and cheese wafers in the library (with real books) upstairs. Joyce Molyneux cooks, and has her own style. Fish, of course, is often sensational, whether it is grilled sea bass that has hardly had time to forget the sea, served with lemon, herbs, and aïoli, or gratin of crab and mushroom, or fish soup 'perfectly balanced for flavour and texture'. Salmon is usually a feature too, and a pheasant braised with celery may appear in its season. But more workaday dishes are not to be despised. Do not imagine, for instance, that you have tasted veal Marsala just because it is on every trattoria menu you have ever seen, or the queue de boeuf aux vignerons 'in a richly reduced sauce with coarsely pureed carrot and nutmeg' is only mother's oxtail by a French name.
Main dishes – mostly about £3.25 – are served with potatoes or rice and a green salad, with vegetables extra if you want them. It is not really a place for steaks – lamb tournedos disappointed one visitor. The ices and sorbets are superb, and summer pudding in season or apples flamed in calvados for a cold day are no less masterly. The Cheddar comes from Newton St Cyres, and the coffee – though 45p now – is accompanied by good fudge. The sources of the wines – from £2.85 for Averys Clochemerle Beaujolais – are the same as at Helford, with some variants: note the well-chosen Loire whites, and senior clarets, with '59 well represented from Ch. Citran (£6.50) upwards. Service is by 'jolly girls who drop things', but they are considerate and civilised too. No music.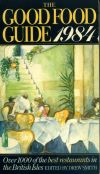 The Good Food Guide 1984
'We went to thank the chef and found her cleaning the oven.' Joyce Molyneux's cooking is the revolutionary wing of the Elizabeth David party. Where others play off one flavour against another, Miss Molyneux is into triples and quadruples: a kind of culinary gymnastics backed by one of the best-understood networks of suppliers in the country.
Sometimes it's D-I-Y, as in a starter of pastry turnovers filled with a grouse mousse, served with game consommé and a glass of Marsala. ('Do I dunk the turnovers in the soup? Pour the Marsala into the soup or over the turnovers? Mix all three together?') Or else the sweet of ricotta al caffe, a mixture of cream cheese, rum and coffee, which comes with two bowls: the coffee mixture is so rich that you can dilute it with the cream cheese from the second bowl into a third bowl.
There is a certain lingering reference in the choice of cold dishes to the days of the Hole in the Wall in Bath, which reflects itself in ever-changing combinations. For instance, in the Fishy Before you might get just a taste of a hot pastry turnover filled with salt cod, a ceviche made of sole, brill or salmon, turbot with light curry sauce, a mousseline of scallops, or lobster flavoured with anisette. Charcuterie and vegetables get the same imaginative treatment.
The restaurant is partly open-plan, so you can see much of the kitchen dexterity going on in the distance over the top of plants, or else you can peer out over the estuary through the window. The menu offers four courses but you can opt for just two, which is perhaps better value because the sorbets are free anyway.
Opening courses might be fish soup with rouille, goujons of sole in batter flavoured with fennel plus aïoli, succulent Dart prawns, a mousseline of scallops either à la nage or else with a sorrel sauce ('golly, I couldn't eat any more if I thought of the bounciness and richness much more') or noodles with basil. The stew of guinea fowl and pig's trotters – 'the trotter splendid, the sauce full of flavour, wonderful with the salad but, as usual, and not even the Carved Angel can change this, the fowl tasted of very little'; rabbit with damsons – 'not the damsons I remembered from my childhood i.e. little and very dark with very yellow middles, but what I had seen in Kingsbridge the day before and are called damsons – little old-fashioned dark blue plums. The rabbit was sweet and the damsons poached in the rabbit juice: the sauce fine, thin, rabbity, meaty, fruity, winey, dark and delicious.' Other combinations of taste have been courgette flowers stuffed with chicken and tarragon, crayfish with anisette, lobster with sherry soufflé sauce, chicken with three spices and banana, brown sugar meringues with honey and cardamom ice-cream. In spring an abundance of sorrel is translated into tomato and sorrel soup, sorrel hollandaise and even sorrel omelette. Vegetable straight out of the earth are not so much cooked as washed with hot water. Less successful has been veal with vegetables and green sauce overpowered by celery.
To finish, there are usually half a dozen cheeses, though the home-made version has not always gone down well: peaches poached in lemon and brandy, mango sorbet, crème brûlée, rum baba or orange meringue with orange liqueur ice-cream and a syrupy sauce. Coffee comes with fudge.
The wine list is sensible and not cluttered with £50 indulgencies but anchored mainly around £20 clarets (plenty of '71s but not many '70s) and burgundies (but Givry '76 Domain Baron Thénard, £9), and £10 for the Loires (no less than eight Savennières and six Sancerres). From the Rhône there are five different Côte- Rôties back to halves of les Jumelles '66 from Jaboulet at £10. On the 'short wine list' – a selection of winners inserted with the menu for customers who prefer to ignore the main list – there is white Châteauneuf-du-Pape, Font de Michelle '81 at £9.50 and Ch. Tour des Combes '76 at £8. The Rhônes and Loires are mainly from the Yapp in Mere.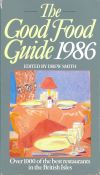 The Good Food Guide 1986
Both the Angel and York House next door are intricate, black and white buildings with elaborate coloured carvings between the timber frames – an eagle, flowers, a ship, an 'R' emblem. The view across the road from the front room is to the harbour quay. At the back is an open kitchen hidden by large plants. In the centre stands the carved statue of an angel. Otherwise it is an unfussy beige and white room. Front of house now is the dynamic Meriel Boydon, helped by two young girls who have the eyes and movements of shy deer.
If anything, Joyce Molyneux's cooking gets better. The style is classic Elizabeth David, but less orthodox than her partner George Perry Smith practiced at Helford. There is a constant awareness of the moving of the seasons. The cheese straws, served with aperitifs like the house mix of raspberry liqueur and champagne, came one night covered with cumin seeds and the next with poppy. In some cases, Joyce Molyneux is content to rest on her execution of classic regional dishes, like goujons of Dover sole (in a batter straight out of Elizabeth David's French Provincial Cookery recipe for beignets d'aubergine) deep-fried in groundnut oil and served with a delicate and intense mix of onion and lemon. Now, from a spiced lamb dish with aubergines and yoghurt (still practised at the Hole in the Wall in Bath and at the Riverside in Helford) has evolved beef marinated in ginger and orange, threaded onto a skewer with bay leaves, grilled so the smoky flavour is absorbed, and then served with a similar aubergine concoction, cooked ratatouille-style with tomatoes and spiced strongly with cinnamon and cumin eased by a blob of yoghurt and parsley.
Such cooking can come only from the principles of Real Food, worked out in the kitchen, and not from a dogma or recipe book. It is the same principle as Frédy Girardet's spontaneous cooking or Raymond Blanc's cooking of today. It is not by any means nouvelle cuisine, which is too often hidebound by its own tenets, but it is creative cooking of the highest order. What other dishes have we eaten at the Angel that reach such standards?
Lambs' kidney and sweetbreads with mushrooms on puff pastry sprinkled with sesame seeds, in a sticky sauce of butter, stock and Madeira; roast rabbit served with bread sauce and sloe and apple jelly; Pavlova with pineapple and kirsch cream; a cheeseboard of Stilton, matured Cheddar and local Shapham, served with freshly made oatcakes – all these compare with the best by any standards. The coffee is excellent and comes with home-made fudge. There are 187 wines chosen with the same care that goes into the food; four house wines figure at £7.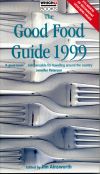 The Good Food Guide 1999
'It took us 12 years to organise ourselves to have lunch at this splendid restaurant,' confided a couple who came all the way from Taunton, and were glad they made the effort. The 'airy, elegant' dining-room has a splendid view over the Dart estuary (or you can 'watch passers-by licking their ice creams'), while the open-plan design makes it easy to see goings-on in the kitchen. The principles here are well established, and take their inspiration from the 'European/Elizabeth David tradition'. First, develop good supply lines, using local raw materials as far as possible: seafood is the most obvious resource to land on the doorstep. Then present the food simply, 'with no garnishing for garnishing's sake'; everything on the plate should be there for a good reason.
It is the approach that has kept the Angel's halo in place for over a quarter of a century. The food has always maintained a proudly British dimension – in roast partridge with bread sauce and medlar jelly, for example – although the kitchen is not slow to pick up on other bright ideas and flavours: prawn soup made with coconut, chilli and lime, and served with fish wuntun, perhaps, or best end of lamb with spiced couscous and aubergine. For dessert, expect hot chocolate soufflé with vanilla ice cream, or rhubarb and kumquat compote, from half a dozen alternatives on the carte.
Not all reporters find such simplicity of style to their taste, although it is worth noting the absence of hidden extras. The overwhelming majority view, however, is of consistently good food. Service has been both 'speedy, friendly and efficient', and slow enough to allow 'a long, relaxing lunch'. Other details, from bread and olives to pickles, coffee and petit fours, are notably good, and menu options start with a set one-course dinner. The owners have now opened the Carved Angle Café at 7 Foss Street, serving teas and light lunches.
In sympathy with the food, every wine on the list has earned its place: there are no fillers or makeweights here. Fine wines from France are ably supported by judicious selections from the New World, while a quartet from England keeps the British flag flying. Numerous aperitifs and digestifs are listed, and half a dozen wines from France and New Zealand are £15.