This small Fenland city is heartstoppingly beautiful – the art, music and theatre are world class, the river Cam dreamy. The place fizzes with the output of stratospherically brilliant minds. In their own times here Charles Darwin, Sir Isaac Newton, Alan Turing, Sylvia Plath, Rosalind Franklin and Messrs Watson and Crick have pondered the evolution of mankind, discovered gravity, set us on the path to computer literacy, written exquisite poetry and cracked the significance of human DNA.
When it comes to food, Cambridge has typically been more fill-the-belly than nourish-the-soul, but with some strong new entries in The Good Food Guide 2020, things are looking up. For every slice of ordinary cake, insipid coffee, or tourist-trap meal, something correspondingly extraordinary lies round the corner. Finding the best just takes a bit of research.
Start at Fitzbillies where the Chelsea buns are famously, stickily fabulous. Fortifying yourself is important because this is a city best explored on foot or two wheels. Visit the 'big three' colleges – King's for its spectacular chapel, Trinity for the Wren Library where you might see Newton's notebook, and magnificent St John's. If your energy flags, try one of the food stalls at the daily outdoor market, or grab a coffee at tiny Bould Brothers where expertise from bean sourcing to latte art is poured into every cup. Aromi bakery will tempt too, pistachio-filled cornetti or crisp arancini filling the soul with Sicilian sunshine.
Street food is big and delicious – lunchtime locations vary so check the FoodPark website to find the rotating line-up. Or head over to Thirsty for a drink and bite from whichever food truck is parked outside that day. Steamed baos, fragrant Sri Lankan curries, or Middle Eastern mezze anyone? A flurry of new arrivals is putting the Grafton shopping centre's Food Social area on the map too: this is where you'll find one of the GFG's quirkiest newcomers, Amélie, with its made-to-order flammekueche (stone-baked Alsatian flatbreads) – the crème fraîche, onions, smoked lardons and Gruyère option is particularly magnifique, but there are many others. Bus hop down Hills Road for a laden Swedish platter, or Turkish eggs poached and served with garlicky labneh, chilli butter and sourdough. Or head to Norfolk Street Bakery for its sell-out pastel de nata, choose a confectionery masterpiece from Dulcedo Patisserie & Dessert Kitchen, or lick a second-to-none cone at Jack's Gelato.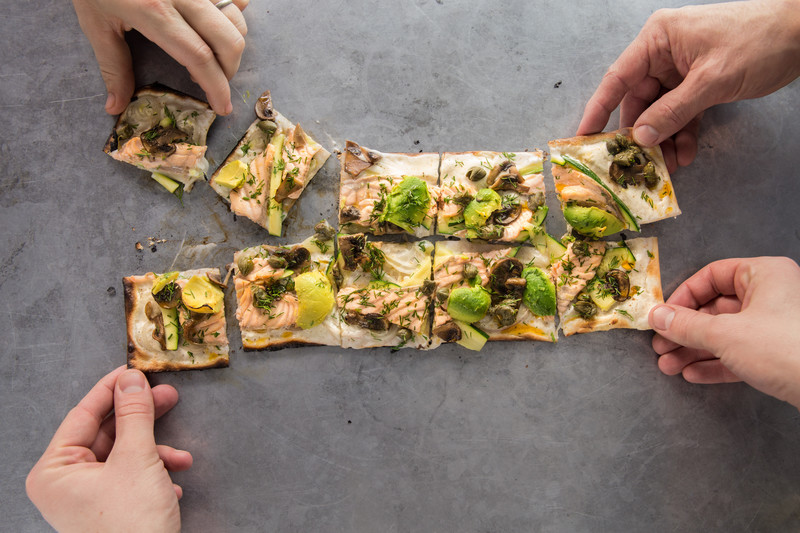 For a quick drink, head to The Eagle, because if it's good enough for James Watson and Francis Crick… In 1953, so the story goes, they dashed out of the Cavendish Laboratory into the pub and announced to anyone who'd listen that they'd solved the conundrum of the double helix. Raise a glass to that world-changing discovery, and raise your eyes to the ceiling as you do, for it is covered in the signatures of returning Second World War airmen. The Pint Shop, The Cambridge Blue and The Petersfield all offer good craft ales, while real aficionados visit the city in November (13-16) for the beer festival.

Dinner? Varsity may claim to be the city's oldest restaurant, but its bistro fare and neighbourhood vibe tick a contemporary box; the same goes for its sister, Trinity. The Cambridge Chop House and SmokeWorks are also siblings and, as the names suggest, give top billing to muscular portions of meat. For more plant-based fare, cross Parker's Piece municipal park to Mill Road to find another of this year's outstanding GFG newcomers, Vanderlyle. Take a seat to enjoy the 'originality and vigour' of Alex Rushmer's thoughtful, flavour-packed cooking, served up in a no-frills, relaxed restaurant.

Mill Road is worth a wander. Drop in at Atithi for contemporary pan-Indian dishes, or fresh-faced café-pizzeria Scott's All Day (delicious bacon sausages are from the superb Mill Road Butchers opposite). There are flat whites, smashed avocados and shakshuka-fuelled brunches aplenty on this road, but you can also buy jasmine rice by the 10kg sack in a Korean supermarket, get your cash converted, or a chair upholstered.

Two of Cambridge's hottest tables are just north of the city centre. At much-loved Midsummer House on the eponymous Common, Daniel Clifford and Mark Abbott deliver supremely polished, classic cooking to a loyal fanbase. Close by is Restaurant Twenty-Two where Sam Carter and partner Alex Olivier run a 'distinctly classy operation'. Book well ahead because this fast-rising star is deservedly popular.

Where to stay? The magnificent University Arms takes some beating, not least because of the in-house Parker's Tavern, where Tristan Welch turns out inventive seasonal cooking, at once luxurious and familiar. On the other side of Parker's Piece try The Gonville Hotel, home also to stylish Italian restaurant Cotto (don't miss Hans Schweitzer's chocolate creations), or near the train station there's The Tamburlaine Hotel, with its slick cocktail bar and the promise of a refined afternoon tea. For those curious to taste undergraduate life, check out University Rooms, which offers simple bed and breakfast accommodation in colleges.
Published October 2019