Cult. What makes a cult wine? What constitutes a cult winemaker? Christian Tschida has the term casually attached to him by so many writers, me included. Today, the winemaker is adored by top restaurateurs and wine geeks alike – especially by those who enjoy wines of the 'natural' variety.
I wonder what Tschida makes of the term 'natural', a word both divisive and unifying in the fervid chat of the trade: 'I think at this point the term 'natural' has lost its original power and its meaning has mutated and shifted. It is being used in a very generic way. Everything is now labelled as 'natural' – not just wines, the whole food and beverage industry is using, or rather mis-using the term.'
This is reasoning I can get behind: a measured response from a winemaker so fastidious in his approach that he is held up as one of the pioneers of Austria's 'natural wine' movement before it had been widely established. Tschida tends 14 hectares of vines in the village of Illmitz on the Eastern shores of Lake Neusiedl in Burgenland – vines that have been with the family for four generations, since the 19th century. He has also acquired some vineyards in the village of Purbach, located on the opposite side of the lake within the Leithaberg mountain range.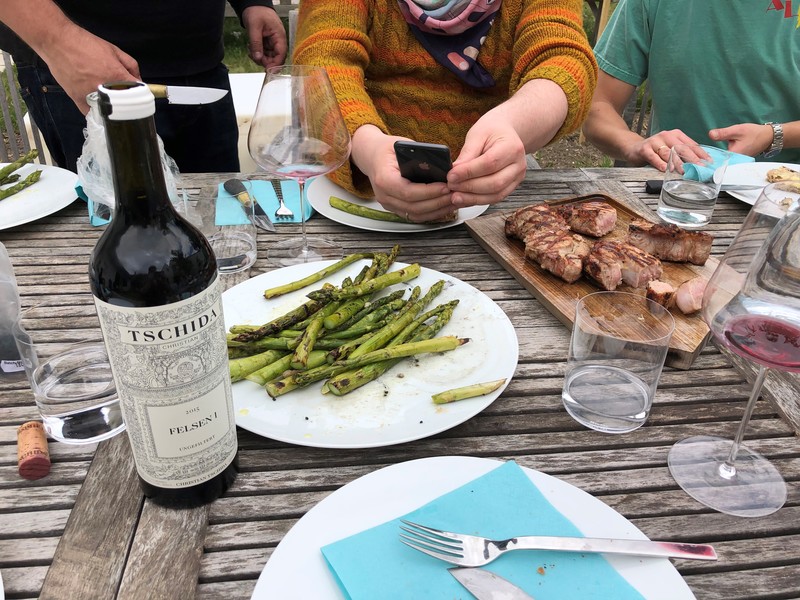 'My father taught me the basics when I was helping in the cellar and the vineyards as a kid,' he tells The Good Food Guide. 'Things like being able to tell the ripeness and sugar content of the grapes only by tasting them.'
Since Tschida's first vintage in 2000, he has become one of the most talked about winemakers in Austria – and Europe – working with mostly indigenous Austrian varietals on gravel, schist and limestone soils. He creates wines with a precision and detail often found wanting in some of the offerings of the 'low sulphur, low-intervention' brigade – he is obsessive in his attention to selection in the vineyard, and focuses on low yields, ageing in large barrels, and avoiding the use of sulphur.
All these elements require impeccable cleanliness in the winery to avoid tainted wines. His processes always carry a degree of risk: 'For the kind of wine I envisioned making 10, 15 years ago, there was no one I could turn to or bounce back ideas with. I had to try and fail all by myself, getting closer to matching ideas and results one step at a time.'
The first memorable thing about the wines are the labels: striking intricate filigree sketches drawn by artist friends Mel Ramos and Mr. Erró. They are a nod to his love of art, he explains.
'I respect a lot of artists, like Mr. Erro, who created the art piece on my Birdscape label. I like art that is not just meant to be decoration but speaks to me on many levels.'
As far as Tschida's wines go, I recently tasted 'Laissez Faire' 2021, a Riesling grown on schist soils and from the top slopes of Leithaberg to the west of Lake Neusuedl, where juice ferments in large barrels with indigenous yeasts. It spends two years aging in large Stockinger barrels (a renowned and highly coveted Austrian cooper) and is bottled without fining or filtering and no addition of sulphur – the very essence of the natural style. The wine has a coruscating energy, a mineral, saline blast, with an eye-widening purity and focus: a fine foil for some shellfish, I reckon. Maybe oysters?
Another favourite is Tschida's 'Kapitel' 2017, a graceful, fine-boned Cabernet Franc that has all the intricate detail and freshness that the producer has stamped as his 'calling-card' style. It is a fine advert for the low-intervention school of winemakers. This, along with many of his other vintages, work beautifully with food.
'I was thrilled by the combination of 'Laissez-Faire' with oysters at Fiskebar in Copenhagen,' Tschida says.
'Regarding other memorable matches outside of my own, I still vividly remember a night at Bar Brutal in Barcelona with a crazy good Chenin Blanc from Juan Ramon Escoda served with grilled octopus, and tripe schnitzel with at amazing Croatian red from Vinas Mora at a new opening, Le Rock. I'm lucky to taste such outstanding combinations!'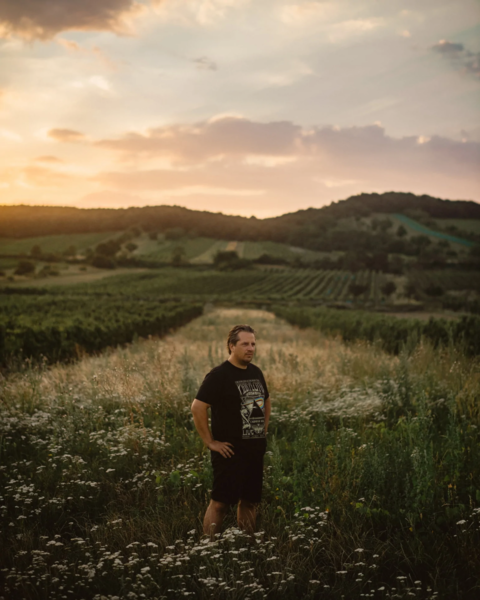 Art, food and wine all contribute to Tschida's influences and motivations, and he mentions Pink Floyd and Metallica amongs his loves, pointing out that he finds 'a lot of my own history and memories in the art of these bands', as well as a connection to the jazz of Django Reinhard, Dave Brubeck and Dave Matthews. The transformation of grape juice into wine starts to become quite profound when we bring all this into focus.
These are cerebral wines, for sure. There is a haunting 'otherness' I find about them, a real distinctiveness that makes me understand the clamour around the wines and their winemaker. No wonder people follow him and restaurants clamour to stock his bottles.
The UK importer, Peter Hoenegger, of Newcomer Wines, sums up the indefinable 'something' about Tschida well: 'Christian's wines have always been very distinct and unique in terms of taste, texture and character. They are not necessarily 'cool and out there' wines but are the result of years of experimentation and perfecting his craftsmanship, both in the vineyards and the cellar.
'They have a global impact in the fine wine trade as much as the modern, more progressive restaurant scene.'
Winemaking as a form of poetry may sound highfalutin. Maybe it is. But when there is matter and meaning to bottles, it needn't be considered pretentious, a word bestowed on viticulture often. Rather, the discussion is more romantic, cult-like as it might appear.
Says Tschida: ''Natural'' wine for me is like an exact mirroring, a 1:1 aromatic drawing of the vineyard. If the vineyard is average, the result will be too. I strongly believe in the true romance between vineyards and farming, nature and humans.'
If following this credo is what it means to be an acolyte of the Tschida 'cult', then sign me up.