Missing your favourite restaurants? Leave the hard work to the professionals and order restaurant-quality food direct to your door. With a bit of advance planning, you can coordinate deliveries with friends across the country and use video chat to hold a virtual dinner party.
MADE IN OLDSTEAD
Best for date night
Boxes from £40-£120 for two; delivery £9
What Tommy Banks has applied the farm-to-table approach of his celebrated Black Swan at Oldstead to these weekly changing food boxes for two. Choose from three three-course menus (one vegetarian) or a celebratory five-course Signature Box.
When Orders open on Thursday and close at 9am on Monday for Friday delivery.
How The printed instructions are easy to follow but our presentation is a bit messy; some pictures would come in handy.
We love a starter of glazed pig's cheek with smoked beetroot (whole and puréed) and fennel kimchi; it's a wonder of stickiness and flavour. The polenta made with Cow Corner milk has a creamy consistency you can't achieve at home, at least not without a lot of hard work.
Verdict Great value for cooking of this quality.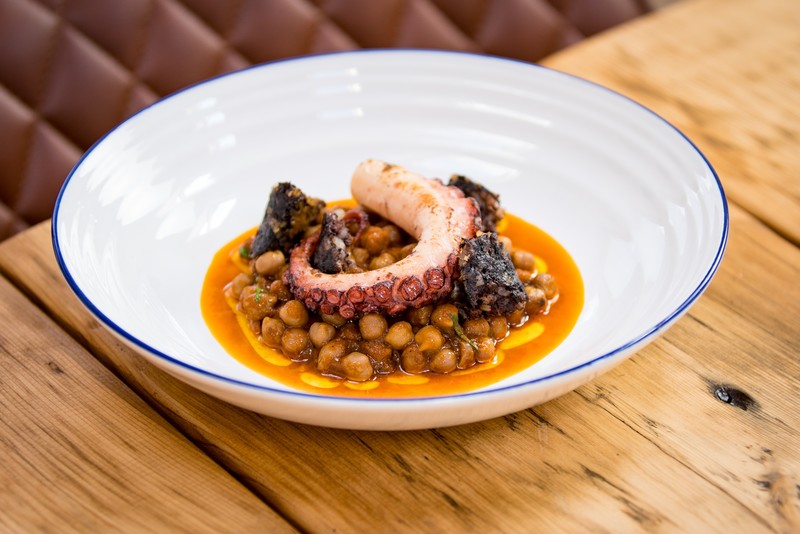 ELITE AT HOME
Best for comfort food
Starters from £5, mains from £10; delivery £12.95 (free on orders over £80)
What After conquering the north-west with his six crowd-pleasing bistros - from Chester's Sticky Walnut to Manchester's Kala - Gary Usher is now bringing some of his best dishes to the rest of the country.
When Orders open on Friday and close at 10am on Tuesday for Friday delivery.
How The printed instructions include helpful pics of the finished dishes and a scannable code linking to online cooking instructions; or watch Gary's how-to videos on Instagram. It's all very easy: either heat on the stove, in the oven or boil in the bag.
We love the rich and tender octopus with a morcilla and chickpea stew and the braised featherblade of beef with creamed potato, the most popular dish on the menu.
Verdict With portions generous enough for two, this is excellent value. Highly recommended.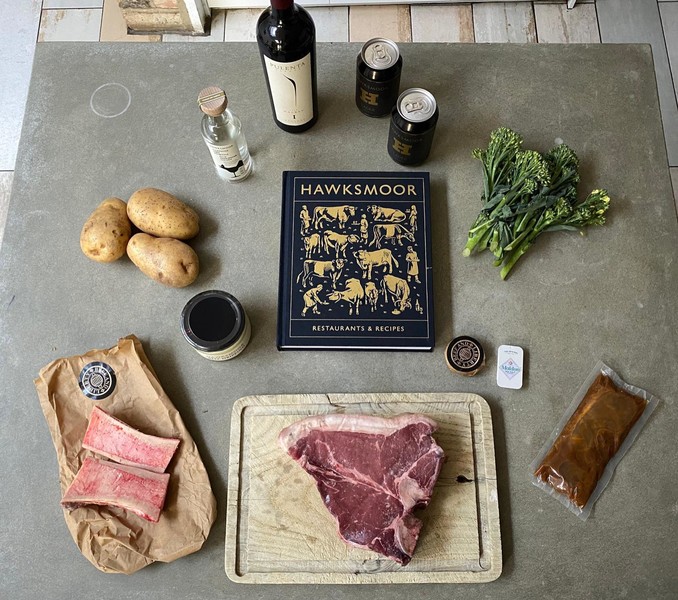 HAWKSMOOR AT HOME
Best for carnivores
Fillet or ribeye box £85 (£125 with drinks); delivery included
What This box is all about creating a steak night to remember. Expect two thick-cut, dry-aged steaks, sides of creamed spinach and 'the ultimate oven chips', bone marrow and Madeira jus and sticky toffee pudding with clotted cream. Ingredients are top-notch, as you'd expect from the maestri of meat.
When Order by 5pm on Wednesday (England) or by 6pm on Tuesday (mainland Scotland, Wales) for delivery on Friday.
How Explanatory videos by executive chef Matt Brown are a masterclass in clarity. Brown shares tips that make the difference between a steak night in and a Hawksmoor steak night in: heat the pan to searing levels, season with salt more generously than you might think necessary, and rest the meat properly. Sip a negroni (pre-mixed and an optional extra) and crank up the Spotify playlist (there's a QR code for this) to get you in the mood.
We love the grass-fed, dry-aged beef which cuts like butter. The gravy is similarly heavenly: a madeira jus enriched by scoops of bone marrow delivers an aaaaahhhh moment to savour.
Verdict The price reflects the quality of the ingredients, but for a special meal this box is worth it.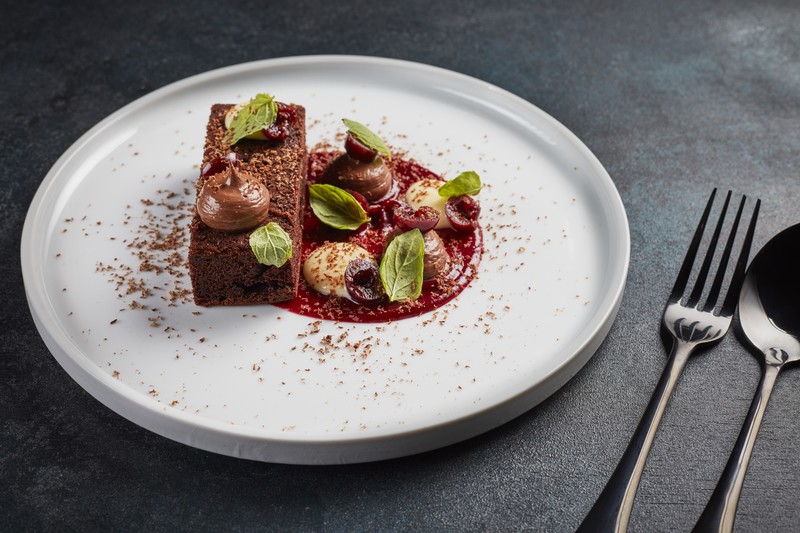 ANTONA AT HOME
Best for solo diners
Starters £7.50, mains from £20; delivery £10
What A short menu of creative dishes from the owner of Simpsons in Birmingham and The Cross at Kenilworth.
When Order by midday on Tuesday for delivery on Friday or Saturday.
How The straightforward printed recipes explain what to do with the numbered packages; there's minimal prep with no chopping, mostly heating.
We love that, for our selections, the oven stayed at one temperature throughout. A starter of mushroom gyoza with a shiitake broth is full of complex flavours and singing with umami savouriness.
Verdict A stress-free meal of undeniable quality.
SABOR EN CASA
Best for sociable chefs
Counter box £58 for two; delivery £16 (£8 within M25)
What A selection of six favourites from this confident Mayfair tapas bar. Add extra dishes or push the boat out with the Asador menu box (£90 for eight dishes).
When Order by midnight on Tuesday for Friday delivery.
How A beautifully produced, illustrated booklet gives lively instructions for recreating Sabor's signature dishes at home. The swift cooking time for each tapa means nothing can be done in advance, so make it part of the event.
We love beautifully fresh gambas al ajillo with fat slices of garlic; plump and tender Galician-style octopus; and a superlative dish of Iberica presa and mojo verde, whose accompanying veal jus reaches depths (and heights) most home cooks can but dream of.
Verdict There's oodles of personality in both the food and presentation.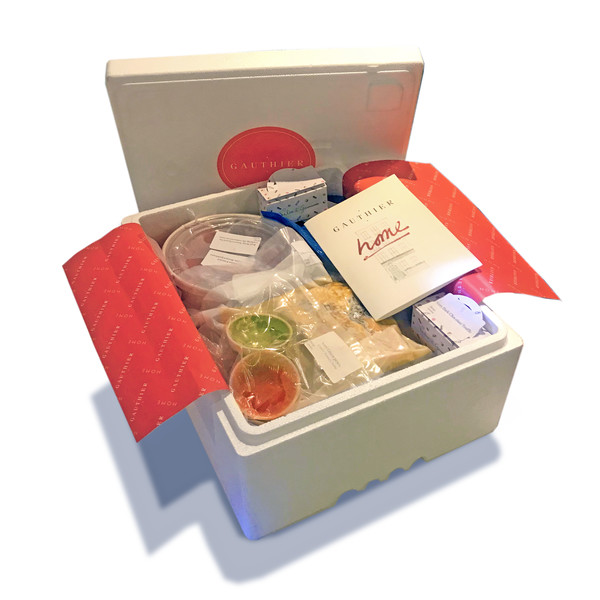 GAUTHIER HOME
Best for vegans
Vegan box £75 for two to four; free delivery
What Gauthier Soho has created a weekly changing eight-course vegan menu for four, which can be split into two separate but generous dinners for two.
When order by noon on Thursday for Friday delivery.
How The easy-to-follow instructions could be a little more detailed (eg whether to cover, cook until golden etc). If you opt to serve it as a single meal, you'll need to plan ahead, working backwards to get everything on the table warm and in sequence.
We love the large basil ravioli with leek, spinach & pine nuts, an elegant dish you'd never be able to create from scratch. A dark chocolate mousse with crunchy praline and chocolate crisps has us scraping out the glasses.
Verdict An incredible amount of preparation goes into every dish with truly delicious results.
STEIN'S AT HOME
Best for seafood lovers
Menu boxes from £40 for two; delivery £7.95
What A range of seafood-focused three-course menus showcasing classic Rick Stein dishes and quality Cornish produce. Go fancy with the lobster box (£100 for two) or keep it simple with the grilled hake.
When Order before noon on Tuesday for delivery Friday or Saturday.
How A single sheet of printed instructions is short and to-the-point. Save time by microwaving the spuds and the sticky toffee pudding. Less washing-up too. Win win.
We love the fabulously rich piperade that is the perfect contrast to the subtle hake. It's clear ingredients are well-sourced and super-fresh.
Verdict The £40 hake box is a total bargain.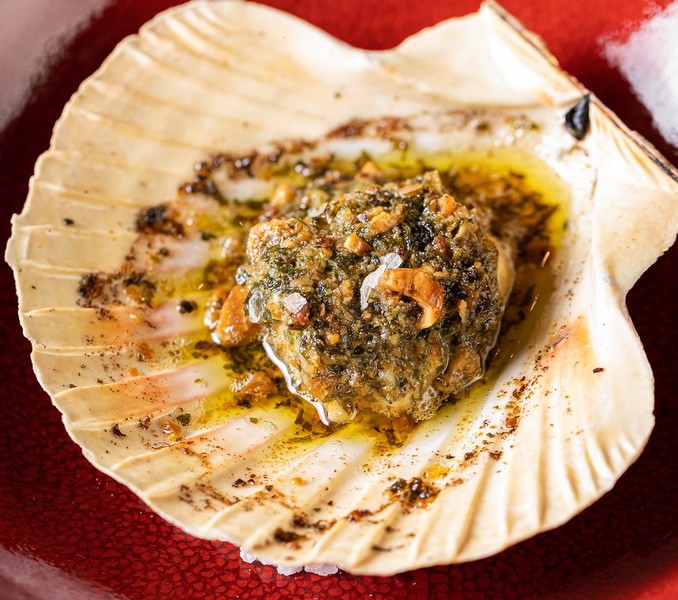 & HOME BY JAMES KNAPPETT
Best for a special occasion
£150 for two; delivery £15 (£10 within M25)
What A seven-course monthly-changing tasting menu from the chef behind The Kitchen Table, famed for its intricate dishes and foraged ingredients. There's also an 11-course version (£250 for two).
When Order by midnight on Sunday for delivery on Friday.
How So beautifully packaged, it feels like unwrapping a gift. Our box comes with detailed instruction cards although we turn to the website for visuals of the finished dishes. Take time to read it all through; you'll need a fair few pans, plates and changes of cutlery.
We love the divine hand-dived Orkney scallops, served on the shell with toasted hazelnuts and herb butter. A dish of purple sprouting broccoli with aged Parmesan sauce and walnut ketchup was a study in contrasting textures and flavours.
Verdict Worth getting your glad rags on for.
DISHOOM
Best for a weekend breakfast
£16 for two; delivery £5
What Everything you need to make Dishoom's famed bacon naan and spiced masala chai for two.
When Order two days in advance for delivery seven days a week.
How Watch the online video first as it offers some good tips, then follow the written instructions. The main task is rolling out the doughballs to make the naan, which you cook first on the hob then under the grill (there's an extra doughball in case things go wrong). Add a fried egg for a final flourish.
We love that ingredients are super-fresh and, for every kit sold, Dishoom donates a meal to Magic Breakfast, a charity which provides nourishing meals to schools.
Verdict More labour-intensive than your usual morning toast but well worth the effort for Insta-worthy results.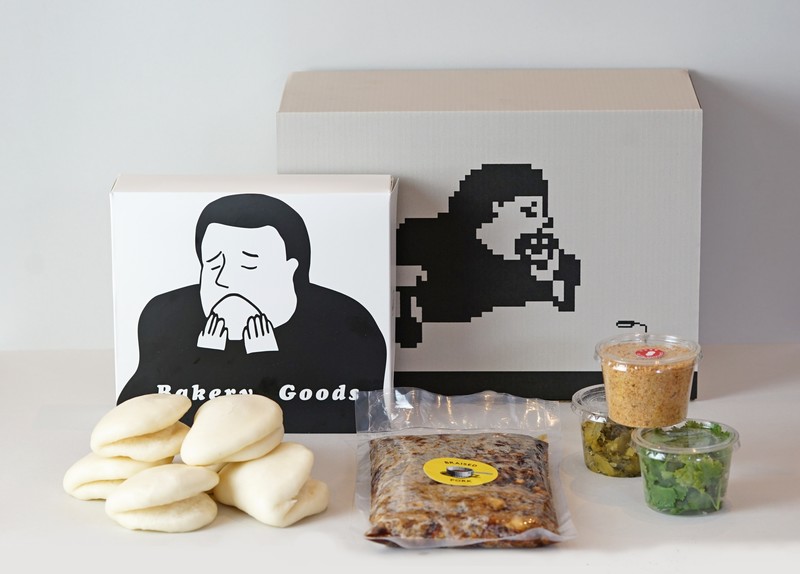 BAO
Best for snacking
£20 six-piece bao kit; delivery £7
What Cook and assemble your own pillowy bao buns in around 20 minutes using a kit from this popular chain with three London outposts. Choose between classic pork or vegetarian daikon.
When Order at least two days in advance for Friday delivery.
How The illustrated instructions for the braised pork bao are simple: heat the fermented mustard greens and pork in a pan; steam the buns over a colander or in the microwave, then assemble, adding the doubanjiang (fermented bean paste), peanut powder and coriander.
We love the branding. This is the perfect kit for style lovers.
Verdict An indulgent pre-dinner snack; perfect with a chilled beer.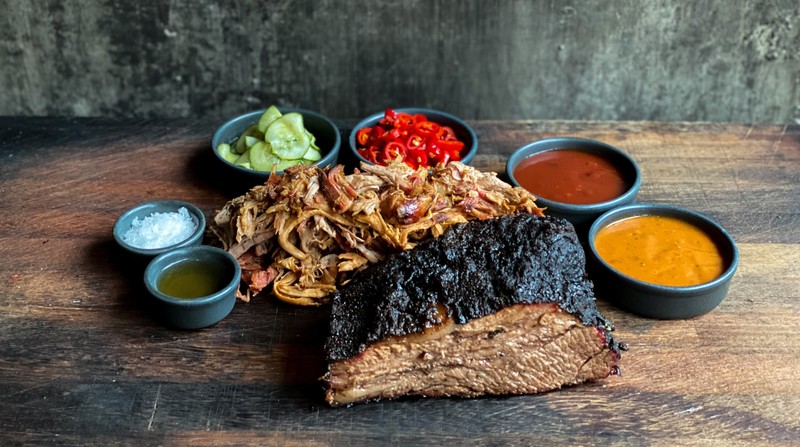 SMOKESTAK
Best for the time-poor
Feasting boxes from £35 to £65; delivery £5.95 (free on orders over £75)
What This famously no-nonsense east London barbecue joint delivers pre-cooked, vacuum-packed cuts that are smoky, charred and deeply redolent of their fiery origins. Feasting boxes include native breed pulled pork shoulder and 15-hour beef brisket, plus garnishes. The two-pounder version generously serves three to four; the four-pounder up to eight hungry mouths.
When Order by 6pm Wednesday for Friday delivery (orders go live on Monday at noon)
How There's no faffing with Smokestak's feasting boxes – the instructions could almost read: 'bang in oven; close door'.
We love The spoonably tender brisket. Do not pass on the sticky toffee pudding loaf: this special pud marries the flavours of porter and molasses with a toffee-sweet, salty caramel sauce.
Verdict A deliciously simple way to get that true barbecue flavour at home.
MORE TAKEAWAY OPTIONS
Use the search function to find the latest information on restaurants offering takeaway for collection, local delivery and nationwide mail order.