In 2019, The Good Food Guide calculated the average cost of a meal out to be £30. It is now £50, with rising costs across the board, staff shortages, and all manner of other challenges all contributing factors.
For us diners, the need to cut back on spending is becoming more urgent too. Over the last decade, the rise of casual eating places – pubs, bistros and deli-cafes, in particular – have struck a chord with us all, filling that gap in the market between smart destination dining and cheap chains. They taught us that eating out needn't be expensive; it could be casual, spontaneous, a regular weekday treat if you don't fancy cooking at home. That's a pleasure hard to give up.
This is where the set lunch menu comes in, that great way of eating out (often in very good restaurants) without putting too much strain on the bank balance. It could be a Good Food Guide high-scorer where lunch surprises with its affordability, or one of the Guide's mid-range establishments offering a hard-to-ignore deal.
And here's another money saving tip: click the Club Perks button on the home page of The Good Food Guide app and you will see a list of participating restaurants in your area (and beyond) each giving you £5 or £10 off the cost of a meal (minimum two people).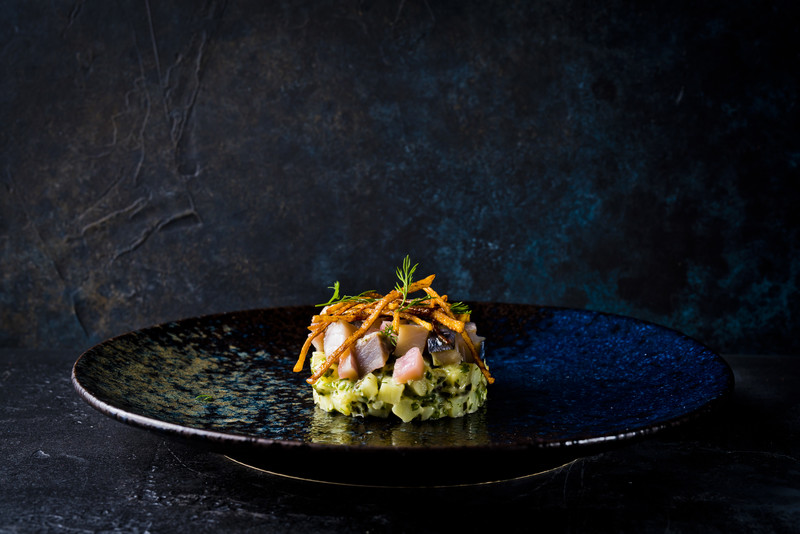 Lunch £39.00 for three courses
Paul Askew's restaurant is in an august building next to the Philharmonic Hall, its main room still one of the most dramatic dining spaces in Liverpool. The cooking is full of ambitious flair, the plates busy but not overcrowded with elements that all fit together as snugly as jigsaw pieces. At lunch look out for the likes of a trio of marinated Hooton beetroot with plant-based soft cheese and summer leaves, and Peterhead hake alongside confit cherry tomatoes and peppers 'piperade' with salt-baked potatoes and a vierge dressing.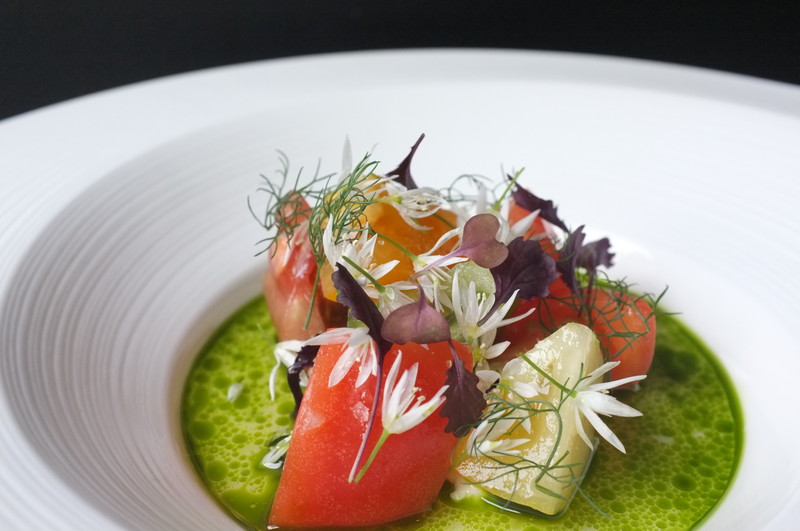 Cora, Boston Spa, West Yorkshire
Lunch and dinner, £33 three courses (£55 for 6 courses)
The third in Liz Cottam's stable of restaurants – Home, and The Owl – operates as a relaxed neighbourhood eatery and morning bakery, the counter piled high with bread and pastries. Adam Rasburn transferred here from head-chef roles at the Man Behind the Curtain and, more recently, Home. Though Cora is not as edgy as either of those two places, Rasburn's experience and creativity make it feel like high-end dining, while using modest ingredients and keeping it fairly priced. Note his set-price menu that offers the likes of pig's head terrine with piccalilli purée, and spiced honey-glazed duck breast with compressed cucumber salad and Yorkshire rhubarb hoisin.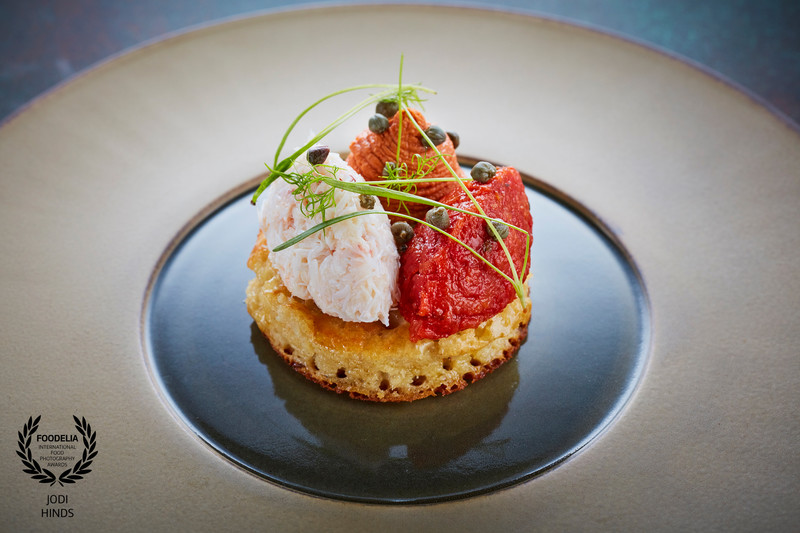 The Elephant by Simon Hulstone, Torquay, Devon
Lunch £27.50-£31.50 for two-three courses
The Elephant remains the mightiest beast in the placid landscape of the English Riviera. Nowhere else that has come and gone in the vicinity has attained its level of professional polish. Simon Hulstone has maintained his role as a hands-on chef, developing young local talent and offering an ambience of spacious civility a little way up from Torquay's yacht-packed marina. His fixed-price lunch, with choice at each course, remains a bargain, offering the likes of ceviche of scallop with apple and fennel water and dill oil, and confit pork belly with turnip purée, yellow beans and soy and mirin sauce.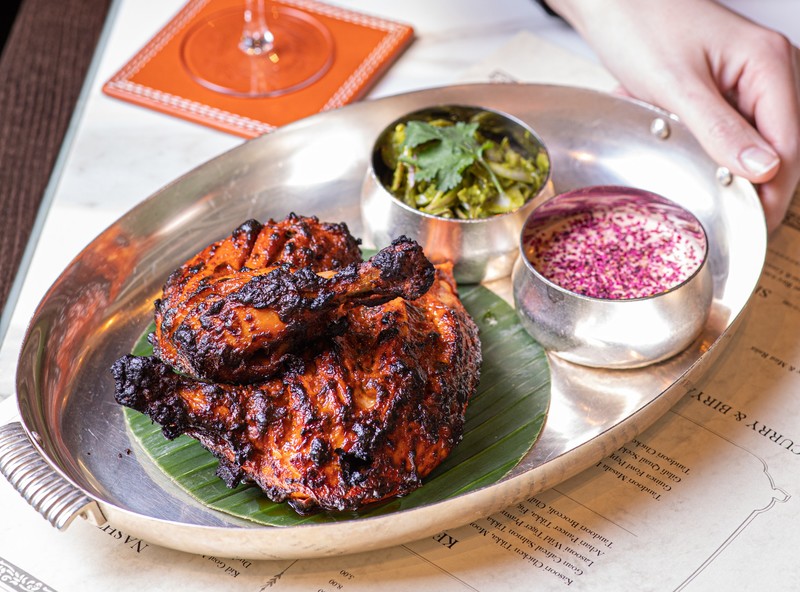 Lunch £39 – three courses with dessert £5 extra
Mayfair is a prime spot for first-rate Indian cuisine, and this relaxed, colonial-style restaurant from the owners of Brigadiers, Trishna, and Hoppers is no exception. The menu mixes the contemporary with the traditional to outstanding effect, the latter appearing in the shape of a genuine tandoor and familiar-sounding dishes such as rogan josh, but these are merely starting points for a kitchen that provides authentic modern Indian cooking. The short-choice lunch offers a snapshot of the style: say aloo chat, kasoori chicken tikka with moong sprouts and kasundi kachumber, and Goan prawn curry.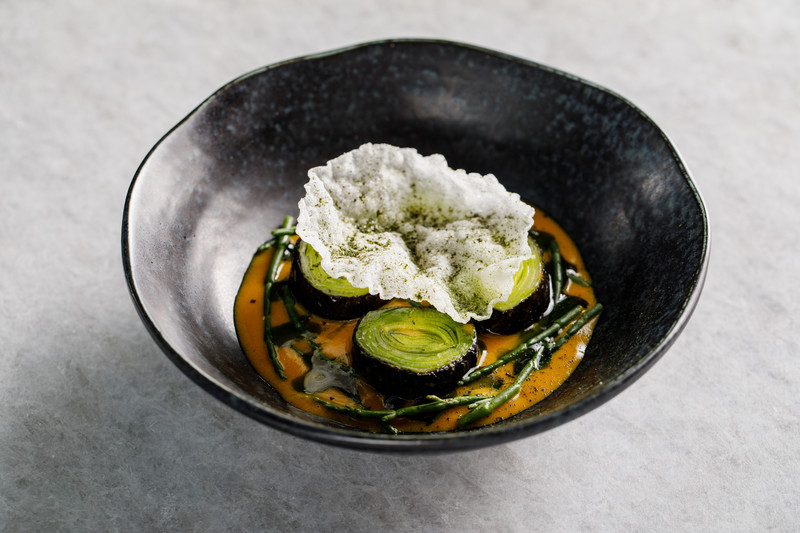 Chef's menu £36-£45 for four-six courses
Describing itself as 'modern, plant focused, relaxed dining', this 22-seater restaurant is set in the heart of an elegant Grade II-listed Victorian shopping arcade. The low-lit space is welcoming and intimate with an open, illuminated kitchen where you can watch the chefs busy at work. On offer is a tersely worded, inventive vegan tasting menu of four or six courses, with the likes of aubergine massaman with noodle and coriander, and celeriac with apple, mustard and olive and lovage ensuring you won't miss meat or fish.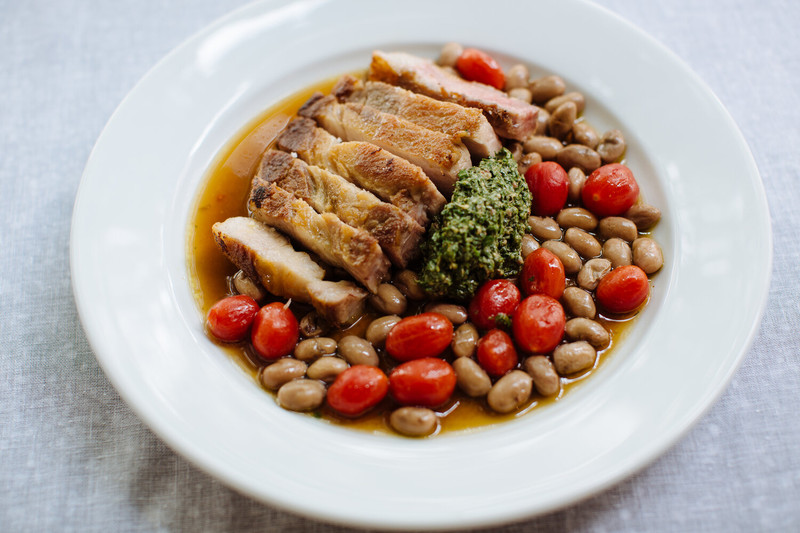 Lunch £19-£23 for two-three courses
This temple of Italian/European gastronomy feels as coolly refined as the marble after which it is named. The bright, sparsely decorated dining room with white walls, cream wooden panelling and dark wooden tables features an almost makeshift-looking open kitchen at the back, from whence come beautifully presented, precisely cooked plates of deeply flavoured delights. The set lunch is insanely good value, especially as it is very similar to the evening menu – expect fried chicken with shaved courgette and 'cacio e pepe', and rigatoni with Napoletana ragù and basil.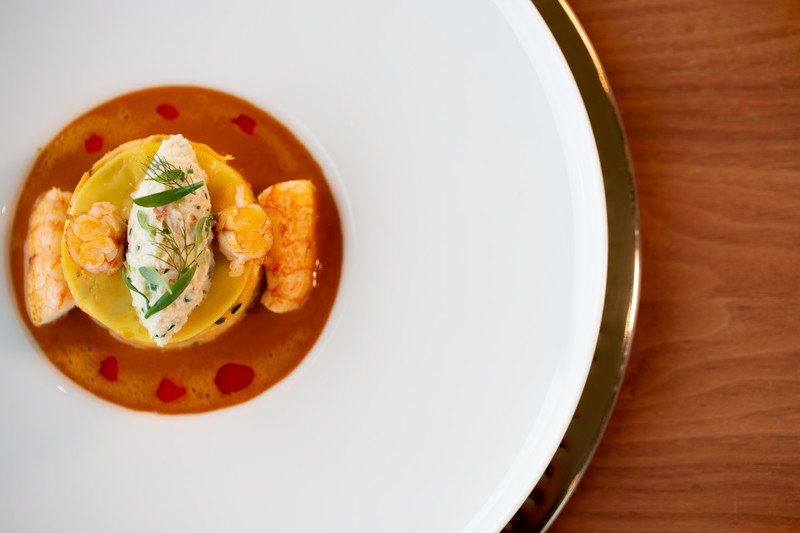 Seafood Ristorante, St Andrews, Fife
Lunch £40-£45 for two-three courses
Guide readers with long memories many recall that this modernist cube-like construction of glass and steel was once home to the Seafood Restaurant – a rare sight, cantilevered over the shore and adjacent to the venerable Royal and Ancient Golf Club. Since 2017, however, it's been in Italian hands, although fish from the Scottish boats – cooked in a 'plain-view' kitchen – is still the main attraction. Most of the menu still salutes Il Tricolore. At lunch that could include East Neuk crab risotto, and guinea fowl with a ragout of artichoke, broad beans and girolles.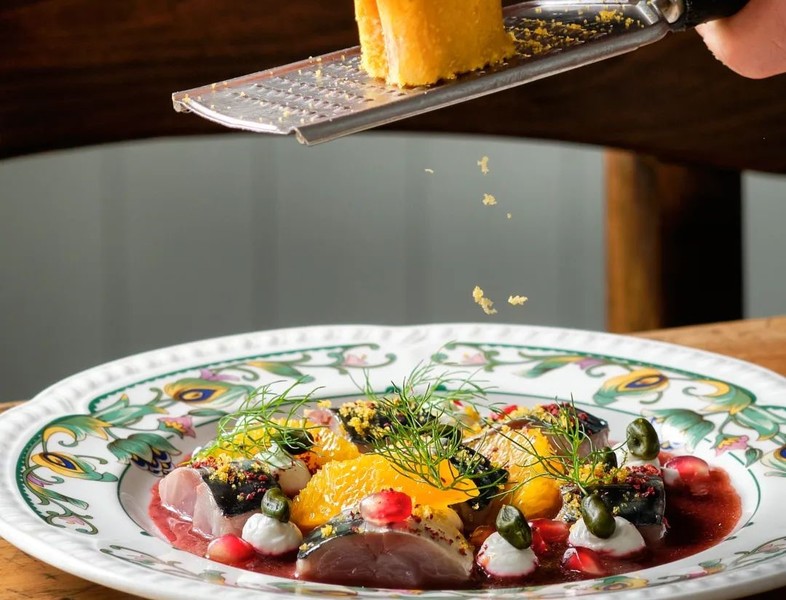 Pea Porridge, Bury St Edmunds, Suffolk
Lunch – £40 for three courses
In a restaurant world awash with menus for which 'please-all' and 'safe' are apt descriptors, thank goodness for Pea Porridge. The converted cottage bakery in a place once known as Pea Porridge Green is now a neighbourhood bistro where Moorish-meets-modern British menu. Justin Sharp's highly acclaimed cooking tempts at lunchtime with its good value and rewards inquisitive diners with dishes such as Berber-style cabrito goat ragú with polenta that are uncompromisingly flavour-first.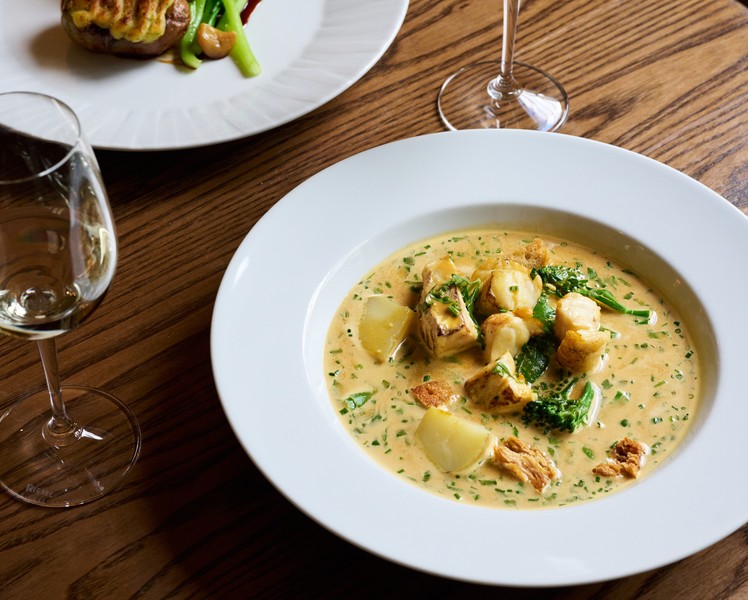 The Walnut Tree, Llanddewi Skirrid, Wales
Lunch £40-£45 for two-three courses
A near-constant presence on the UK's restaurant scene since the 1960s, the Walnut Tree's current custodian, Shaun Hill shares a culinary ethos with its founding father, Franco Taruschio. It's all about seasonality, a lack of pretence and letting the ingredients speak for themselves. While Mr Hill is still very much a presence, Sandro Strilozzi leads the kitchen these days and his set lunch is full of deeply satisfying flavours if dishes such as ham hock pudding with pickled walnut and beetroot, and skate with shrimps and brown butter, are anything to go by.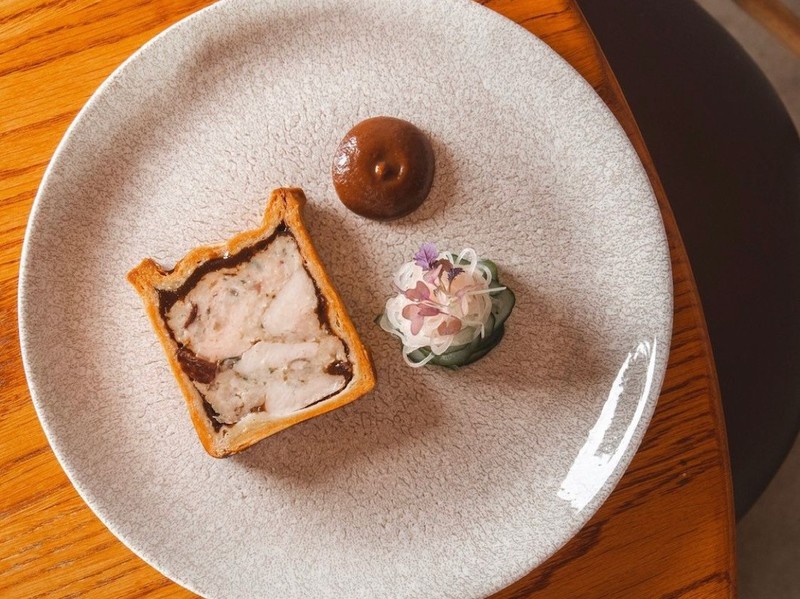 Lunch £32-£38 for two-three courses
Less than a decade ago the Woodspeen was a run-down Victorian village pub. Now there's a cookery school, a cheery, airy dining room with a picture window looking out onto west Berkshire, and gardens teeming with produce for the kitchen. Slickly turned-out modern British food puts equal emphasis on freshness and revitalised classicism – summerised in short choice lunch by mackerel scotch egg with guacamole, pickled fennel and lemon emulsion, and chargrilled chicken breast and thigh roulade with spinach, sweetcorn purée, sage and parsley crumb and Modena balsamic.