Almost exactly 150 years later, on a Wednesday evening, there is a queue at the door and a loud, contented hum emanating from the lavishly decorated interior: the lofty, neo-Byzantine mosaic ceiling and bejewelled marble walls sparkle just as they must have done in the 1870s.

But the room's gentle, ethereal fragrance of cinnamon and cloves, of curry leaves and cardamom, is entirely new. The Criterion has become the latest incarnation of Masala Zone, the restaurant group owned and run by a trio of restaurateurs - Ranjit Mathrani, his wife Namita Panjabi, and her sister Camellia Panjabi - who have, over the past 40 years, revolutionised the way Indian food is cooked, served and eaten in London. I have known them and their restaurants for more than half that time, and their influence on the capital's dining scene has been profound.

And I have dined at the Criterion many times in its chequered recent history: but, while the room is undoubtedly one of the finest in London, the food has often seemed like a sideshow. In the late 1990s it was part of Marco Pierre White's restaurant empire, but never the jewel in his crown; more recently, it became an ill-starred Italian tourist trap.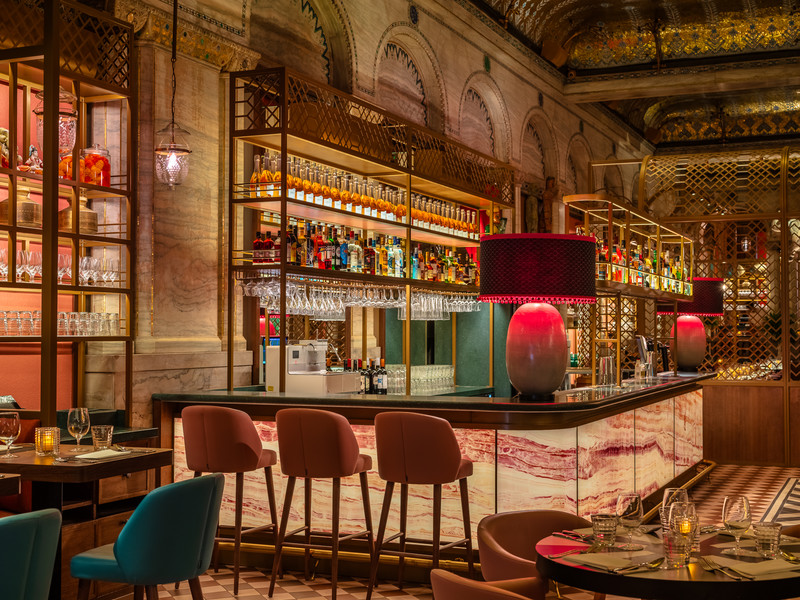 None of the building's previous occupants had made much attempt to interact with Verity's jaw-dropping interior: they were like hermit crabs: restaurants occupying another creature's shell, and the dissonance was palpable, although - in the previous operators' defence - the strictures of a Grade II*-listed building do not make life easy for restaurateurs. As the three new owners and interior designer Jeffrey Wilkes, a long-term collaborator, discovered, everything would have to be radically different from a normal restaurant fit-out.

'The challenge,' says Ranjit, 'was to create an environment that integrated completely with the interior, while still following the rules. But solving those problems actually helped create our vision of the room.'

Not being able, for example, to conceal cabling in walls or floors was difficult enough, 'but the space itself is challenging: 65 metres long, seven metres high and seven metres wide.' It is like a vast jewellery box, but its design cleverly breaks up the room with jali-inspired latticed screens (complete with hidden wiring), flamboyant Mughal carpeting, an exuberant pair of elephants atop brass stanchions, and an equally joyous depiction of the Maharaja and Maharani of Udaipur cavorting with their pet leopard. As you do.

It is, in effect, an extraordinary stage set. The shelving, the artworks, the lighting, the arches and canopies... everything is suspended in space, but rendered permanent by artful design, and Verity's glittering ceiling seems to beam approvingly on the restaurant below.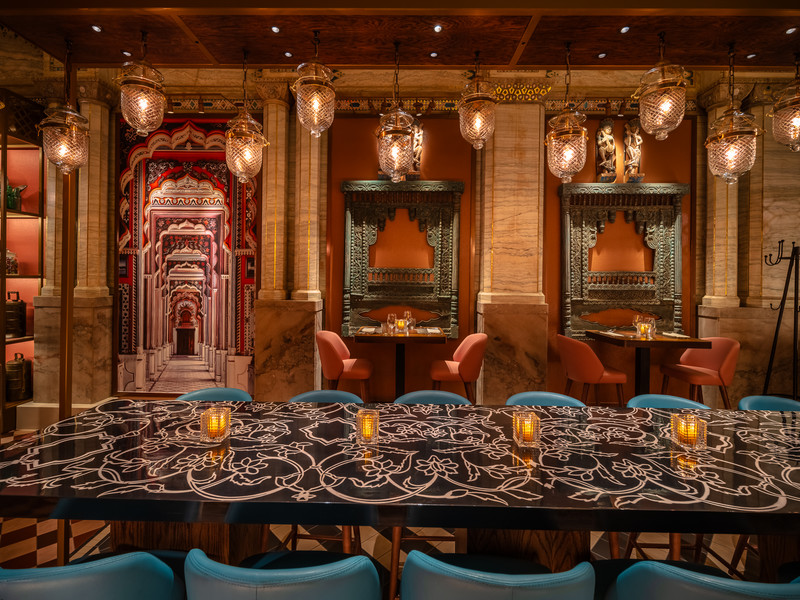 It is one thing, however, for the interior design to do justice to the surroundings, quite another for the food to stand out against this most palatial of backdrops. But Mathrani and the Panjabi sisters have, as they say in horseracing circles, plenty of form - Camellia was the creative force behind the Bombay Brasserie back in 1982; Ranjit and Namita opened Chutney Mary in 1990, followed by Veeraswamy and Amaya, all of which hold a Very Good in The Good Food Guide - and the menu does not disappoint.

In fact, as Ranjit pointed out when I had dinner with him, you could dine extremely well just from the dishes on the menu's first page, a bustling, street-market throng of small plates: onion flower bhajia, its deep-fried petals splayed, sweet and crisp; a riotously sweet, creamy tangy, spicy Delhi chaat made with savoury tangles of batter, jalebi-style; tender lamb sliders in sinful, butter-smeared pao rolls; Madras Chicken 65, the classic Chennai drinking snack, scattered with fried curry leaves and red onion. And around a dozen others, all of which I would happily have sampled.

He insisted, though, that I save room for his own creation: a Kerala slow-cooked lamb stew, but made in classic French style. It is inspired by ishtu, a classic Syrian Christian dish, but slowly simmered like a navarin, and jolly good it is, too. I ask whether he has any qualms about such culinary fusions: he does not. 'We were doing foie gras samosas decades ago.'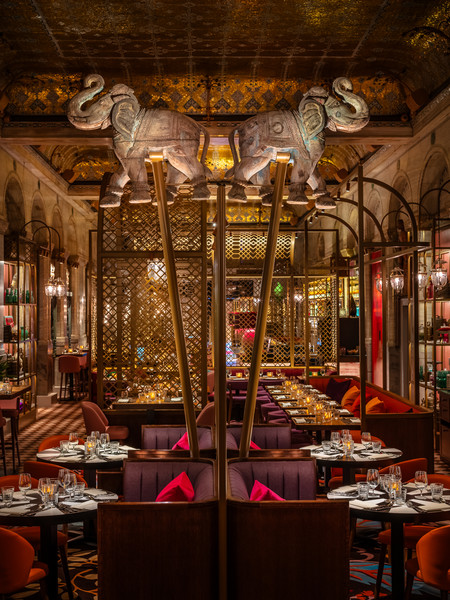 Having spent half his life trying to persuade the British that Indian cuisine is not adequately represented by the menu at Bangladeshi curry houses, does he feel that we are finally getting the message? 'I think the Great British Public' - there are amused hints of impatience and irony in his voice - 'are better educated now. Our restaurants have helped, of course, but perhaps more importantly we have fostered dozens of chefs and restaurateurs who have gone on to do their own thing. We have, I believe, been the starting point for practically every development in the world of Indian restaurants.'

The Mathrani/Panjabi restaurant diaspora is certainly a formidable family tree, and continues to flourish. Is the Criterion, Ranjit's dream of a grand Indian brasserie at last fulfilled, the last hurrah for him, his wife and sister-in-law?

Not a bit of it. Quite apart from expanding the offering at Piccadilly Circus to include a pan-Indian breakfast menu and late night jazz (the Criterion has a 3am licence), Ranjit is pondering the expansion of the Masala Zone philosophy outside London - 'Bristol, maybe' - and mulls the possibility of tempting Generation Z into new spaces in Hackney and elsewhere. He is, he says, 'constantly driven by what's interesting. And it might just stave off senility.'

- Bill Knott