The Good Food Guide 1987
'Quite simply the best meal I have ever had in the West End. Exhilarating combination of the virtues of nouvelle cuisine, first-class fresh ingredients, low fat, good design, with the robustness, simplicity and portions of French country cooking.' These sentences could also describe the thrust of modern British cooking. Alastair Little changes the menu twice a day, which means the dishes lack some of the exactness of his French counterparts, but this is amply compensated for by the vibrance of the cooking with the best produce - John Dory, salmon, scallops, brill, sea-bass and monk-fish all draw enthusiastic nominations, as if people have been taken aback to taste such freshness. The building was formerly the Osteria Lariana; now you could walk past without noticing it. The micro blinds in the windows make it look like an office equipment supplier. Inside is bare: plank floors, shiny white walls, a deep Chinese-red lacquer-coloured ceiling reflected in the peppermills on the black tables. The kitchen is visible through a short corridor. The menu is surprisingly long for the style of operation. It draws on all corners of Europe – hard cheeses from England, espresso coffee, pumpernickel bread, foie gras terrine, osso buco with saffron rice. The main courses have the kind of vivid contrasts of flavours that is so typical of the new cooking – veal roasted and served cold with a sauce that is just tuna and oil liquidised, and the plates seasoned with anchovies and given fragrance from capers. Other examples of the same principle are grilled salmon serve with its roe, cucumber and seaweed, roast leg of lamb with confit of garlic and thyme, and boiled fillet of beef and mustard. The raspberry tart is more noticeable for what is not there than for what is – tart berries on thick cream in a nut-brown shortcrust base, but no glaze and no crème pâtissière, as would be found in a good French restaurant, and there is no particular need for them either. Sweets, particularly other tarts of lemon, chocolate, pear and almond, and apricot and almond, draw much praise for this step back into the larder. The chocolate truffle cake, though, 'took up where the foie gras left off'.
The Good Food Guide 1988
Do not go here on expenses: pay your own bill. There are few of the normal trappings associated with restaurants of this repute – the napkins are paper, the service is a direct extension of the kitchen, and the spartan gymnasium style is relieved only by vivid oils that lighten up a cream room with black tables and bare floorboards. This is an English café that challenges the basically French ethos of what a restaurant should be. Alastair Little cooks a daily-changing menu. The cooking lacks some of the polish of a great French restaurant, but the potency of the best produce of any day is obvious. Witness as a starter in September a thin slice of tuna char-grilled, covered with paper, placed across a salad of young spinach no bigger than a mâché, on an emulsification with the flesh of tomatoes, or a main course of onglet steak with kidneys and a meat reduction sauce that would pass for three stars in Lyons – though who cares, because this is British food. Vegetables do not come on dainty little side plates but as great main-course dishes covered with spring greens cooked as tender as spinach, gratin potatoes, boiled celeriac. And, to finish, a tart of Mascarpone topped with slices of fig, or maybe a white and dark chocolate truffle cake. There are ninety-two nominations for dishes as varied as stir-fried turbot in soy sauce, pastel-coloured fish terrine, and roast veal with rosemary. The cheeses are a new generation: Bonchester, Benleigh, Castle Ashby, Exmoor. The basement specialising in fish is expected to open this year. Coffee from the espresso is predictably fundamental, and the wine list shows an insight into flavours and tastes.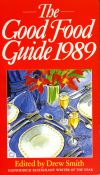 The Good Food Guide 1989
Alastair Little's small, office-like Soho operation is the finest café in the country. It feels good that he should provide the first entry in the Guide; he is one of the young tigers who are re-defining British cooking. Little's contribution is simple and dramatic. He threw away a standard menu and changes his repertoire of ten starters, eight main courses, five sweets plus cheese, twice a day. The décor is modern, simple, noisy, functional, as is the service. The cooking is spontaneous and cosmopolitan, drawing nobly on all that the London markets can provide. Consommé, sashimi, pot roasts, truffle vinaigrette, couscous, Pavlova and tarte Tatin appear side by side. Examples of different cuisines shuffle across the tables: Chinese – sea bass steak with soy; Italian – breast of chicken wrapped in Parma ham and leeks with truffle sauce; Greek – sauté of cuttlefish in its own ink. But it is all brought together with a skill and dedication that gives a discernible personality and identity. Interesting touches make dishes memorable – the pickled cucumber with the gravlax; the onion marmalade with the terrine; the morels and chives with the pot roast veal; the raspberry sauce on the passion fruit mousse. For all its seeming lack of veneer this is cooking that is already dealing with the combinations of flavours found only among the élite. The high rating reflects this cooking, even if, as a restaurant, it is nipped down to its essentials. Some readers, albeit impressed by the food, may find it hard to agree with 17. There are no pretensions here. But if high ratings can only go to restaurants with luxurious settings, then eating out will go on being expensive and elitist. 'The best table that I can afford in London' is another view. The crucial point is that you can eat with a chef, not just a collection of dishes., which also means that standards drop if the chef is away. In six months there have been recommendations for no fewer than 46 different dishes. The 35-bottle wine list is divided into whites, reds and champagnes, starting at £7.50.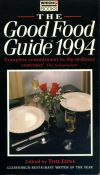 The Good Food Guide 1994
'Of course there are shortcomings. These are centred mainly on the premises, now seven years old and in need of rejuvenation'. This is the comment of a dyed-in-the-wool supporter. The restaurant is conceived on minimalist lines, can be noisy and will not gratify the linen and frills brigade. The cooking retains an edge, continues to surprise, has real flavour and is quite simply better than that of most places that produce food of this style. Service surprises some by its lack of formality, but should in reality please everyone for its naturalness and essential sense of hospitality. On the down side, the price is high (and most London restaurants complain that prices are high because of the overheads, which evidently are diminishing here) and output can sometimes be uneven. This can cause venomous reaction on the part of the customer. 'It is difficult to catch up with the latest variations on a theme. For instance, bread-and-butter puddings sampled in one month ranged from a classic firm-set version to one using pannetone and another that oozed creamy custard topped by a beautiful crisp crust.' Is this Alastair Little not making up his mind, or never ceasing to be satisfied? Responses may depend on whether the experiment was successful the last time. The menu changes at every meal. The best dish of the year for one reader was sea bass just seasoned and grilled to surface crispness, to accompany it a salad of sun-dried tomatoes, olives and flat-leaved parsley. The simplest techniques are studied: pasta tastes of something, with no additions needed, but becomes sublime with morels and asparagus, or delightful with pesto. No expense is spared by the kitchen in getting proper ingredients – one good cause of the prices – thus morels again (fresh, of course) in a risotto, and foie gras infusing a duck terrine. Standards do reappear: lamb with flageolets and chicken wrapped in cabbage are two that get regular mention. If only we were rich enough to follow the kitchen at every turn: a chef looking for a way to do spicy Thai sausages (here served with oysters) found the best in town were from this restaurant. Amateurs eagerly await Mr Little's forthcoming recipe book. The wine list rises from £12 and displays a similar knowledge of the subject allied to restless exploration. There is a chance if a discovery, therefore, thought a Guigal Côtes du Rhône at more than three times the cost price may leave us wondering at the margins.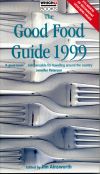 The Good Food Guide 1999
The original Alastair Little restaurant once shone like a beacon of innovation in a Soho beset with nouvelle fiddle-faddle. It rode the crest of the first Mediterranean wave to break on central London shores, and has held fast to that mode even while others have gone overboard for frantic fusion. Plainness and honesty were and are the watchwords of the cooking, and the style rings true because menus are built around such staples as good home-made pasta, the best oils and authentic – rather than merely trendy – domestic recipes such as maiale al latte (pork cooked in milk).
Scarcely a report fails to mention the almost provocative drabness of the surroundings, and indeed this may not be the most cheering room in winter months, but staff are smilingly personable and the food is as bright as a button. Tagliatelle with wild mushrooms and garlic butter started an August dinner with deep, expressive flavours, before mustard marinated chicken breast with new potatoes, and grilled leg steak of Somerset lamb on ratatouille. The practice of offering two starters at lunch-time is much appreciated, one reporter relishing the chance to go from 'excellent' brandade with truffled French beans to seafood and chickpea pasta. 'This was plenty for our appetites, although we did pig out on their fabulous focaccia as well.' Puddings are more Franco-British than Italian, bringing in rhubarb crumble and pain perdu, but sometimes offering roast figs with honey ice-cream and mascarpone. If disappointments arise, they tend to do so because those unfamiliar with the style find the utter simplicity of it all bemusing. Wines may be a more mainstream selection than expected in the context (there is only a handful from Italy, for example), and prices soon breach the £20. House French and Italian are £13.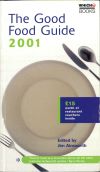 The Good Food Guide 2001
The style is so unaffected, with white crockery on white tablecloths, it still reminds visitors how pioneering the small dining room was when it opened in 1985. The atmosphere is relaxed, low-key, and 'if one did not know that the head chef was quite famous, one would never have guessed'. In fact, James Rix is in charge of the day-to-day cooking, and the emphasis remains convincingly and commendably on simply presented ideas, from chicken liver salad with a soft-boiled egg and balsamic dressing, to a buffalo mozzarella and tomato salad with grilled flat bread.
The Italian thrust of the menu is apparent in a wholesome and satisfying Tuscan bean soup, and in sea bass with an Umbrian lentil salad, but there is more besides, not least among fish, from grilled squid chermoula, via bourride, to a plain, old-fashioned whole grilled Dover sole with Jersey Royals and parsley butter. Desserts might include a highly charged chocolate tart with espresso ice cream, although the Venetian rice pudding (served with plum compote) seems little different from a conventional British one. It is both welcome and rare to see a West End wine list with bottles under £20, but those with an extra tenner to spend will widen their choice considerably on the short, round-the-world list. House Italian is £14.