The Good Food Guide 2007
Anthony Demetre and Will Smith's new Soho venture opened in the early summer of 2006 and was immediately the talk of the town. Named after the arbutus (strawberry tree) that used to stand in nearby Soho Square, it's in the premises that once housed Bruno Loubet's Bistrot Bruno and is a short way along from another landmark address, Alastair Little (see entry). These are cultural as well as geographical markers, because Arbutus looks set fair to do for London cooking something of the job that Little did in the dying days of nouvelle cuisine. To those whose palates have wearied of violent juxtapositions, amuse-bouches and pre-desserts, here will be manna from heaven. The place is simple enough: an L-shaped dining room with big box tables and high chairs at the front, as well as seating along the bar, a 'bistro moderne', in the words of the proprietors. Demetre, who used to cook at Putney Bridge, brings a heartily unvarnished style of mostly European comfort food to the streets of Soho, at prices that initially defied belief. A slice of braised pig's-head terrine is clagged together with fruity chutney, served with puréed potato and a tangle of caramelised onions, delivering a world of savoury power at less than £6. Squid and mackerel burger is like a Thai fishcake, chunky, moist and full of coriander, and served with a ribbon of exquisite barbecue sauce. Main courses bring on some interesting ingredients - pieds et paquets are trotters and tripe parcels - as well as showing amazing attention to detail. An early star was a rabbit dish that combined slices of the saddle stuffed with liver and spinach, with the shoulder meat made into a cottage pie, with a serving of sweet hispi cabbage and a stock reduction strewn with mustard seeds. To finish, vanilla cheesecake with strawberries in syrup will take some beating, but there are also floating islands with pink pralines, or raspberry trifle. Cheeses are from La Fromagerie. Service hiccups marred too many early meals (the staircase that descends to the lavatories is shared by waiting staff running up from the kitchen, and tempers can seem close to fraying), but essentially this will be, for many, the venue that Soho has sorely needed for a long time. A two-page list of wines has been imaginatively chosen and, even more imaginatively, is offered as well by the 250ml carafe for those in the mood to experiment. Prices start at £12.50 (or £4.25 the carafe) for southern French blends.

The Good Food Guide 2008
Arbutus embodies everything you could wish for in a modern bistro - the cooking is sophisticated, the prices no higher than the nearby tourist traps and it is the perfect antithesis to some of the needlessly complicated dishes in town. Anthony Demetre's menu takes in half a dozen dishes per course, punctuated with superior ingredients - wild halibut, organic beef – and the cooking style is unpretentious, not bloated by appetizers or pre-desserts. Start with smoked eel paired with beetroot and given a touch of extravagance by horseradish cream, the flavours are clear and concise. Meat dishes can be memorable, especially a short rib of beef accompanied by English snails, which will have you mopping up the remnants. The kitchen seems able to keep flavours separate and eloquent, the star at inspection, a poached sea bass served with crushed Jersey Royals and parsley vinaigrette, was brought to life by a sublime matelote sauce. Momentum is not lost at the dessert stage with rice pudding mousse served with Alphonso mango 'a marriage made in heaven', albeit only a short one given the fruit's notoriously short season. Warm chocolate soup with caramelised milk ice cream 'will guarantee sighs of satisfaction', too. Service has improved, showing willingness to explain the dishes and to make sure your meal is an enjoyable one. The wine list, which starts at £12.50, has always been an interesting one, and helpfully most are also available in 250ml carafes. As we went to press, the team at Arbutus opened a second restaurant in London. Wild Honey is located in the former Drones Club site, at 12 St George Street, W1.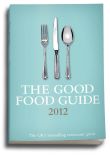 The Good Food Guide 2012
Manning the front line of British gastronomy, Arbutus has stuck to its guns and flourished triumphantly since launching in 2006. From the very start, founders c and Anthony Demetre bucked the trend, discarding tablecloths, reining in their prices and ditching the fripperies of 'fine dining' – but never compromising on quality. Whether you are sitting at one of the big box tables or perched at the American-style 'eating bar', the message is clear: this is unfettered modern food, 'red in tooth and claw', delivered with real style and bags of confidence. The daily menu mines a rich vein, allowing ingredients (lordly or otherwise) to shine through – be it braised pig's head with potato purée and caramelised onion ravioli or luscious beef tartare served on a mighty 'muffin' of sourdough bread. The squid and mackerel burger with zingy razor clams and sea purslane remains a 'brilliantly dressed' showpiece, melting beef bavette comes with a separate copper pot of oozing, buttery dauphinoise, and 'pieds et paquets' comprises two pieces of sheep's stomach, a little casserole of richly sauced tripe and a plate of toast topped with chopped trotters: 'I didn't know where to start', confessed one reader. As for dessert, few can resist the prospect of an oh-so-beautiful île flottante (the size of a 'hockey puck') with crunchy pink pralines and vanilla-flecked custard. The drinker-friendly wine list makes its own statement, with everything available by the 250ml carafe and bottles from £14.50.

The Good Food Guide 2015
It helped kick-start a little revolution back in the noughties with its enlightened attitude to butch ingredients and humble cuts, resolutely pegged-back prices and virtuoso displays of seasonal gastronomy – and Arbutus still has the power to thrill. Closely packed beech-wood tables and striking contemporary artwork add extra vitality to the jam-packed dining room, while the kitchen continues to nail it with comforting but refined nourishment: ravioli of veal and goats' curd 'explodes with mint, parsley and Moroccan lemon'; roast cod holds its own alongside caramelised endive, curly kale, sea purslane and blood-orange; ox cheek keeps earthy company with smoked polenta and punchy bourguignon sauce. For afters, it's worth the wait for a 'flavour-packed' raspberry clafoutis with vanilla ice cream. Invitingly priced 'working lunches' and pre-theatre deals are tailored for a speedy turnaround, and the trailblazing global wine list displays its credentials with everything available by the glass or 250ml carafe; bottles from £19.50.

The Good Food Guide 2016
Still playing to packed houses, this one-time trailblazer now feels much more mainstream than Soho radical. Launched back in 2006, Arbutus kick-started a mini movement towards fine dining without pomp, driven by affordability and daily changing menus built around lesser-used cuts. The décor fits the smart bistro bill with pastel walls, modern art and photographs, black leather banquettes, wooden floors and closely packed beech-wood tables – cool good looks without pretension – while a high-decibel bustle adds to that sense of in-place vitality. Though prices seem to have moved north, the switched-on kitchen still delivers sophistication via simplicity and flavour in well-dressed dishes. Though luxury ingredients such as main-course monkfish with plump Cornish mussels, crushed Jersey Royals, purple sprouting broccoli and sea greens take the spotlight these days, there's still room for some clever creativity with humbler ideas along the lines of pieds et paquets (lamb's tripe, shoulder and trotters). Excellent-value fixed-price lunch and pre-theatre deals are popular, while the compact global wines still offers almost everything by 250ml carafe (by glass on request), with bottles from £20.