The Good Food Guide 2007
Culinary pilgrims who have done Bray and Ludlow on the journey west will eventually end at Padstow, where the thriving restaurant scene still owes much to the genius of Rick Stein. It must have seemed an obvious destination anyway to Paul Ainsworth and partners when they decided to pitch camp here in the autumn of 2005. The setting is a Georgian town house, still in the process of a lengthy period of conversion at the time of writing. It's all light and airy, minimal but elegant, with clean white walls, dark wooden furniture and modern pictures. By the time you read this, a downstairs expansion should have taken place and there will be a lounge for aperitifs among other things. Paul Ainsworth worked previously at Pétrus (see entry, London), which should set the pulse racing, and indeed the cooking here has started as it means to go on. Outstanding canapés (including aubergine caviar on hemp-seed toast) and home-made breads indicate the attention to detail. Dishes are beautifully presented and offer contrasting textures and well-balanced flavours. Smoked chicken risotto is perfectly cooked, its crowning poached egg spilling forth the deep-yellow yolk of a free-range specimen; creamed corn and shaved Parmesan complete the satisfaction. Duck roulade makes a change from the usual terrine, a central piece of breast meat surrounded by shredded confit wrapped in Parma ham, the flavours pointed up with support from marinated beetroot, seared orange segments, watercress and endive. This being Padstow, the fish can be relied on: Whitsand Bay sea bream, perhaps, with fennel boulangère and a purée of capers and raisins. At inspection, a main course of pork cheek and belly, voguishly served with seafood (tiny squid) as well as diced chorizo and feta, produced meat of staggering quality, gently counterpointed with a well-made agrodolce sauce. After a palate-cleanser, it's on to desserts. A generous assiette of everything, served for two, might bring forth brightly flavoured lemon doughnuts, butterscotch and pecan ice cream, and caramelised banana with a salted caramel espuma among its tantalising array. When you add in knowledgeable and personable service, it all bids fair to become yet another bright adornment to the North Cornwall scene. Good cocktails front up a concise, modern wine list that opens at £15. Prices are mostly manageable, even for the 'cellar' selections, and there is a catholicity of approach that makes as much room for fine South Africans and New Zealanders as for the great and the good of France.

The Good Food Guide 2008
With the builders now gone from this Georgian town house in a tiny street in the heart of Padstow, Paul Ainsworth and his team have finally settled into their groove. Even on the small sample of dishes reported on this year, consistency appears to be a strength. There are foams, veloutés and jellies and stock bases are first-class. Modish combinations have included spice-roast scallops with black pudding, carrots and foraged herbs, alongside monkfish with crab, orange couscous, pickled beetroot and smoked aubergine. Dishes can be complex, requiring a range of high-level skills to prepare, but what is promised is delivered – notably a pillow of perfectly timed turbot of outstanding flavour, a mini oxtail cottage pie, creamed cabbage and spring peas forming an almost impeccable bond with it. Flavouring partnerships are well conceived, and dishes deftly executed. Among starters, poached and roast pork belly has come with pickled tongue, rhubarb and foie gras salad, while a luxuriant and grown-up pudding could take the form of a warm chocolate moelleux served with pistachio nougatine, Pansal de Calas wine jelly and cherry sorbet. Vegetarians are well catered for with their own tasting menu. 'Attention to detail, pleasant surroundings, friendly knowledgeable staff and the food was fantastic', says it all for one reader. Exciting wines by the glass (£4.75 to £7.25) introduce a confident wine list that offers plenty of scope for experimentation. With prices from £17, diners on a budget aren't excluded, but the action really starts above £25.

The Good Food Guide 2010
Paul Ainsworth now owns the restaurant in which he has cooked for four years. He's changed the style of operation by simplifying the menu, making the carte more affordable and introducing 'bargain lunches'. A 'big improvement' appears to be the consensus. The restaurant (especially service) and the consistency of the cooking needs to settle down a little, but you can eat dishes of a very high standard at prices that won't break the bank. There is superb bread – four different flavoured rolls – and starters of scallops with maple-glazed chicken wings and a 'swipe of celeriac' or mussels with pearl barley in a vegetable broth. Fine main course dishes have included pork belly with a 'beautifully made' black pudding sausage roll, apple compote and crackling, served, at one meal, with a copper pot of purple sprouting broccoli on the side; mackerel atop a broth of cockles, chorizo and chickpeas has also impressed. The sweets – more erratic – are fashionable: slices of Alphonse mango with pistachio ice cream and madeleines, and chocolate moelleux with peanut butter ice cream. The confident wine list promises plenty of scope for experimentation, whatever your budget. Fine South Africans and Kiwis hold their own alongside the great and good from France. Ten house recommendations begin with vin de pays d'Oc at £14 (£3.75 a glass).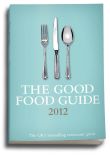 The Good Food Guide 2012
Amid the surging bustle and overflowing car parks of this once tranquil Cornish harbour town, Paul Ainsworth's restaurant feels like a cosy retreat. A warren of rooms on both levels is pleasantly decorated with black-and-white tiled floors, glass ornaments and impeccably Sunday-best table settings. The bargain lunch deal, with its two choices at each course, is a canny way of siphoning off at least some of the throng outside, while the carte uncoils expansively into a repertoire of dishes that have the crystal ring of modern British authenticity. How else to style a starter of flaked smoked haddock piled onto a stack of green leek and grainy black pudding, encircled by creamily moreish vichyssoise (spoon provided)? To follow, perhaps a startling pairing of braised ox cheek and raw shredded rump, with glass noodles, chilli and pak choi in beef consommé or a large, astonishingly flavourful veal chop glazed in its gravy, served with asparagus, a little pan of tarragon-spiked egg mayonnaise and a heap of hefty, flawlessly textured dripping-fried chips, all served on a bread board. Desserts aim for lightness (pear with praline custard and pear sorbet), but might miss balance (witness a vanilla pannacotta and poached rhubarb that came topped with a rock-hard gingery biscuit, under which it subsided into a helpless splodge). Staff are pin-sharp and ready with advice – not least with the exclusive, hand-picked wine list, which opens with 14 juicy selections by the glass (from £4). Otherwise, expect a colourfully annotated selection of top numbers from across the globe ('elegant, glamorous, feisty and downright dangerous', according to the blurb). Bottles start at £15.

The Good Food Guide 2013
It's just possible that Padstow is now best enjoyed on a squally winter weekend. Roll up in high summer and you haven't a hope of finding a parking space. Not that anyone's complaining. It's Cornwall's red-hot gastronomic nerve-centre after all, and Paul Ainsworth's place in among the narrow streets is its premier address. A comfortingly domestic atmosphere has settled over the various little rooms; it's a perfectly relaxing backdrop for the kind of cooking that will take your breath away. The avant-garderie extends to a menu of ingredients written in the form of a word-cloud. Choose ten, and the brigade will magic up a starter and main from them for you. If that sounds like hard work (on both sides), the main menu offers breast, gizzard and leg of Cornish duck à la Peking with spring onion and cucumber; cod with yoghurt and raisins, a cod 'bubble' and curried cauliflower; and rhubarb and tonka bean arctic roll with pain d'épices. The wine list lives up to the excitement with stimulating, imaginative choices from around the world, including Hungarian dry Furmint and Lebanese rosé. Prices open at £17 (£4.50 a glass)

The Good Food Guide 2014
With just two establishments in Padstow (see also Rojano's in the Square) Paul Ainsworth is hardly going mano-a-mano with the Stein empire, but there's no shortage of vocal support for this 'most impressive' chef whom 'we may well hear more about in the future'. A series of small rooms set over two floors, his intimate restaurant creates a subdued classy feel but without any stiff-collared formality. Regulars and newcomers are treated with equal courtesy, charm and genuine warmth. Ainsworth is a highly talented chef with classical technique in his blood and a nose for sharp seasonal partnerships – perhaps the crispy Porthilly oysters praised in several reports, their rich creaminess cut by shredded fennel and Granny Smith apple. Or Cornish cod, served with 'cod bubble' (two little balls of fried salt cod), thin slivers of crisp cauliflower, dabs of sweet raisin yoghurt and some restrained curry oil: the combination of sweet, salt and spicy working well. He can also play it straight and true, offering a flawless plate of 'wonderfully tasty' hogget (lamb) with sweetbreads, roasted beetroot and a rich lamb and red wine jus, as well as fashioning all manner of precision-tuned treats ranging from creamed smoked cod's roe with salty crumbled crackling to an 'unusual and very refreshing' dessert of chilled pineapple, 'almost confit in texture', flavoured with tarragon and served with set natural yoghurt and salt-and-pepper shortbread on the side. The kitchen knows how to impress and that extends to the wine list, which scours the world's vineyards for fascinating flavours. There's no excess baggage, and mark-ups, from £20, are friendly

The Good Food Guide 2016
No. 6's quirky, intimate appeal is a distinct plus. The tiny Georgian town house in the centre of Padstow offers an engaging mix of small but light dining rooms set over two floors, bought up to date with modern touches – from huge ceiling lampshades to plain tables. Judging by glowing comments from reporters this year, Paul Ainsworth's combination of classical cooking techniques with bold, ultra-modern touches is a winning one, too – 'he has that ability to transform ingredients into those eye-shutting taste moments'. What gives Mr Ainsworth's food its vitality, indeed its identity and character, is his use of sharp flavours to point up the main item: for example, an inspired combination of translucent smoked haddock on a bed of pearl barley and parsley with lemon and aged Parmesan. Or take a disarmingly simple and fresh-tasting torched mackerel with celeriac remoulade, Coppa ham and cucumber, or a 'noteworthy' roast Galloway beef, 'beautifully pink', with Montgomery potato, onion and mushroom duxelle, and a great piece of cod, perfectly timed, with 'sublime' crab mayonnaise, fenugreek and grilled leeks, these are dishes full of vibrancy and bold strokes. Reporters agree that desserts are a high point – everyone commends the bread-and-butter pudding 'like no ordinary b-and-b pudding' – and the set lunch has been praised for value and performance. Staff are charming and the confident, well-spread wine list is teeming with imaginative choices, from £26.

The Good Food Guide 2018
Understated and smart are how the various dining rooms in this small Georgian town house appear, a mix of slate grey, wood tables and bold wallpaper. It has undergone extensive refurbishment since the last edition of the guide, creating a moody, dark leather-clad bar upstairs and extending the main dining area into the former courtyard. Paul Ainsworth's highly innovative food is presented with a light touch and he enjoys layering dishes with contrasts of textures and carefully worked nuances of flavour – say raw scallops 'as translucent as pearls' with kimchi-style cabbage and the umami hit of an anchovy-laden relish. Perfectly cooked sea bream with crisp skin is enhanced by an accompanying pot of crab topped with oyster leaf and enriched by a bouillabaisse sauce (also served separately). If there is the odd tiny niggle – a starter of 'superb' ragù of short rib beef would have been better served with normal pasta, not an al dente turnip version – it is brushed lightly away by the pleasure of the homemade sourdough bread served with smoked cod's roe sprinkled with pork crackling, and whipped and caramelised butters. And just as Mr Ainsworth uses his judgement and experience to choose the best local and regional produce, he balances his menu so that energies are preserved for the likes of chocolate with pistachio, olive oil sponge and Caramac. Fast, professional service is delivered by a young team, and knowledgeable dabbling around the globe satisfies most palates and budgets on a wine list that opens at £27.