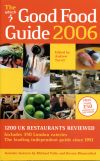 The Good Food Guide 2006
Can central London dining get more glamourous? Just when you thought there might be a sufficiency of Gordon Ramsay restaurants in the capital, along comes another. This one shares a square with the US Embassy and has been designed in classically unadorned, monochrome minimal fashion by David Rockwell, who did the makeover of New York's Grand Central Station. Chef Jason Atherton arrived here from the proprietor's Dubai venture, Verre, as well as Spain's premier address, El Bulli. The crockery is Limoges, the glassware Riedel, and one reporter found himself sitting quite near Andrew Lloyd Webber. Phew.
The culinary idiom is essentially modern French with Asian undertones, but the USP here is the serving of dishes in tapas-sized portions, the recommendations being around six to eight per head. Highlights at inspection were a creamy well-timed risotto of peas, broad beans and wood sorrel; honey- and soy-roast quail with foie gras and a chutney of peach and saffron; a pair of Orkney scallops with peppered raisin purée; and a fairly traditional shellfish bisque scented with star anise and enriched with puréed sweetcorn on a croûton.
If a succession of small dishes (for which the same cutlery is retained) doesn't appeal, there is also a carte with larger versions as starters, and main courses such as squab roast in a wood-fired oven served with spiced celeriac, cabbage purée and dates wrapped in bacon, or roast sea bass with asparagus, a nage of tomato and lemongrass, some candied aubergine and a wee dollop of oscietra caviar. For dessert, the wilder shores are explored. A peanut butter and cherry jam sandwich might evoke memories of midnight feasts in the dorm for a certain constituency. Sea salt and almond ice cream is the accompaniment to a runny Valrhona chocolate fondant. More mainstream is rhubarb and passion fruit trifle topped with fine lemon granita and served with luscious vanilla madeleines.
The wine list offers a decent range by the glass, and the 'Wines by Flight', where three glasses follow a theme: 1997 Bordeaux, perhaps, or Reisling, or New Zealand Pinot Noir. The champagne list runs and runs, and both Burgundy and Bordeaux are among the main attractions in the Old World. Bottle prices start at £16.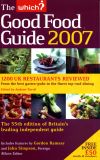 The Good Food Guide 2007
Grosvenor Square is closely associated with the US Embassy that dominates it, and judging from the number of American accents in Maze it's a useful source of customers to Gordon Ramsay's trend-setting restaurant. The large, somewhat imposing square has an authoritarian austerity about it, so what lies through the door of numbers 10-13 is even more of a surprise. It's hard to tell if it is even a restaurant from street level. Once inside, though, the work of designer David Rockwell is revealed. It must have cost a few bob, and it is certainly glamorous, with 'something of a James Bond set about it', as one reporter put it. If you don't have time for a full meal, prop up the rosewood bar and choose just a couple of the tapas-style dishes. A brown and tan theme runs through the large L-shaped room; it is all very chic, but not formal - tables are clothless and the staff relaxed. Jason Atherton's menu is based on small dishes of Asian-influenced but primarily French-driven food, which arrives as a multitude of courses (they recommend between six and eight per person). They're not ideally suited to sharing, either too small or too intricate for division. A salad of Scottish lobster with white radish, aigre-doux dressing and ginger salt got the prize for the smallest dish at inspection, but it certainly packed a punch: the lobster firm and full of flavour and wrapped in pickled radish. Pressed foie gras and smoked duck with spiced pineapple and sweet-and-sour onions is a plate of strong flavours, the wafer-thin piece of pineapple perfectly cutting the richness of the foie gras. Dishes keep coming - the waiting staff have to deliver twice the number of a regular meal and manage the task with aplomb - and cutlery is changed periodically. Loch Duart salmon comes with 'perfectly soft and melting' belly pork, choucroute and a smoked raisin reduction, while wood-fired oven-baked squab, pink and tender, is paired with a rich and silky parsnip purée, vanilla shallots and sherry vinegar. Intricate constructions and powerful flavours continue into puddings such as 'texture of pear' with chocolate mille-feuille ('a textbook version'), and what appears to be the signature dessert, the humorously named peanut butter and cherry jam sandwich with salted nuts and cherry sorbet. It isn't easy matching wine to the myriad of flavours, so the ten or so available by the glass (from £5 to £15.50) are a good bet. Otherwise it is a strong list, with a decent global reach. Bottle prices start at £18.

The Good Food Guide 2008
Since it opened in 2005, Gordon Ramsay's pace-setting restaurant has never lacked for enthusiastic, solid support. That is partly what lends it its air of confidence and assurance – that, and having been at the cutting edge of metropolitan food fashion from its inception. The space is slick and classically unadorned, with creams and browns being the predominant colours. The focus of Jason Atherton's menu is tapas-sized portions; the recommendation being for around five to eight per head. Just about everything on the menu sounds fascinating, the combinations unusual but sensible and the kitchen can deliver some real treats. For example, roasted sea scallops teamed with a slick of pea purée, a fried quail's egg and potato with Yorkshire ham and maple syrup giving an extra flavour dimension. None of this would work if the raw materials weren't so classy. Witness just-seared Landes foie gras anointing honey and soy roasted quail, the accompanying spiced pear chutney further deepening the savour of the dish. Or roasted rack of lamb served with a melting nugget of braised shoulder and four ways with onions, including mini-battered rings. That same level of complexity is maintained for desserts that might include an outstanding Madagascan vanilla rice pudding served with raspberry and lemon thyme jam, a dollop of mascarpone and pecan ice cream added at table, or peanut butter and cherry jam sandwich with salted nuts and cherry sorbet. Wines are a star turn. The list shimmers with class and convinces in all regions. In France, Bordeaux and Burgundy are complemented by a great range from the Loire, some Rhône heavyweights and the estate du jour of regional France. Elsewhere Italy and the Antipodes shine brightest and there's a good global selection by the glass. House wines start at £20.

The Good Food Guide 2009
Maze shares a square with the US Embassy and a discreet entrance with Maze Grill, a recent addition to Gordon Ramsay's portfolio (see entry). Nevertheless, passers-by not in the know would be surprised to find a restaurant of such gastronomic ambition among the square's imposing but rather austere buildings. Inside, it's all very informal in an expensively unadorned, monochrome way – tables are clothless, the staff well-briefed and relaxed. Jason Atherton's menu is based on small dishes – tapas-sized portions, the recommendation being for around five or six per head. Confident, pace-setting cooking and compelling flavour juxtapositions are what to expect. Slow-roasted prawns with pumpkin purée, rye croûtons and vanilla oil, a 'stunning' crab mayonnaise and avocado with sweetcorn sorbet and Oscietra caviar, as well as marinated beetroot with mild, creamy Sairass goats' cheese, pine nuts and Cabernet Sauvignon dressing were star turns at a meal where delivery was uniformly impressive and 'not a dish could be faulted'. If a succession of small dishes doesn't appeal, there is also a carte, where some of the same compositions reappear, allowing you to progress in a more familiar rhythm through three courses – perhaps slow-roast quail with walnut purée, pickled lemons and white bean and Madeira sauce through rare-breed pork 'head-to-toe' – an oily, sticky cheek, slow-cooked belly served with a slick of olive oil mash, parsnip and spiced lentils and little parcel of deep-fried trotter with an intense gribiche-style sauce – before coming to land on a chocolate moelleux with pistachio sabayon and milk and honey ice cream. There is also a good-value four- or six-course set lunch. The wine list offers 'Wines by Flight', where three glasses follow a theme, either by grape variety, country or vintage. Champagne, port, sherry and premium sakés are well-represented, while Bordeaux, Burgundy and Italy are the main attractions in the Old World. Bottle prices start at £20

The Good Food Guide 2010
The crunch may be hurting, but there are few more enticing gastronomic antidotes to the downturn than Jason Atherton's star-spangled hot spot overlooking Grosvenor Square. Inside, the glamorously understated David Rockwell design shows its class in a modishly comfortable way. Tapas-sized tasting dishes are Maze's USP, and avid supporters devour these high-calibre miniatures with wide-eyed excitement and lip-smacking gusto. No wonder, because the food is a procession of addictive, mouth-filling surprises; you may not want it to end, but – as one fan noted gleefully – you'll leave 'with a big fat smile on your face'. Recent meals suggest the cooking is actually getting better; pace-setting invention and audacious combos come thick and fast, but it's not cleverness for its own sake. The kitchen currently has a penchant for powders: sweetly bland pressed skate is energised by a dusty trio representing the deconstructed components of grenobloise sauce. Elsewhere, 'pinkies' of braised octopus ('very brave') appear with an intensely potent oxtail vinaigrette, dehydrated olive and confit lemon. Tiny details make a huge impact  – a dab of blazing-red chorizo and pimento purée with roasted hake, the sweetness of butterscotch with scallops, and stupendously good iron-bark pumpkin 'latte' beside a dinky, fungus-shaped cep brioche fashioned with a mycologist's eye for accuracy. Even the unctuous pomme purée served with confit rare-breed Sussex pork belly is a delight – and who could resist the fun-filled 'assiette of sandwiches'? Desserts also provide endless pleasure, from elaborately re-invented îles flottantes involving cylinders of meringue that look like polystyrene packaging (but taste like heaven) to rice pudding with fig jam and fig roll. If needs must, you can follow the conventional route by ordering from the carte, which features similar dishes in different sizes; the set lunch is also a financial fillip in these lean times. Wine 'flights' offer a tantalising introduction to the platinum-standard list which is a wine fan's dream, from its vintage Champagnes and premium sakés to its luscious dessert tipples – including that sexy sparkling Italian bestseller Moscati d'Asti.

The Good Food Guide 2011
It's been a turbulent year for Maze: Jason Atherton's decision to quit in April 2010 set alarm bells ringing, and then his lieutenant James Durrant announced he was moving on just as the Guide was going to press. No information was available regarding his successor, but it's likely that the kitchen will continue to conjure up an array of thrilling 'bijou' tasting dishes full of modish accents, eclectic components and dazzling flavours. Two hits from the recent past give some idea of the style: an über-fresh creation involving pearly white Salcombe crab, a ball of brown crab-and-toast sorbet, a tangle of sea herbs, tiny flowers and radishes on paper-thin discs of pickled mooli, and 'utterly wonderful', sticky Irish 'ox tongue 'n' cheek' with sweet raisin and caper dressing, pencil-thin carrots and a pot of potent horseradish pomme purée. The kitchen may be in flux, but this is still a sleek Mayfair showpiece, striking a pose somewhere between a top-end foodie destination and a big-money playground. Meanwhile, drinkers can look forward to top-drawer quaffing from a list that shimmers with class; expect Champagnes in luxurious abundance, wondrous Trimbach Rieslings, an encyclopaedic run through Bordeaux and Burgundy – even saké, if that's your bag. Prices rise skywards from £22 (£5 a glass). Note: Jason Atherton's new standalone restaurant is due to open on Pollen Street, Mayfair in late 2010.