'Sharing food with people at mealtimes is about generosity,' says Selin Kiazim. 'Having the table filled with lots of different dishes and flavours, people are generous; they say: "Try a bit of this". And you are all eating the same food and discussing what you think of it.'

Selin, chef and owner of Shoreditch restaurant Oklava, was born and bred in the UK but spent childhood summers in her parents' native Cyprus. 'During those summers, and when I was growing up in London, at every meal there was food in the middle of the table and lots of nibbles throughout the evening - it's a way of eating for people in that part of the world,' she says. 'We like plentiful tables full of different foods.' 
As well as encouraging communal eating, the menu at Oklava - literally 'rolling pin' in homage to the utensil never far from her grandmother's hands during those Cypriot holidays - focuses on cooking over fire. 'Anything cooked over wood or charcoal is a huge part of Turkish culture and cuisine, it goes hand in hand with it;' she says. 'I think of those summers in Cyprus and the first thing that comes to mind is cooking outdoors and eating outdoors and the flavour you get from cooking things on charcoal.'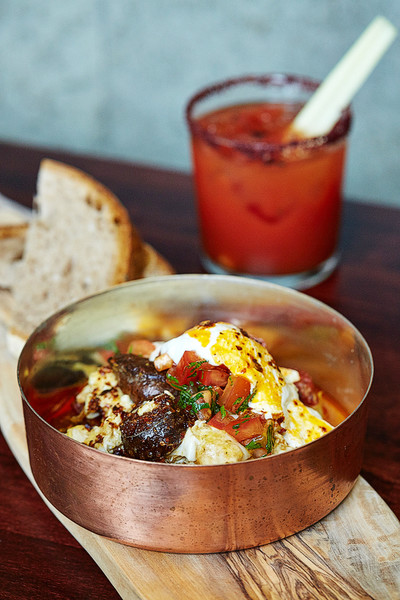 The Middle Eastern style of eating has been growing in the UK since the start of the 'small plates' movement in restaurants, and is becoming popular with home cooks, with a wave of cookbooks featuring its cuisine published in the past decade. Selin's favourite ingredients include pepper paste, pomegranate molasses and baharat spice, which is used every day in Oklava to make bread to her grandmother's recipe. She also likes sumac, which appears on her menu in a martini. She says: 'It is unique, tangy, and really versatile. People are using it more and more, as Sabrina Ghayour and Ottolenghi make this sort of food much more recognisable.'

Anissa Helou, born and bred in Beirut and the author of many cookbooks, including The Levant, agrees that there is something special about sharing rather than the traditional British way of eating, where each person just eats the meal on their own plate. 'They are missing out,' she laughs. But she adds that home cooks need not be daunted by the large mezzes that professional chefs
can turn out. 'The sort of big sharing table with everybody dipping in is more of a restaurant experience,' she says, 'because at home you cannot make so many different mezzes. 'At the Lebanese table, abundance is key, so you would have one or two main courses with salads, pickles, cheese and labneh.'

The sharing trend is among the concepts behind a new range from Waitrose, The Levantine Table, with a supporting home and tableware interior range at John Lewis. Named after the Levant region (referring to the rising of the sun), the range takes inspiration from seven countries on the eastern Mediterranean - Syria, Lebanon, Turkey, Israel, Palestine, Jordan and Cyprus - and follows a surge in interest in their culinary traditions evidenced in the restaurant scene, in online searches for delicacies like babka and in sales of cookbooks like Falastin by Sami Tamimi.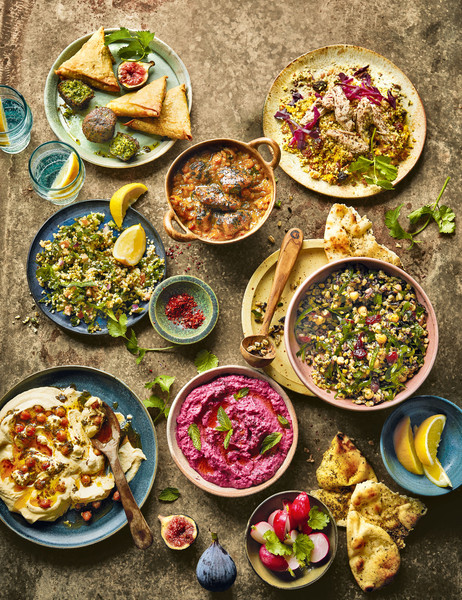 Waitrose executive chef Martyn Lee says: 'We are seeing a huge upward trend in authentic Middle Eastern dishes as well as influences from the region being used in modern European cookery. 'Restaurants like The Palomar and Coal Office showcase small Middle Eastern plates, Yotam Ottolenghi is a driving force of Middle Eastern cuisine in the UK with his light fresh-tasting salads, and Selin Kiazim is bringing fire-cooked Turkish foods to the fore.' Having travelled in the Levant, Martyn hopes the range will introduce shoppers to new flavours. He says: 'I was looking for the same flavour, texture and vibrancy that I had experienced when travelling across that region. So much of the enjoyment of eating in the Levant is to be able to try many small plates together. This range allows the customer not only to curate a fantastic mezze table but also to cook with spices, pastes and ingredients from the region.'

The range includes dishes like chicken with baharat spices and herby zhoug sauce, kibbeh (minced lamb and pine nut balls) and slow-cooked shawarma-spiced lamb, as well as baked goods including flatbread with sumac and oregano. There are also new additions to the Cooks' Ingredients range including a Lebanese seven-spice mix, a spiced pomegranate drizzle, and a shawarma spice paste.

The first episode of The Levantine Table with Itamar Srulovich and  Sarit Packer from restaurant Honey & Co. is on YouTube and they are this week's guests on the Life on a Plate podcast from Waitrose.