It's eight years since Simon Rogan's Roganic popped up in a tiny space on Blandford Street, Marylebone.
The food was extraordinary and ahead of its time. It was ultra minimal and deeply expressive of the seasons, with emphasis on vegetables rather than meat or fish. And then, in the transient nature of pop-ups, it was gone.
Now, a bigger, shinier Roganic has taken up permanent residency on the same street – on the site of what was L'Autre Pied, the veteran French restaurant, now transformed into a pleasantly unspectacular dining room, all neutral whites and browns with white-clothed tables.
Heading the kitchen is Oli Marlow, who worked at both the original Roganic and L'Enclume; boss Simon Rogan puts in a couple of days at the beginning of each week.
British ingredients are impeccably sourced from suppliers around the country, including Rogan's own farm in Cumbria, and the cooking leans on a new generation's interpretation of modern British cuisine: high on flavour, thought and inspiration, with a strong sense of freshness and balance.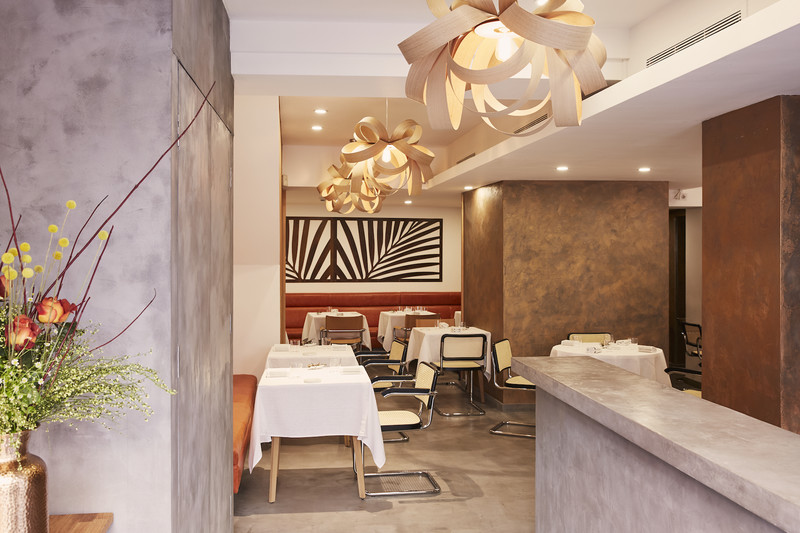 We are, you won't be surprised to learn, in the realm of small plates, rolled out via tasting menus of 8 or 16 courses. The service, while not quite seamless, is gracious and solicitous, with the nice touch of having chefs amble out to serve the dishes.
Our early visit yielded terrific results, from the lovely, lingering sweet-sour hit of preserved raspberry and beetroot tart, and the deep, intense flavours of a Jerusalem artichoke broth, which came with a smoked yolk the consistency of lemon curd, to unshowy desserts like burnt milk crisps with blackcurrant and yoghurt sorbet with tarragon oil.
In between, seasonality is hammered home. Salt-baked celeriac with enoki mushroom and whey holds your attention with layer after layer of flavour; a nugget of butter-poached halibut is sweet and pure, offset by a roasted bone and tarragon sauce and an intense paste of black garlic, with shaved brassicas as a relief from the richness; and supernaturally tender dry-aged duck comes with a side of duck heart, three-cornered garlic and potato mousse, and a terrine of the smoky leg.
That's the good news. The not so good news (way short of bad, but problematic for some) is that eating here is expensive – the full works is £115, the full wine flight is £75 – though the generally pricey wine list does offer some bottles in the £35-£45 range, and there's a six-course set lunch at £40.
It's worth noting, however, that price-wise, the reborn Roganic is comparable to restaurants such as The Clove Club and Hedone.
So, welcome back Roganic, we missed you. Not as cutting edge as before – the favouring of vegetables over animal protein is quite the thing these days – but what you continue to bring to the table is an independence of vision: a sense that the diner is being led, not followed.