The trig point at the top of Winder Fell is where most visitors, muffled against the winter chill, unwrap their sandwiches, open a packet of crisps and unscrew a flask of warming tea. They'll sit for a while, taking in the Howgill Fells that roll their grassy way across the Yorkshire Dales, maybe on a clear day seeing the outlines of the Lakeland Fells across the M6. They'll then look down at buildings tucked into the hill's protective flanks that make up Sedbergh. The playing fields of Sedbergh School pop with cared-for green, you can make out the snake of the River Rawthey and the 12th-century heft of St Andrew's Church.

There's something wholesome about Sedbergh, with its brisk climate, focus on outdoor pursuits and its reputation as one of Britain's book towns. Its high street boasts a grocer, butcher, ironmonger and sweetshop; you can buy boots and books, flowers and fruit – and there's an exciting collision between the traditional and the innovative when it comes to dining and staying.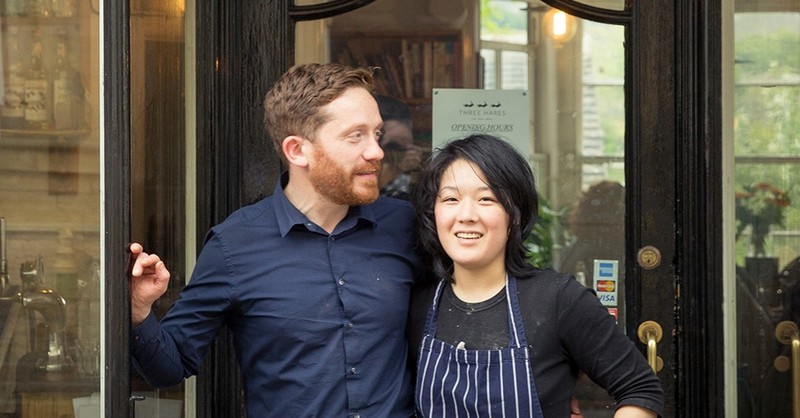 Fresh from that blow-out on Winder and the mixed blessing that is flasked tea, you'll need a proper (Yorkshire) cuppa. Try the Three Hares Cafe & Bakery whose bursting sausage rolls, fruit-flecked scones and glossy pastries are made over the road at sister business The Black Bull Inn.

Close to the church, Smatt's Duo café is a welcome spot for cyclists pausing on the 196-mile Lakes & Dales Loop. Just a short drive away, in the heart of Barbon village, you'll find The Churchmouse café-deli. When more substantial hunger strikes, check out the menu at Al Forno Italian Kitchen on Sedbergh's Main Street, or pull up a seat by the wood-burner at The Dalesman for pub classics. It's a welcoming spot for a drink and the rooms above are good value.
For something special, book a table at The Black Bull. The handsome coaching inn reopened in October 2018 following a full refurbishment by new owners James Ratcliffe and his wife Nina Matsunaga. Nina delivers a menu that treads with ease between being rooted in time and place and offering something different. She fuses Asian flavours with Yorkshire ingredients, perhaps braising pumpkin in homemade miso and serving it with turnip kimchi, or filling a steamed bao with Dentdale pheasant. There is always a straightforward pie on the red meat-favouring menu and portions are substantial. Stay a night or two, because the 18 rooms are contemporary and perfectly in tune with the character of the building and town.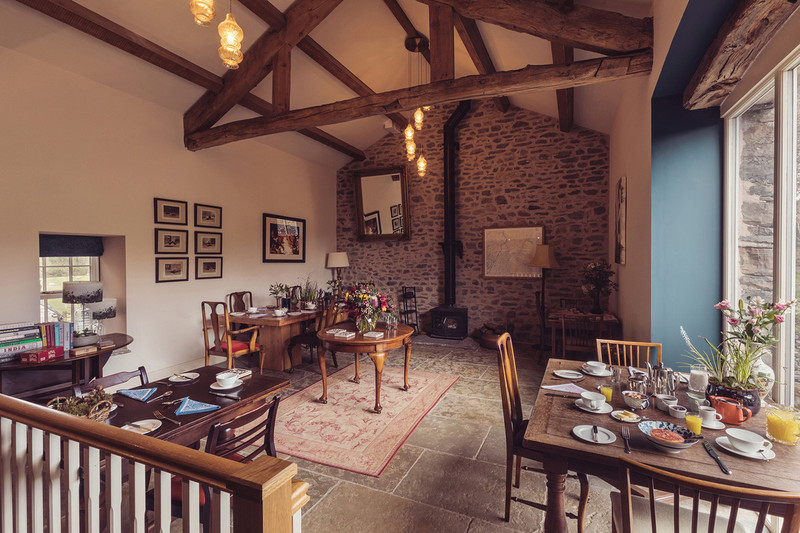 Don't miss The Malabar. Owners Fiona and Graham Lappin take B&B hospitality to a fresh new level at their renovated barn. Folded beautifully into fields and fellside just minutes from Sedbergh and right on the Dales Way footpath, it feels firmly rooted in the landscape, but without being overthemed, while colours, textures and furniture also reference the couple's years in India and the Far East. It's an influence that's celebrated on Friday nights when Graham, a self-taught cook, creates a magnificent Indian feast, a sequence of dishes that tingle with spice and are rich with locally sourced produce. You can book the entire place in the same way that you can St Marks Stays, where Damian and Joanne Withers, drawing on their love of travel and meeting new people, have opened their spacious home to big groups.
For a simpler experience, and just on from St Marks Stays, don't miss The Cross Keys, the Quaker-run temperance inn. Inside you might find landlord Alan Clowes sitting in the parlour, mug of tea in hand, ready with conversation. Join him – the cat may or may not vacate the armchair for you – while food is prepared. It's ordinary fare, and of course alcohol-free, but a pastry-topped rabbit pie is satisfying, and ham, egg and chips, allegedly a favourite of hill walker extraordinaire the late Alfred Wainwright MBE, is never off the menu. Eat in the dining room with its pewter-laden dresser, or the conservatory with views towards Cautley Spout.
Sedbergh was the birthplace of Quakerism and one of its first meeting houses, Brigflatts, is open to visitors. Complete the story by walking to Fox's Pulpit on Firbank Fell where founder George Fox first preached in 1652. Take your sandwiches and flask and linger awhile. Then head back to Sedbergh for a proper cuppa.


Published February 2020