You have only to walk up lovely little Loughrigg to know what William Wordsworth meant when he called Grasmere and its surroundings 'the loveliest spot that man
hath ever found'. Crack open that flask of tea, unwrap your sandwiches and fill up on the view: look down at the village and lake with its familiar backdrop of the Lion
and the Lamb (or Helm Crag, to be more prosaic); look beyond to higher fells, Fairfield rolling smoothly in one direction, the unmistakable outline of the craggy Langdale Pikes in another, the Coniston fells further west.
Grasmere probably has a lot more to offer foodwise than in the days when Wordsworth was wandering these parts. The village sits at the heart of a region whose food has catapulted to recognition in recent years thanks to superlative local ingredients being championed energetically by creative chefs for whom time and place – seasonality and locality – are non-negotiable.
At Forest Side, a Waitrose Good Food Guide Top 50 restaurant, the inventive cooking is driven by whatever can be harvested in ripe condition from the hotel's kitchen garden. Reclaimed from 70 years of brambles, the raised eds and greenhouses provide some 60% of the restaurant's needs – Japanese wine berries scramble over the sunny back wall, espaliered medlars, apples and pears are abundant in season, there are currants, lovage, radish, turnips and leeks, plus an array of cresses, herbs, edible flowers, and lemony oxalis. The restaurant looks beyond the red brick garden walls too, drawing on years of experience to harvest ceps, girolles and St George's mushrooms from fiercely guarded locations, or to pick berries, wild garlic and elderflower. 'It's a way of life for them,' says Amber
Dalton, editor of The Good Food Guide, 'and the results show on the plate, with dishes bursting with seasonal flavours.' Together, the Forest Side chefs create the likes of butter-poached sea trout with foraged jack-by-the-hedge and garden radish, or Herdwick hogget with peppery leaves and ewe's milk curd with lovage oil.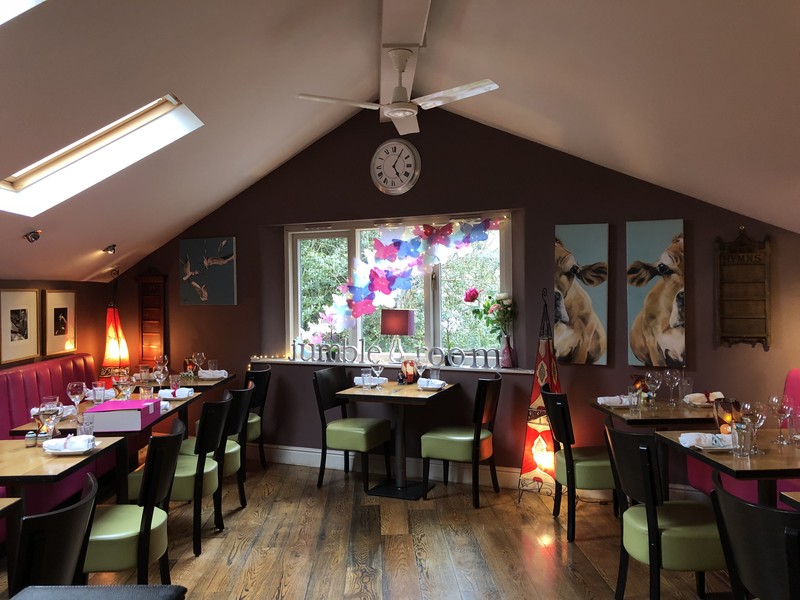 For simpler fare, and an eccentric, colourful vibe, head to The Jumble Room. This family-run spot roams the world for inspiration to build a menu that might include Persian lamb with aubergine, pomegranate and harissa, and a Malaysian seafood curry, but also fish and chips or pasta dishes. Don't miss Mathilde's Café at the Heaton Cooper Studio with its first-rate Scandinavian food – meatballs, pickles, dill
potatoes, gravadlax, rye bread – and find out about the Norwegian girl who stole the
Lakeland landscape artist Alfred Heaton Cooper's heart in the late 19th century.
Thirsty? Head to the Poet's Bar at Lancrigg on the road towards Easedale (the free parking is a bonus if you're heading up Helm Crag or Sour Milk Ghyll towards Easedale Tarn), or to Tweedies to taste well-kept, mainly local, craft beers and ciders. If you drop by during the first weekend in September, you can stay for a drink and enjoy some live music at their popular Guzzler beer festival.
Tea rooms and cafés are done well here. Drink from a china cup at Baldry's and have cake, baked daily on site; go to Emma's Dell for crêpes (maybe the 'Cumbrian' with Cumberland sausage and red onion marmalade?) or quirky Faeryland on the edge of the water where you can hire a rowing boat as well as choose from some 30 loose-leaf teas to go with your scone, jam and cream. Drive a few minutes to Ambleside for The Apple Pie Café and bakery – it's worth the queuing because the pastries and cakes are generous, and the reputation of its Bath buns reaches far beyond the village.
While you're there, check out some of Ambleside's other temptations: there's a
superb all-day menu at buzzy little Kysty, recently opened by Ryan Blackburn, the
talented chef behind Ambleside's acclaimed Old Stamp House, a restaurant whose
Cumbria-rooted menu has consistently wowed Good Food Guide inspectors. Also
try Lake Road Kitchen where James Cross transforms first-rate local ingredients
into fine-tuned, adventurous dishes on a menu described by one enthusiastic Guide
inspector as 'a sensory rollercoaster'.

Where to stay? Grasmere offers the full works, from stylish elegance (and sensational bathrooms) at Forest Side, or the contemporary sleekness of the lakeside Daffodil Hotel & Spa, to countless B&Bs – try pretty Raise View – and cottage rentals. The village is busy at the obvious times, and shops selling souvenirs – Herdwick sheep, romantic poets, Alfred Wainwright and Beatrix Potter are big business round here – are countless. But when it all gets a bit much, pack a picnic and stride out up lovely Loughrigg Fell.
Published August 2019