From the sculpture outside City Hall dedicated to local women who worked in the steelworks during the war, to a football club nicknamed The Blades, Sheffield wears its history as The Steel City with pride.
The South Yorkshire city made its name during the industrial revolution and most of us still have a daily connection to the place through the logos on our cutlery.
They've been making cutlery in Sheffield since the 13th century, when 25% of the city's population were metal workers, and although steel manufacturing may now be a distant memory, it is still celebrated in the Industrial Museum on Kelham Island, just outside the city.
Once home to vast iron works and foundries, Kelham Island is undergoing a regeneration as the old steelworks are made into homes, restaurants and bars.
On the first Friday and Saturday of the month, an old industrial warehouse is turned into the Peddler Market, where street food stalls and craft beer producers appear alongside DJs and live music.
Among the stallholders is Sophie Williamson, a former IT security expert turned cheesemaker. Her soft, creamy Little Mester is the first cheese to be made in Sheffield and is now sold in local delis and restaurants.
There is no better example of the transformation at Kelham Island than Jöro, a restaurant in shipping containers on the main road. Described by chef/owner Luke French as a 'Scandi-Japanese mash-up', the innovative food uses local produce with a global twist in dishes such as Wortley Estate mallard breast, ponzu ketchup, miso and puffed rice.
Around the corner is The Fat Cat, a Grade II-listed pub from the mid-19th century. Since 1990, it has been home to Kelham Island Brewery and its nine handpumps include award-winning Pale Rider, which you can enjoy with a steak pie or portion of jam roly-poly.
With around 60,000 students in the city, there are plenty of places to eat and drink on a budget and they don't get much cooler than Tamper, a New Zealand-influenced café in the Cultural Industries Quarter. Occupying a former 19th century silversmiths' workshop called Sellers Wheel, the industrial-looking Tamper serves coffee from West Yorkshire Pennines roasters Darkwoods and superb brunches. Try the poached eggs and smashed avocado on sourdough topped with halloumi and cucumber chilli jam.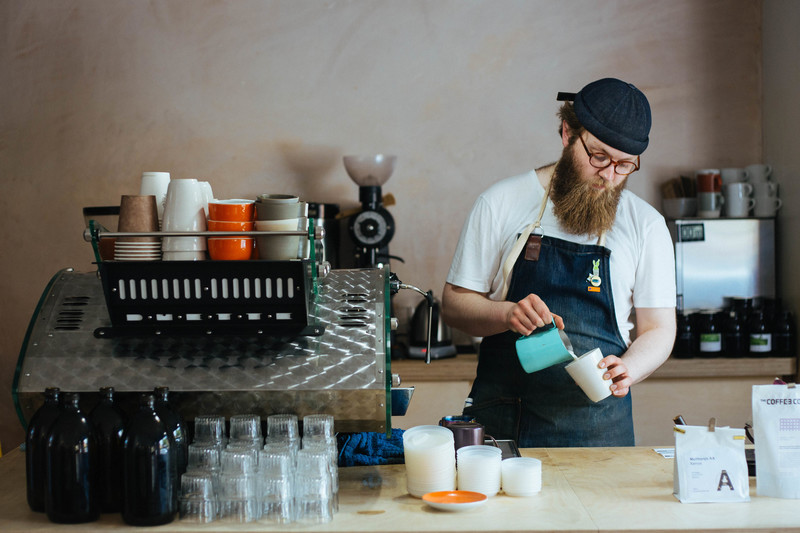 Great coffee is also found at Upshot Espresso on Glossop Road. It's run by Sam Binstead, a former sound engineer who swapped working with The Darkness and Leo Sayer for pulling shots of coffee and making outstanding cinnamon buns.
Another new eating venue is Mesters' Social, a bright and airy café above the Forge Bakehouse artisan bakery on Abbeydale Road, where we enjoyed a good value lunch of Libyan lamb, chickpea and bulgur soup with flatbreads.
A few doors down is Mr Pickles' Yorkshire Food Emporium, a well-stocked shop with local products, including milk from Our Cow Molly (a family dairy in Dungworth) and free-range pork from Anna's Happy Trotters of Howden.
Anybody who thought the local high street was a thing of the past should visit Sharrow Vale Road. Lined with independent shops, restaurants and cafés, it's home to a butcher, a fishmonger, an organic greengrocer, a bakery, florist and antique shops.
The main reason for our detour to Sharrow Vale was Eve, a tiny café serving freshly made, beautiful, doughnuts with seasonal fillings.
Back in the city, we stopped off at the Moor indoor market where greengrocers, fishmongers and butchers trade alongside those selling household essentials.
We joined the locals at Waterall Bros Ltd stall – a 50-year-old family business where regulars queue up daily for their tripe, chitterlings and haslet (pork meatloaf).
Independent pubs are thriving too, as are cutting-edge new breweries Blue Bee, Lost Industry and Steel City.
Thirsty travellers at Sheffield's main railway station can walk straight off the platform and into The Sheffield Tap, a restored Edwardian 'first class' waiting room that's now a must-visit pub with 11 ales on tap, many of them made in The Tapped Brew Co microbrewery next door.
For those in search of something different, Public is a subterranean cocktail bar in the 19th century public conveniences located beneath Sheffield Town Hall. Handy for pre-show drinks at nearby theatres and music venues, Public opened at the end of 2017 and has quickly forged a reputation for serving locally sourced food and exceptional cocktails.
Well-crafted drinks, top quality local food and great music are encapsulating exactly why The Steel City is shining again.
Published March 2018