'What have the Romans ever done for us?' is the oft-quoted question from Monty Python's 1979 film The Life Of Brian. Listed in response were; sanitation, medicine, education, public order and roads. Perhaps less well known is the Roman Empire's lasting impact on our diet and agriculture. Where better to explore this than on a foodie journey along Hadrian's Wall, its most northerly limit.
Hexham and Corbridge are two traditional towns, just four miles apart, with a wide range of restaurants and eateries. They offer convenient bases to discover this area with its rich and varied history, fascinating archaeology and hearty rural cooking. However, to fully understand today's regional food culture, it helps to reflect back to the occupying forces of almost two millennia ago.
As one of the largest garrison outposts of the Roman Empire, the huge military community along Hadrian's Wall would have attracted significant trade and services. Long before the Romans arrived, indigenous Britons had mastered farming and animal husbandry (including dairy herds). Ordinary people still, however, lived on a largely subsistence diet, heavy on cereals and leguminous vegetables and supplemented by hunting and foraging.
The Romans brought previously unknown fruit and veg, distinctive flavourings and an appetite for meat far exceeding that of the existing population. Newly cultivated foodstuffs included modern-day staples such as garlic, onions, cabbages, apples, pears, cherries, celery, nuts and lentils. More productive varieties of grain and improved farming gave bread and baking a far more central role. Increasingly refined breeds of domestic cattle and pigs were introduced alongside rabbits and chickens, while European brown hare and pheasant supplemented wild game stocks. Herbs and spices added new taste sensations and garum and other similar fermented fish sauces were the ketchup of ancient times.
All along the Wall in this remote corner of Northumberland, market gardens, orchards and livestock farms and eventually the small restaurants and fast-food stalls of their day would have serviced the garrisons' extensive needs. Beef, chicken and pork were the favoured foods of Hadrian's army and would have been locally supplied in large quantities to the Wall forts. Small wonder then that quality meat still features extensively on local menus and Hexham's livestock mart remains one of the most important in the area.
Like the Romans, today's visitors to the area remain spoiled for choice. Grab a startlingly good sweet or savoury morsel to take away from Grants Of Corbridge artisan bakery, stock up on wild game or local vegetables from Hexham's weekly markets in the Grade II-listed Shambles or enjoy a more leisurely experience in a number of reputed restaurants. Perhaps even refresh the palate with local Hepple Gin, featuring the botanical flavours of the surrounding heaths and hedgerows.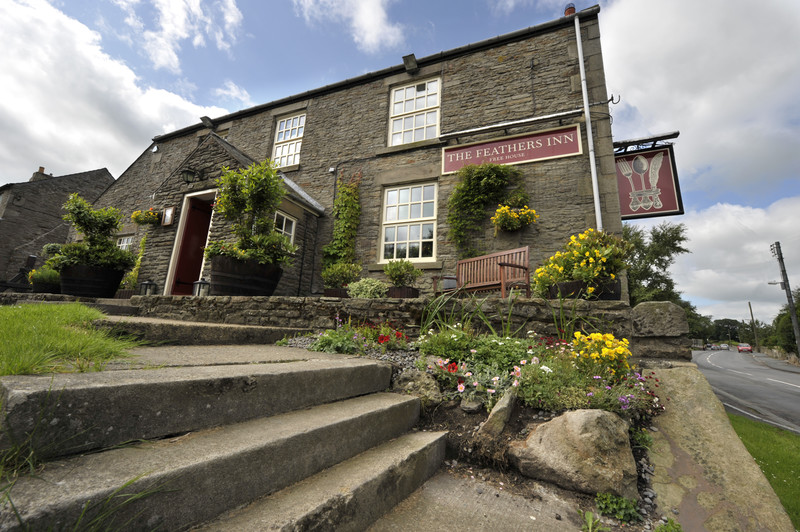 The Feathers Inn in Hedley on the Hill, near Corbridge, has been named winner of The Good Food Guide 2019's Best Local Restaurant North East. It takes pride in ethical and sustainable produce in its seasonal menus that are also packed with local ingredients. The ongoing passion for home-cured charcuterie shows in a sunny starter of grilled asparagus with spiced air-dried pork loin, soft polenta and a Wylam duck egg. Rustic influences are evident in a comfort-laden dish of sautéed spring lamb offal with beer balsamic and creamy mash, while a rich marmalade Bakewell with clotted cream or homemade ices offer a satisfying close.
At the Rat Inn, in Anick, near Hexham, a mosaic of plaques and awards pay testament to their championing of great local food. Featuring perfectly cooked meat of impeccably detailed provenance, the Sunday roasts are legendary, as are the cooked-to-order beef ribs priced by weight. Well-executed desserts range from caramelised white chocolate mousse to the standout simplicity of a perfect custard tart. Local cask ales complement the gastro-pub cooking.
The Bouchon Bistrot in Hexham offers flavourful French country cuisine like Maman used to make. Braised rabbit with tarragon and tomato is a slow-cooked sensation, while the grilled mixed fish brings together morsels of sea trout, stone bass, mackerel and scallops in a clever maritime take on cassoulet. Desserts might include such classics as tarte tatin or clafoutis, while an unctuous fondant au chocolat collapses satisfyingly into a sweet pool on the plate.
The Barrasford Arms pub/restaurant with rooms is just a few miles from Chesters Roman Fort and Museum on the Wall. Meals can be enjoyed in the cosy restaurant by the fire or, on sunny days, alfresco on the terrace. Menus offer a mix of delicately reinterpreted Northumbrian classics; think black pudding Scotch egg with celeriac remoulade; or fish and chips of North Sea hake with a well-minted fresh pea crush and chunky homemade tartare, alongside a pork terrine with pickled onions, shallots confit and mustard dressing.