If, like me, your (extended) family is scattered to the four winds, Christmas is not so much a single date as a series of gatherings stretching throughout December and even into January. Every year, as the madness of the festive whirl subsides, I vow that next time at least one of these get-togethers will be different.

Rather than schlepping across the country guarding a trifle on my lap or – worse – dusting off the garden chairs to host a lunch for 12 around a table for six, I will book a private room at a lovely pub or restaurant. Not only will someone else cook (and wash up), but we'll be able to have a proper catch-up. And if uncle David falls asleep before the pud, or a game of wink murder becomes particularly raucous, no one will mind.

Provided you meet the required number of guests and order from a specified menu, the following are available with no hire fee or minimum spend (unless specified).

Timberyard, Edinburgh | timberyard.co
Don't be put off by the name of the private room at this modish warehouse restaurant. The Shed, a brick and stone outhouse accessed from the courtyard of the 19th-century building is far more welcoming than your average lean-to. A wood-burning stove adds to the hygge vibe, while the menus are typical of Timberyard's modern British bent. Expect the likes of trout with fennel, samphire and buttermilk or venison paired with elderberry, chanterelles and tarragon.
Seats 10 | Menus four-course dinner £56 (minimum spend £300 lunch/£400 dinner)
Artisan, Newcastle-upon-Tyne | artisannewcastle.com
The Drawing Room at this contemporary restaurant located in The Biscuit Factory art gallery complex is a stylish, airy space for group dining. Choose from the good-value set lunch and dinner menus, create your own from the à la carte, or opt for a bespoke Personal Feast. The Christmas prix fixe features Northumbrian game Scotch egg with spiced pear and fillet of sea bream.
Seats 10-22 | Menus three courses from £22
Hawksmoor, Manchester | thehawksmoor.com
No one will go hungry at the Manchester branch of this meat-lovers' favourite, sited in a former courthouse with an impressive Edwardian interior. Prime cuts of beef feature on the sharing menus served in the private room just off the main restaurant.
Seats 8-14 | Menus three courses from £55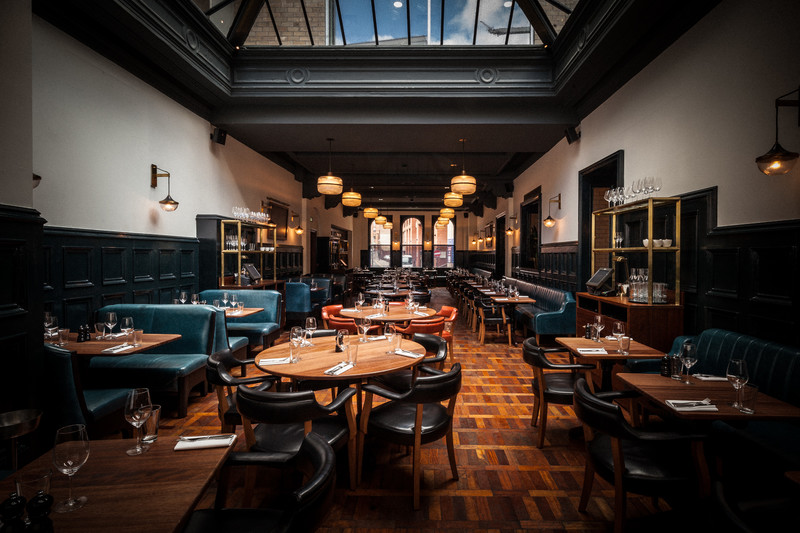 Shibden Mill Inn, Shibden, Yorkshire | shibdenmillinn.com
This is the perfect winter pub with a roaring log fire, original oak beams and cosy nooks and crannies. The snug first-floor Wine Loft can be hired for as few as two people, but will stretch to 12. Go the whole nine yards with turkey and dripping roasties followed by a boozy Christmas pud, or choose from the à la carte.
Seats 2-12 | Menus three-course lunch £24.50; three-course dinner £29.50
Coal Rooms, London | coalroomspeckham.com
A former ladies' loo may not be an obvious location for a private dining room, but when it's as gorgeously appointed as this one, housed in a grade II-listed former station ticket office – now a meat-focused grill restaurant – you'll forgive its past. Expect torched mackerel, beer-brined chicken,
and a mulled wine-spiked pud.
Seats 9-12 | Menus three courses £40
The Culpeper, London | theculpeper.com
The rooftop greenhouse at this pub-with-rooms in Aldgate is a delightful spot for a daytime lunch or a candlelit evening meal. Gather round the long bench table for sharing platters of butterflied lamb leg followed by tarte tatin.
Seats 10-12 | Menus four-course lunch £35; five-course dinner £45
Trullo, London | trullorestaurant.com
Take over the entire basement of this neighbourhood Italian that's been delighting Islington diners since 2010. Groups of 11 to 15 people can choose from the à la carte (minimum spend £500); for larger get-togethers, two set menus feature antipasti and black Hampshire pork belly with soft polenta and salsa verde.
Seats 11-34 | Menus three-course lunch £30
Harbour Street Tapas, Whitstable, Kent | harbourstreettapas.com
Fancy a break from traditional turkey? Classic tortilla, jamÓn croquetas and spiced lamb cutlets all feature on the sharing menu at this tiny – and very popular – tapas bar. Book the upstairs room and you'll get your own bar and toilet to boot.
Seats 16-22 | Menus £30/£35
The Olive Branch, Rutland, Clipsham | theolivebranchpub.com
With a log fire, Christmas tree and its own bar billiards table, the barn at this country inn is ideal for a festive knees-up. A traditional party menu complete with paper hats should keep guests sweet, as should the handy location just off the A1.
Seats 11-20 (hire fee of £150 for groups of 10 or fewer) | Menus three courses from £30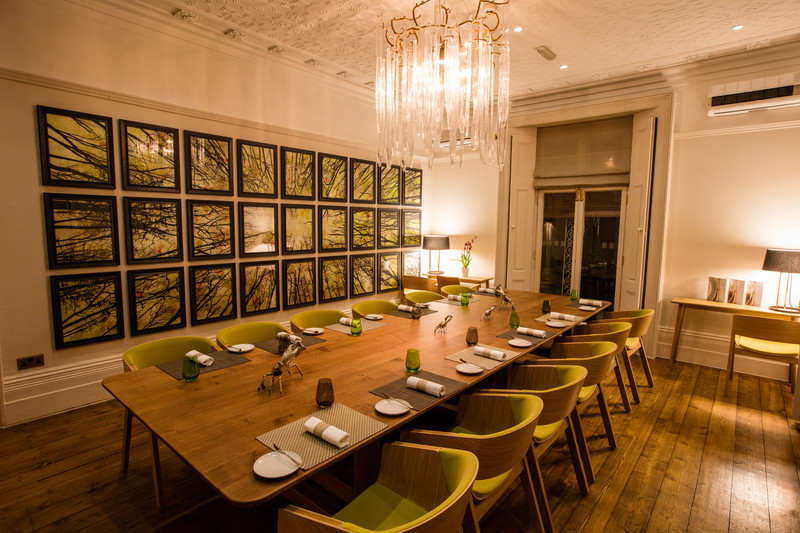 Simpsons, Birmingham | simpsonsrestaurant.co.uk
Push the boat out at this elegant restaurant in a Georgian mansion on the outskirts of the city. Tasting and set menus combine prime ingredients and visual artistry, and kids get their own three-course version (£16.50). The impressive high-ceilinged private dining room opens on to the garden where the children can amuse themselves while you get stuck in to the cheese and port.
Seats 14 | Menus three courses from £45; tasting menus from £75
The Beckford Arms, Fonthill Gifford, Wiltshire | beckfordarms.com
The book-lined library of this creeper-clad 18th-century inn is an elegant setting for a small gathering (eight to 12 guests). Larger groups can hire the gorgeous Sitting Room (Monday to Thursday only), complete with roaring fire and twinkly chandelier.
Seats 8-24 | Menus three courses £30
How to celebrate without a hitch
Book early. Agree a date as far in advance as possible; if you're a large group, consider an online calendar tool such as doodle.com.
Be clear who's picking up the tab. If the bill is to be split, take differing budgets into account when choosing a venue. On the day, will you divide the check evenly or, say, separate drinkers from non-drinkers?
Many private rooms are offered on a minimum spend basis with no hire fee, so find one with the right capacity and you're likely to spend no more than you would in the main restaurant.
You may be asked to choose from a set menu. Save time by preordering and don't forget to let the restaurant know about any dietary requirements.
Consider whether you want turkey with all the trimmings, or whether to go off-piste with an Italian feast or tapas spread.
Check what decorations are provided. Often flowers, candles and personalised menus are included, but if you want to bring crackers or place cards, ask the venue.
Give the gift of great dining with The Good Food Guide 2019, £17.99. It features more than 1,200 of the very best places to eat out across the UK, plus 10 money-saving vouchers, each offering £5 off the bill at participating restaurants. Pick up a copy in your local Waitrose & Partners or order here.