Just behind St James's Park tube station, the local branch of the Conrad is shoehorned into the built-up environs of the Broadway, and was once the Queen Anne's Chambers. The interior spaces are unexpectedly expansive and serene, but hardly bustling with human commerce tonight. There are one or two people sitting in the lounge, and a bare half-dozen of us distributed sparsely about the Hedgerow cocktail lounge, where an elegantly dignified lady who could have walked off the set of Notorious dispenses herbaceously aromatic cocktails produced to the unhurried tempo of corporate downtime. Seated on bucket chairs in shell-pink velour, we dip a toe. I have something composed of luxury gin and boutique vermouth with a botanical cordial in it, a heartbeat away from the plangent twang of a negroni but without the Campari.

To find The Pem dining-room means venturing further into the innards of the ground floor, where its reception desk is poised between a space called the Blue Boar pub, which passes for mildly rackety in the airbrushed context, and the restaurant. Its name was the family soubriquet of Emily Wilding Davison, the self-martyring suffragist, Christian socialist and teacher who died under the hooves of the King's racehorse at the Epsom Derby in 1913. Two years earlier, she had hidden in a cupboard in the Palace of Westminster chapel to avoid being entered on the national census because she did not want the state to own her name in any way. Eighty years later, Tony Benn and Jeremy Corbyn arranged to have a plaque mounted in the cupboard to commemorate her. If you're going to eat in a dining-room named in honour of somebody, this is the ticket. The Lester Pigott Brasserie? We'd have faltered at the threshold.

The staff are uniformly excellent. Not only are they genuinely interested in queries, comments, passing the time of night; they don't appear to be acting under the impress of any kind of corporate duress.
We are invited to take seconds of bread. We hope to take some home with us. As unsavoury types buy bootleg steroids, we imagine, we propose wrapping a slice or two up in napkins and stealing away into the night. We would never.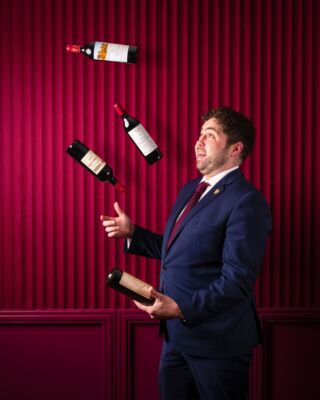 The sommelier, James Shaw, is a voluble enthusiast who is more than happy to bring armfuls of open bottles to the table for the sake of dobbing out two-mouthful tasters, so you can see which one you like best before plunging. The happiest aspect of this is discovering wines you (I) wouldn't have ordered on the listing, but that banish preconceptions once tasted.

And so to work: there are a couple of canapés, little tartlets both – one piped with a richly cheesy, caramelised onion topping, the other with Coronation-dressed white crab. Delightful. There's a good savoury snap to the pastry bases. That bread is a whopping domed loaf of malted ale bread, with brittle crust and sumptuous, granularly rich crumb. It's architectonically a little bemusing, in that it's apparently been quartered, but the slicing only goes halfway down, so you must resort to a certain amount of ungainly pulling, as at the Last Supper, to divide it between you. We don't complain. It comes with a dish of whipped curd anointed with deep green garlic oil.

It's an a la carte format, with dishes individually priced. More or less everything sounds enticing, and while the presentations don't sound (and aren't) unduly complicated, the intention is clearly to mobilise an intuitively fashioned array of complementary flavours from five-star materials, in combinations which aren't hard to understand.

Hen of the woods mushrooms come in a nest of spinach and under an evanescent foam of Tunworth soft cheese. In the centre of it is a vividly orange egg yolk cooked sous-vide, and all of this sits on top of a little muffin. With wild garlic and an acute note of vinegar in the dressing, it's effectively a kind of egg Florentine breakfast dish, but more enjoyable, full of savoury richness and warmth.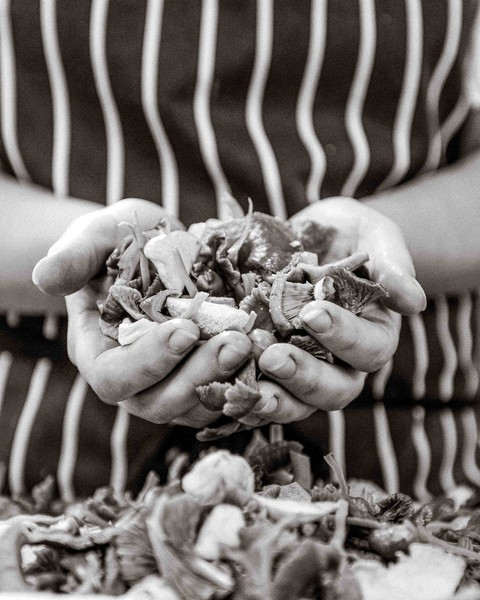 The other first course is the only slightly disappointing dish of the evening: a single poached Scottish langoustine, sans shell, sitting on laterally chopped Savoy cabbage hearts that had been filled with lardo. A jug of malted shellfish consommé, made from a stock containing the heads and with more than a dash of dashi, is poured over it at the table, until it is more or less submerged and becomes a kind of soup. Finely diced crunchy root veg add to the textural element. The problem with this is that the cabbages don't slice cleanly with an ordinary knife, but unravel into their strips, the filling offloading in the process. It's all a bit awkward. The langoustine is fine, but it is just the one.

Our main courses are meat-based. One is a superlative spring Herdwick, the neck end vibrantly pink but full of grassy flavour, the fat not much rendered (which is missing a trick with lamb, if you are going to ingest it rather than trim it.) The meat itself is exquisite. It arrives with a gently braised lobe of the confit sweetbread and slivers of sweet pink Calabrian Tropea onion in a dark glossy jus. The menu also mentions Gentleman's Relish, which is perhaps incorporated in the sauce (not apparently daubed on the lamb). An utter triumph of a spring lamb dish with Easter approaching.

The guinea-fowl is presented as a glazed flat breast fillet, something of the dimensions of a veal escalope, and with plenty of enveloping poultry richness, crusted with crushed mild pepper. Three long fat spears of what would appear to be the first English asparagus of the season are bright green and smartly trimmed, straightforwardly blanched, gently al dente. The single greatest component of the dish is a trio of morels, still glistening wet from the poaching and stuffed with a mixture of chicken and guinea-fowl mousse, an object-lesson in concentrated savoury intensity and opulent texture - beautiful. A juglet of chicken velouté is presented, partly poured over, and the jug left with the cheery suggestion that just knocking it back like cappuccino is quite acceptable, and indeed irresistible. Another resounding success.