Matt Powell honed his chef skills working for Raymond Blanc, moving to top-rated restaurants in Europe, Ireland then England, before becoming disenchanted with the restaurant kitchen environment: 'It's not a particularly nice environment to work in if you're quite quiet and reserved.'
He'd grown up in Bridgend and had a close relationship with the land, fishing and shooting with his grandfather, who also encouraged him to garden – and he longed to return to the wilds. Moving to Pembrokeshire, he ran Fishing and Foraging Wales, and it was meals prepared for his clients as the foraging course finale that reignited his passion for cooking.
Arguably one of Wales' more exciting recent openings, Annwn sprang up in the second half of 2021, in the wake of two years of lockdowns. A tiny twelve-seater restaurant on the edge of a Victorian walled kitchen garden at The Little Retreat glamping site, it's the fulfilment of a dream. Solo in the kitchen, assisted front of house by his girlfriend, Naomi, he forages and grows as many ingredients as he can.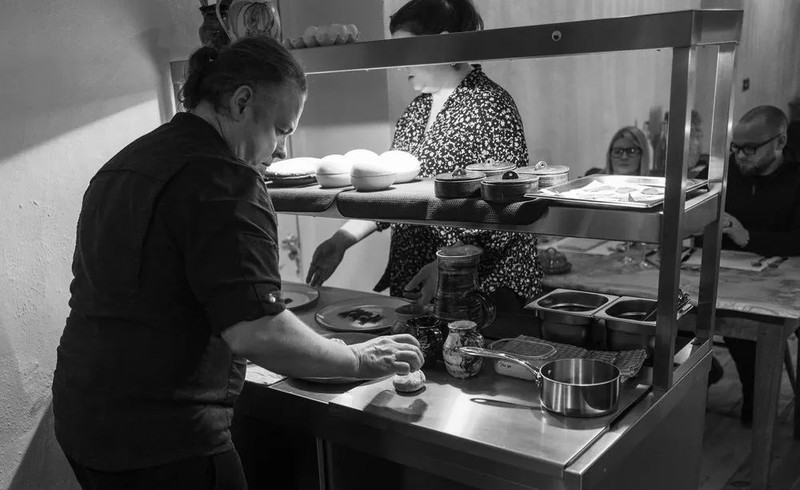 'I'll pick the kelp, carrying about 30 kilos on my back, and then we dry it, and age it for a year,' he says. 'It's a dangerous job - you've got to go down on the big tides and the winter is quite rough, so you've got to be careful; my girlfriend has to come and watch me.'
Waste is kept to a minimum. Matt embraces biodynamic gardening and ingredients he can't grow or forage come largely from trusted local producers. Honey, fish and lamb make frequent appearances on the menu, and the wine list is entirely British; he's thrilled by the quality of our native wines.
Despite the uncertainties of the post-lockdown environment, Annwn has got off to a strong start, opening for dinner Thursday to Sunday, with possible plans to extend opening to Wednesdays – and it's already in profit.
'I can't say I don't worry about things because it's so new and we're doing something different,' he says. 'But I think lockdown gave people more of an appreciation for this kind of thing. People want to learn more about things like foraging now – even more so than before.'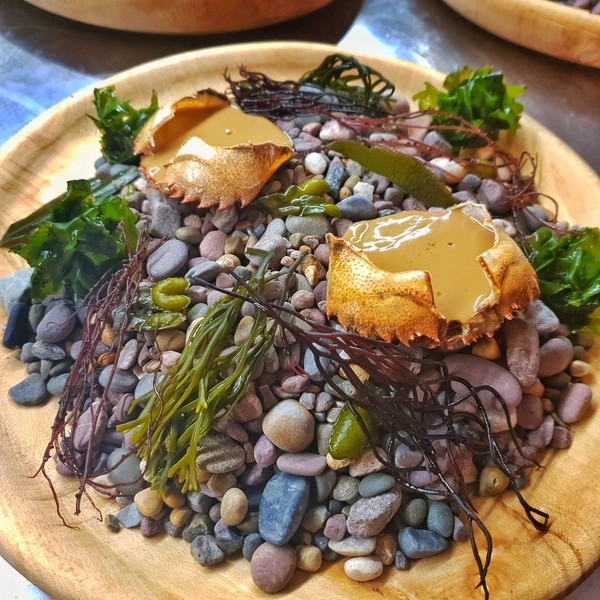 Matt's a strong presence at service, leaving the open kitchen to serve elements of the dishes at the table, offer top-ups of sauces and explain the lengthy processes that go into creating the dishes. The food is strongly seasonal, with mainstay dishes evolving depending on the wild ingredients that are available. Egg in the Hedgerow, for instance, centres around a duck egg yolk cooked for two hours in the water bath and served with a broth made with chanterelles and birch syrup, and with wild leaves that change through the year.
Seaweeds are a regular feature, starring in dishes such as The Littoral Zones – in which five different seaweeds are served on a bed of pebbles with limpet shells filled with limpet mousse; and in a dish simply titled Kelp, comprising a kelp broth made with aged kelp, sea buckthorn, butter and a touch of seaweed vinegar, served with siphon weed emulsification, pepper dulse, scurvy grass leaves and flowers, sea radish and feathery siphon weed fronds.
Looking back at his time spent in big kitchens, he says he no longer finds inspiration there.
'Now my inspiration is what you see when you look outside, or go down to the river,' he says. Dishes are built around ingredients that exist together in the wild – shellfish with seaweeds; mallard with estuary plants; cheese curds with local honey.