In fact, Raby Hunt, 15 minutes' drive northwest of the County Durham town of Darlington, is a restaurant worth visiting no matter how long the journey. If coming from the west, you might pass Barnard Castle, made famous by the divisive Dominic Cummings during lockdown. From any which way it is fiercely, enchantingly rural.
Raby Hunt sits at number four on our Top 20 list of most exciting restaurants. The restaurant might appear more country pub from the outside, plonked down on a stretch of road in a pocket of English countryside, but inside the restaurant is modern. Cross a skull-embellished threshold to enter: one, sparkling and silver in a cabinet to the right, and another tucked away underfoot, looking up from behind glass with an effervescent blue glow. There's a chef's table to the left, behind a see-through wall; the dining room is straight ahead.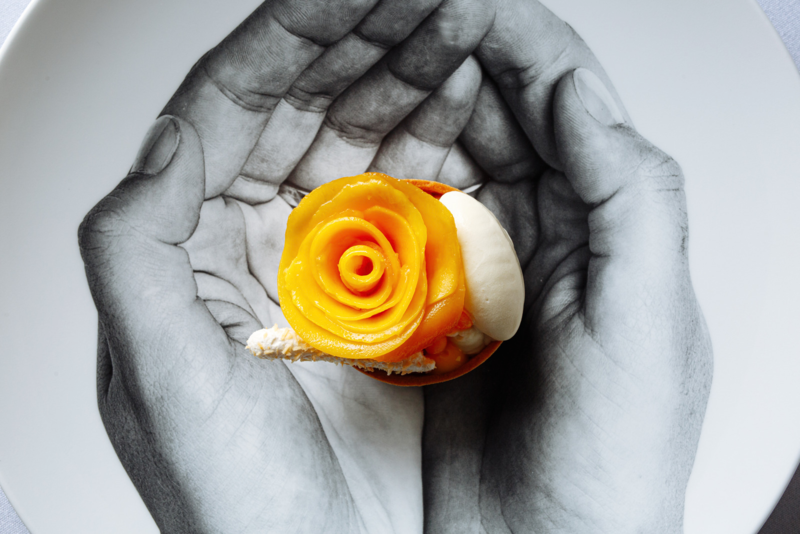 Chef-patron James Close's restaurant started by selling fish and chips, pies and juicy steaks in a more casual space operated by his parents; he has, over the course of around 13 years, carved out something of an anomaly. Here in the cold and windy far north is a restaurant selling warmth and fun alongside a global menu.
Close told The Good Food Guide that he scours the world in search of inspiration. He has visited the likes of Japan, Peru, and Denmark to source ideas, hone skills and gather knowledge. He invites sushi experts to help with training, ensuring any gaps in understanding are filled.
The result of such travels is a bold menu that, though fine dining in every sense, is as much about the snacks as it is about A5 wagyu and tender langoustine.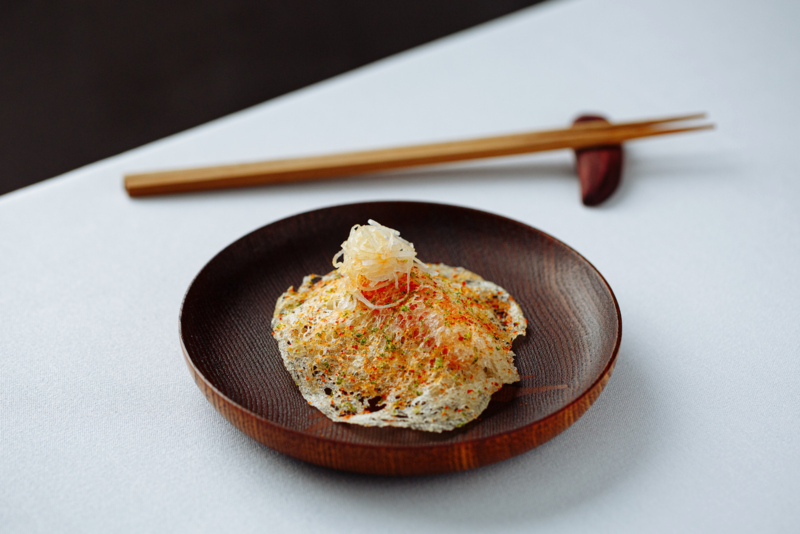 'It is all about moving towards something different,' he says. 'We are always evolving, always searching, and I gather inspiration from everywhere. I love going out to eat, and part of that is visiting the best restaurants in the world to learn and to experience things.'
Close is also humble, despite the mighty acclaim he has received and the £250 price point on his menu. Service is delivered with consideration and precision without being stifling. The tasting menu is perfectly pitched: fast enough to be untaxing but gently paced to allow moments to truly savour.
'I think there are tasting menus that go on for too long,' Close says. 'And there are others that are too quick and feel a bit much. There's a balance to be found and we work hard to find it.
'Part of that is our focus on snacks, and mixing up styles and trying to capture the imagination. I'm not sure there are many places that are quite so global at this level'.
The snacks are gloriously inventive. In the Guide, a 'globetrotting repertoire' is described, and this begins with a Cornish mackerel tart that eclipses many of the countless others dotted around the country. Next, 'Nikkei cuisine' of Peruvian origin, where hamachi ceviche is covered by a punchy foam of coconut and kefir lime; a stunning Mexican suckling pig taco with avocado; a showstopping tuna maki roll, classically Japanese; a Swedish-style tartare blanketed by horseradish; a langoustine tail in a light tempura, in 'homage' to Close's past of fish and chips; and then a dish called 'pastrami', New Yorkian by design, where salt beef is combined with foie gras and popped inside a poppy seed brioche roll. There are interesting wines throughout.
These snacks arrive before larger dishes, naturally. Each one makes an important point about modern fine dining: today, where tasting menus really work, there is a tremendous emphasis on smaller 'bites'. They are culinary pebble stones, leading diners on a journey, exciting them along the way. The more playful, creative and international these are, the better, perhaps. Because in a snack, there is nowhere to hide; every one must be a flavour bomb, a single mouthful of intrigue, refined and intense yet not too much, not overbearing.
Throughout our Top 20 list are restaurants where snacks are thematic. At Raby Hunt, they appear effortless, far from contrived, and very much centre stage.
— by Josh Barrie