The town was swarming in the broil of late July. It still isn't somewhere you would take children, judging by the demographic; there were legions of oldies, floaty women in pastel crepe and Glasto revenants with heads like furballs labouring up the unfeasibly steep hill that is Fore Street and High Street. Easily missed amid the tweedledee, Gather looks as though it could once have been one of the numerous tearooms with which Totnes is stocked, and that are its chief asset now that the clutch of wonderful bookshops have closed down. The town is still more a place for scented candles, hand-carved mug-racks, kelims and pomegranate exfoliant than for pints of milk or instant noodles, but the wine merchant is still going, and in Gather they have a decent restaurant.
Half-curtained windows suggest the last of the chintz has not quite been fumigated, but inside the ambience is more contemporary – stripped pine, bare wood tables, and a wide hatchway looking into the kitchen and its two occupants. There were two other couples, one possibly on reviewing duty, and another very elderly pair, he stone-deaf, she full of tremulous dubiety over the menu descriptions. They sweetly ordered exactly the same dishes without realising they were doing so.
There is muzak, at a fairly uncompromising level. It mutated from an encouraging soul selection (James Brown feeling all right to the emotional counterpoint of the Four Tops lamenting the same old song, but with a different meaning since she's been gone) and thence to the inevitable squalling jazz.
Foraging is the theme, and I'd been hoping and assuming I'd be garlanded in bogweed, myrtle, amaranth and love-in-a-mist. There is a foraging taster, but only in the evenings, and what was offered at lunch time was effectively a prix fixe with three choices per course, a taster compilation of the same dishes, or a half-taster of some of them. I went with the PF.
Bread was two thick slices of a fine, unevenly gassed sourdough, its crumb as open as ciabatta, very savoury and crisp, and sparingly pelted with poppy seeds. There was a smudge of cultured butter, dangerously salty and topped with a couple of purple flowers. (Don't ask me what. I'm not Monty Don.) This was so delicious that I ate both slices and a petal or two. A couple of canapés appeared on one of those small bowls of fossilised lentils: a rather dank-tasting chickpea mousse topped with herbed mayonnaise, and a much nicer Cheddar gougère topped with a high pile of delicately grated Parmesan, like shavings of balsa.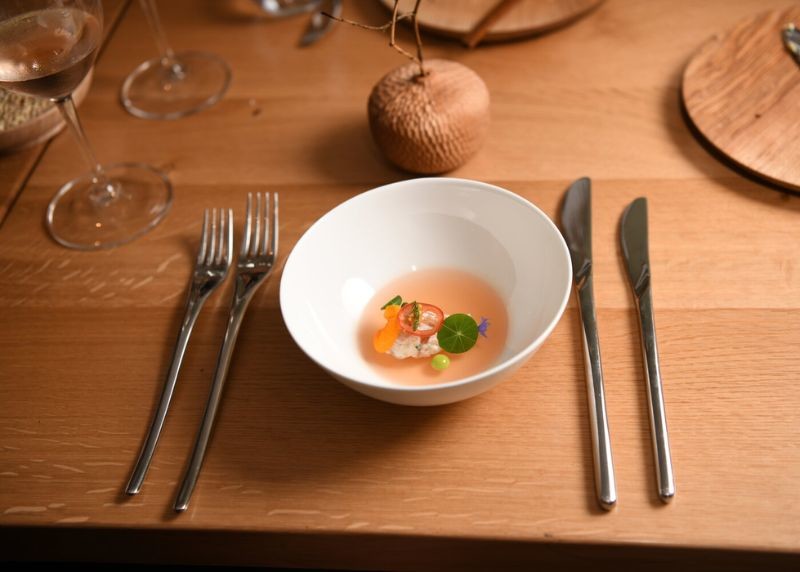 First course choices were artichoke tortellini in broth, foie gras and strawberries, or a courgette flower stuffed with crab mousse. The mousse was exemplary: beautifully constructed and tight enough to slice cleanly and full of an expressive whip of lemony white crab meat. It sat on an underlay of half-wilted stalky spinach, on top of which was an exquisitely arranged circlet of wafer-thin baby courgette slices. Around the bowl, a russet-coloured, frothed bisque was poured, rich as Croesus and full of sharp seasoning. The final adornment was a couple of crisp-fried purple basil leaves. It looked like a very dinky portion, the sort of dish you train yourself to eat slowly, appreciatively, so as not to look like a greedy person on expenses. I utterly loved it.
Mains were a tomato tart; hake in a Choron sauce with green beans; and lamb, the last presented as a single thick slice of the saddle, rolled around a filling of fried nettle. The underlay was an elaboration of peas à la française, with a couple of shards of bias-cut gem lettuce, a few broad bean interlopers and big nodules of bacon, all in a very light, rather sparse jus. A couple of fried leaves had found their way on to this, too, and there was a side-dish of four breaded potato croquettes that were so perfectly built they could have come from a freezer-pack, but let's assume not. The lamb was pretty good, with mature, developed flavour, quite a thick layer of fat, and all served in what I assume is the lunch portion – but again, very impressive. Dishes have the kind of labour-intensiveness that effectively disguises itself, so that what appears looks refreshingly simple, for all the work that has gone into it.
Dessert was a strawberry soufflé, a sort of fig roll, or the inevitable cheesecake. This was the least resonant dish. An oblong slice, it had been presented on its side for no real reason (perhaps it just fell off the knife when plated – let sleeping dogs lie) and was a canonical piece of baked mascarpone and cream cheese with a thin digestive base and a very thin jelly glaze of bilberry, which was much too thin and too gelatined to add anything. Alongside was a quenelle of mint ice-cream, very creamy and redolent of garden peppermint rather than spearmint, topped with a little slew of bilberries that appeared to have been lightly compoted. It was all a little pallid, but without false notes. The fig roll might have been the better bet.
I didn't take coffee, but he brought me the petit four anyway – a large white macaron with a gooey dark chocolate filling, like a superior Peak Frean.
I had a glass of the house champagne, Gremillet; a small measure of a southern French Viognier; a small measure of a Rioja Crianza; and a teeny tot of Sichel's generic but perfectly acceptable Sauternes. And a bottle of still water from Devon: Tarka Springs, which the label says is 'wildly refreshing' (almost as though they knew I was coming). The wine list is very short, not particularly imaginative, and of mostly no better than average quality. Could do better.
As will be clear, I liked this a lot. The waiter coped perfectly well with three tables and didn't forget anything, though I suspect he would need back-up on a busy evening (if there are busy evenings). Prices are quite toppy, but where aren't they? There is no real yardstick, with the cost of supplies, energy bills and national insurance all rising, and the pool of inexpensive labour having dwindled to an arid creek-bed.
This is definitely where to go in Totnes.