A call with James Cross is interrupted by a delivery. Not, obviously, of fish or meat or produce for his Ambleside restaurant, Lake Road Kitchen, but a metric tonne of compost being winched into the garden at the Windermere home he and his family moved into in January. He'll be using it to fill pots – his one-year-old son loves strawberries so there'll be plenty of them – to create ornamental beds, and a new allotment.
For the best chefs, the connection between cooking and growing is powerful. At Moor Hall in Lancashire, Mark Birchall works closely with head gardener Catherine Butters to ensure he has the produce he needs for his dishes. Sweet cicely, wild garlic and sorrel intersperse other plantings; there's Birchall's favourite sherbetty lemon verbena, winter savory ('great with chicken' says Butters), lovage for lovage oil, and salad burnet, a medicinal herb once used to help plague victims. 'We've got ridiculous amounts of raspberries,' says Birchall, 'the crosnes are already coming up – delicious with scallops and truffle in September.' Mildly peppery Tokyo turnips, picked when radish-sized and essential for Birchall's crab and turnip broth dish, are a garden fixture.
But you don't need acres of space or expertise to create a productive, edible patch. Here are some tips from those in the know…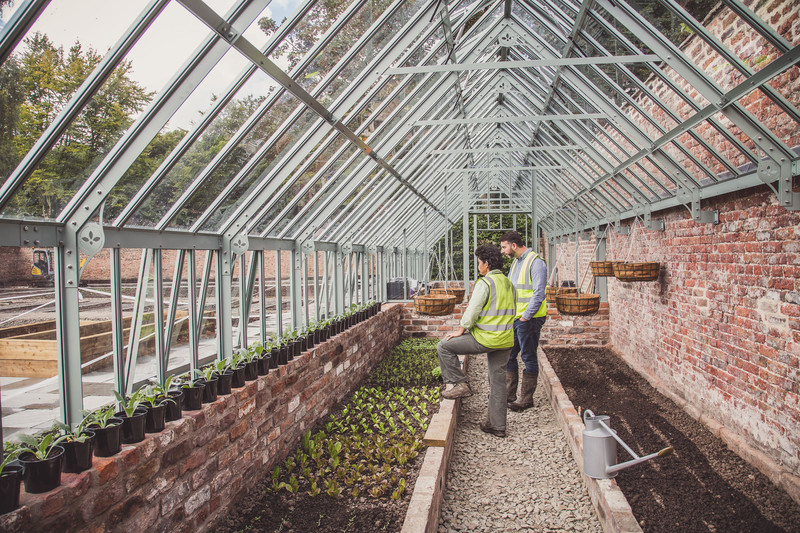 Think beyond pots
You don't need special planters or a dedicated veg patch to get started. 'For lettuces, get a length of gutter, cap the ends, drill very small, infrequent holes and line with weed-control matting,' suggests James Cross. 'Fill with compost and perlite to improve drainage, and sow direct.' Cross recommends 'Rosedale', a sweet-flavoured red cos lettuce which crops well and is slow to bolt. 'Or use a box,' says Will Devlin of The Small Holding in Kent. The GFG's Chef to Watch 2020 grows produce for his 26-cover restaurant on a one-acre plot. 'Line boxes with wet newspaper, fill with compost, sprinkle with seeds. Salads don't need much depth and you can move the boxes around easily.' It works for potatoes too: 'Put five or six chitted spuds in a bucket of compost. You're not taking up much space.' Make sure there's drainage, water regularly, and occasionally give a liquid feed.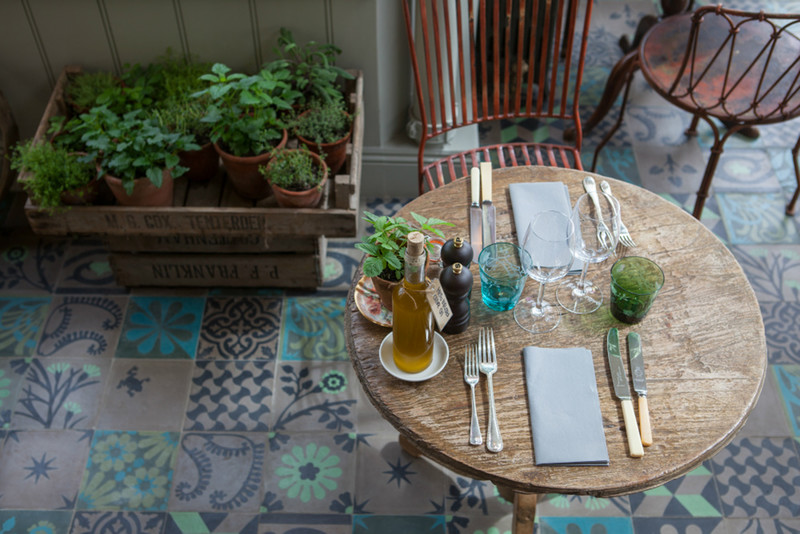 Look up!
If space is tight, train courgettes or squashes upwards. 'Patty pans scrambling across a trellis look fantastic!' says Roseanna Reed of The Pig on the Beach in Dorset. Devlin agrees: 'Avoid things like cauliflowers that take up space. On a square-metre of ground you can grow so much more if you go vertical. And fast too – beans and peas grow quickly.'
At Moor Hall, head gardener Catherine Butters recommends netting peas against bird damage till they're knee-high, then removing the netting to let them scramble. 'If you plant courgettes at the base, it'll help deter pigeons – they don't like the hairy leaves, it seems.'


A little of what you fancy
Endless courgettes can turn even their most ardent admirers off. 'To avoid gluts, sow little and often, ensuring a steady supply of what you enjoy,' says Tom Coward, head gardener at Gravetye Manor in Sussex who sows beetroot, carrot, spring onion and turnip each week in season.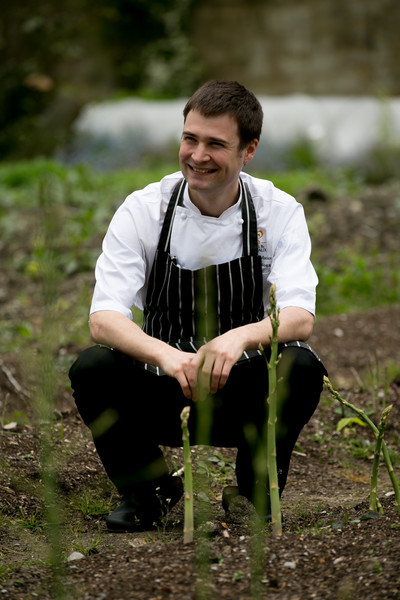 Go easy on yourself
'Runner beans are thirsty but easy to grow and prolific,' says Reed. 'Pick them at around 20cm. If they're difficult to cut, they're probably past it.' Beetroot is an easy win too. 'Thin them out, but don't forget you can use the leaves,' she adds. Try fennel, a plant that's easy to grow and edible from root to fronds.
'Nasturtiums are an incredible plant,' says Matthew Pennington who co-owns The Ethicurean restaurant near Bristol, famed for its vegetable garden and Mendip Hills backdrop. 'Dead easy, they help keep the flea beetle away, and are entirely edible.' At home, Butters grows them alongside potatoes to stop the tubers going green when exposed to light.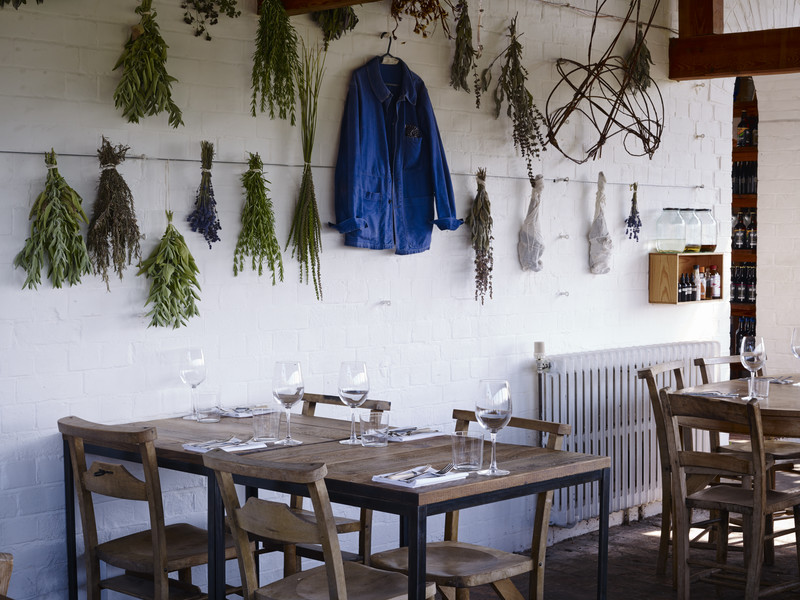 To water… or not?
'Plants are a bit like children,' says Coward. 'The better you look after them when they're young, the better they can look after themselves when older!' Avoid over-watering – it's tricky as the symptoms of drought and drowning can be similar. 'Water well once a week,' says Butters. 'If you sprinkle daily, the roots stay on the surface. If you leave it a bit, they dig down, become stronger.' Water tomatoes in the middle of the day when skins are warm so they can expand; cold skin is firmer and could burst.
Taking a 'no-dig' approach minimises the need for watering, and maximises soil health by preserving microbes, says Pennington. 'Healthier soil means things grow more easily and are better quality. Worms are your friends, too,' he adds, 'their castings contain minerals that protect and nourish both plant and soil'.
Upcycle, recycle
At her coastal allotment by The Anchor at Walberswick, Sophie Dorber uses poles from old parasols as supports for beans, and the cotton canopies on the ground as reservoirs. Upturned plastic bottles, holes pierced in their lids and their bottoms cut out for easy refilling, are ingenious drip-irrigators on a plot rammed with squash, cucumber and scrambling legumes. And don't bin moth-eaten woollens! 'Natural fibres are great for the compost heap', says Butters.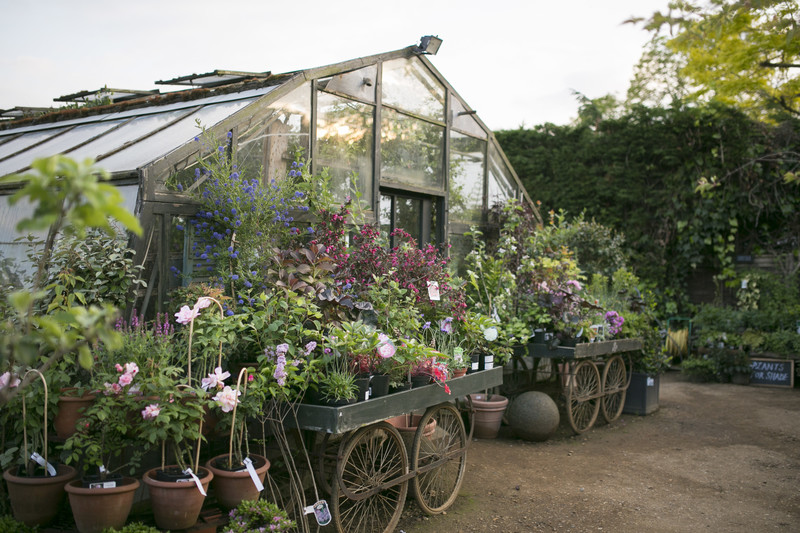 Go herbal
If you can't get seeds or plants, start with pots of herbs. 'They are not hardy,' says Amanda Brame, head of horticulture at Petersham Nurseries in Richmond, 'so keep them indoors for three weeks, harvesting very sparingly. Then harden them off for five to seven days (outside during the day, inside at night), and pop them into containers. They will romp away!'