Those images of joyfully relaxed alfresco eating, the ones that fill magazine pages at this time of year – all dappled sunlight, lingering warmth and a barbecue that works to perfection – are captivating. On one of our treasured English summer days, it can indeed be the case. But without wanting to jinx the weeks to come, the reality doesn't always match the hype.
So why not head for a bite at your local garden centre? Madness? It's no longer such a crazy idea; the image of a cup of insipid tea and slice of tired Victoria sponge is fading as more and more of these places are raising their game, and attracting customers with food that sings with seasonality and champions a powerful field-to-fork ethos.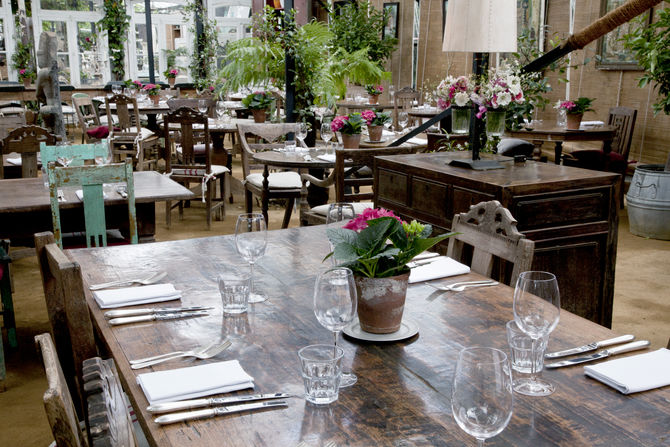 Petersham Nurseries Café captured the zeitgeist in 2004. Skye Gyngell – then head chef – started tentatively with a single 10-cover table in the plant-filled glasshouse, but now there's a well-heeled and committed following for Damian Clisby's menu, inspired by what's available from the garden.'There's a real connection with our environment and the seasons here,' says Clisby. 'If there's a dip in the weather, even between the morning and afternoon, we adapt the menu.'
On the Suffolk coast, a light-drenched café gazing out over swathes of plants is the lovely setting for stunning tapas-style food at Darsham Nurseries, while Mrs Miller's Café at Hazel Dene Garden Centre near Penrith is the spot for shoulder of lamb from Low Howgill farm maybe served with local 'pepperpot' sausage and giant couscous.
Head to the magical Pythouse Kitchen Garden in the morning to catch the chefs picking the best herbs, fruit and veg for that day's (simple) menu, which might even include apricots grown to ripeness against a south-facing brick wall. You'll get the same vibe at the gorgeous Ethicurean near Bristol where a deep sense of place and connection with the food of the South West pervades the menu.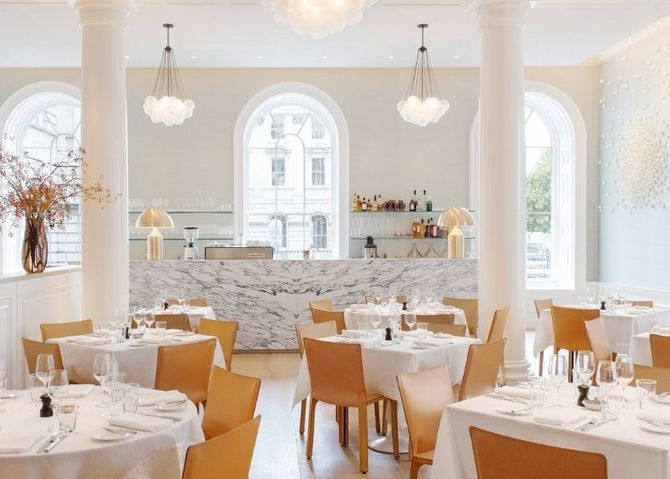 Stuck in the city? Don't fret: head to plant-filled Spring, Skye Gyngell's place in London's Somerset House for your fill of bucolic summer eating.
Treat yourself
£££
Petersham Nurseries Café, Richmond, London
The enduring appeal of this delightful place lies in its absolute adherence to seasonality and working with what the garden can give. Head chef Damian Clisby celebrates each season's offerings to the full, perhaps with fresh cannelloni with broad beans, peas, ricotta and chives, or crab with asparagus, radish, bottarga and peas. petershamnurseries.com
Clos Maggiore, Covent Garden, London
A canopy of flowering plants in the conservatory room (above)will transport you from the city to the most summery of gardens in an instant. This is a place to enjoy classic Provence and Tuscany-inspired dishes, created by head chef Marcellin Marc and his brigade. Try confit and chargrilled aubergine stuffed with sweet peppers and ricotta, slow-roast shoulder of milk-fed lamb with gremolata, or fresh pappardelle with grated truffle and wild mushrooms. closmaggiore.com
Great value
££
The Ethicurean, Wrington, Bristol
The views over the Mendips are breathtaking from the extended Victorian glasshouse that is home to this popular restaurant. The best of the day's pickings from the walled gardens illuminate a vegetable-focused menu (right) that might include such delights as courgette flowers with a fresh ewe's milk curd, aniseed sherbert and sweet cicely jelly. theethicurean.com
Pythouse Kitchen Garden, Tisbury, Wiltshire
Chef Ana Ortiz plucks the very best ingredients from the kitchen garden to create an utterly seasonal menu at this stunning West Country spot (right). Stay undercover in the conservatory restaurant, picnic on the grass, or enjoy the monthly Pytfire banquets, an opportunity to enjoy meat or fish cooked over an open fire and served perhaps with garden beets, onions or butternut squash roasted in the glowing embers, and a zesty herb chimichurri. pythousekitchengarden.co.uk
Budget
£
Darsham Nurseries Café, Darsham, Suffolk
For a beguiling pit stop en route to Suffolk's honeypot coastal towns and villages, this place is hard to beat. Choose from a tempting array of small plates that might include roast cauliflower, herb yogurt and pine nuts, or simply grilled smoked mackerel with pickled rhubarb. Middle Eastern flavours proliferate, but stay local if you prefer, with a plate of peerless St Jude cheese baked and served with sourdough and radicchio. darshamnurseries.co.uk
The Marram Grass, Newborough, Anglesey
The Barrie brothers – Ellis and Liam – insist their restaurant is just a tin-roofed shed on a caravan site, and we can't argue. But this unpretentious spot has gathered a loyal following since opening in 2011 thanks to its startlingly capable kitchen and the charm of those running it. A pretty vine-covered pagoda is a laidback place to enjoy a menu of determinedly local ingredients. themarramgrass.com
You might also like...