Bury Market advertises itself as 'world famous' which may be something of an exaggeration - but it is sufficient of a tourist attraction that they get coach trips. It's because it's a 'proper' market and nothing like your expensive, twee farmers markets. There's a large market hall, open six days a week and lots of outdoor stalls on several days of the week. It's a place to buy pots and pans and coats your granny would like to wear. And some cracking food stalls – like Chadwick's Bury Black Puddings (the best there is, IMO). And just down from them, there's Harry Muffin for classic Northern bakes like Wimberry or cheese and onion pies. And good looking pork pies. And Chorley cakes – the shortcrust version of the better known Eccles cake. And a cheese stall with a wide range, including Dewlay's 'Tasty' Lancashire. And that's just scratching the surface of the food offerings. I could write a long paragraph about the indoor fish and meat stalls. And another on the 'deli' stalls in the main market halls – although no-one from round here would call it 'deli' - that'll be the 'cooked meat' stalls.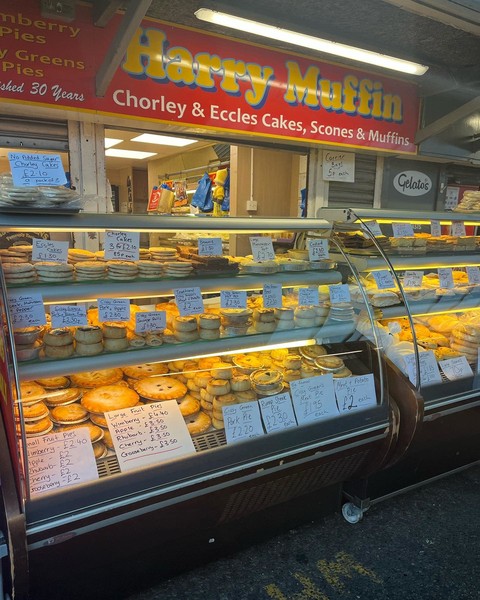 And there's cafes dotted about. Outdoor market stalls, with a couple of tables and chairs, for you to sit and rest your legs while you sip a mug of builders tea. Then there's Turkish Gozleme. And gozleme is what they are known for. Think a sort of Turkish calzone affair. The owner takes a piece of dough, rolling it out so thin but reaching dinner plate size. She asks if I've had this before. I haven't. But I tell here I'd read about her gozleme and had driven round from the other side of the metro area to eat it (and buy stuff from the other food stalls). She then piles on the filling – a mix of spinach, mushroom and potato. That's topped with your choice of mildly spiced lamb or chicken mince and a scattering of feta. It's then folded over, pressed down and cooked on the flat top. She slices it up so it can be easily eaten with fingers. It's absolutely bloody delicious. As is the small cup of Turkish coffee that helped it go down.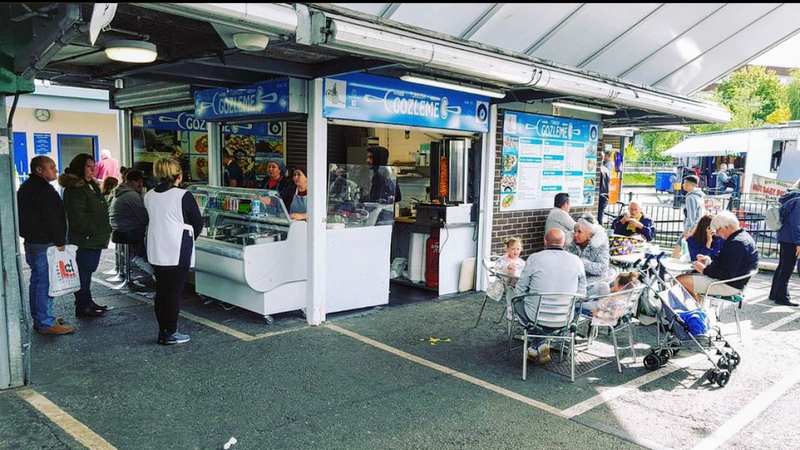 I'm not sure when we'll be back but I'll face a dilemma. Should I have this again, or go for the very good looking chicken shawarma, or the more common pide. Maybe I'll have one for elevenses and something else for lunch. It's a dilemma worth having.
First published in our free weekly newsletter Good Food Guide Weekly.