**Please note nominations for the awards are now closed, read about the winners here**
The Good Food Guide Needs You!
The Good Food Guide has launched its annual search for the nation's favourite local restaurants. Our diner-nominated Best Local Restaurant awards celebrate the brilliant contribution that neighbourhood restaurants make to our communities.
Our Dining Out survey revealed that 22% of diners choose a local restaurant in order to support the local community, with 40% enjoying the point of difference that a local, independent restaurant can offer when compared with a large chain.
If you want to recognise your local, neighbourhood restaurant in our awards, then nominate from 8 November – and be in with a chance of winning £500 worth of Waitrose vouchers.
What is a Local Restaurant?
- It's independently run
- It's owned by the chef or a hands-on proprietor
- Its menu is in line with the seasons
- It offers regularly changing menus at affordable prices
- It can demonstrate a strong relationship with local suppliers
- It has strong ties to, and support from, the local community
- It's family friendly, offers affordable lunches and at least 2 dinner services a week
- It gives a genuine warm welcome
- And shows a passion for delivering all of the above.
Celebrate your favourite local restaurant and support your community by nominating now using the button below. Everyone who nominates will be entered into a prize draw to win £500 of Waitrose vouchers. See here for full terms and conditions.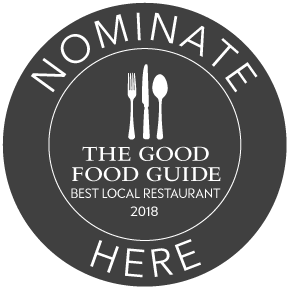 The nomination period runs from 8 November to 17 January. Diners can nominate their favourite restaurant by visiting thegoodfoodguide.co.uk and using the form provided.
If you're a restaurant interested in taking part, you can read more here