Press release: Britain's 100 Best Local Restaurants 2023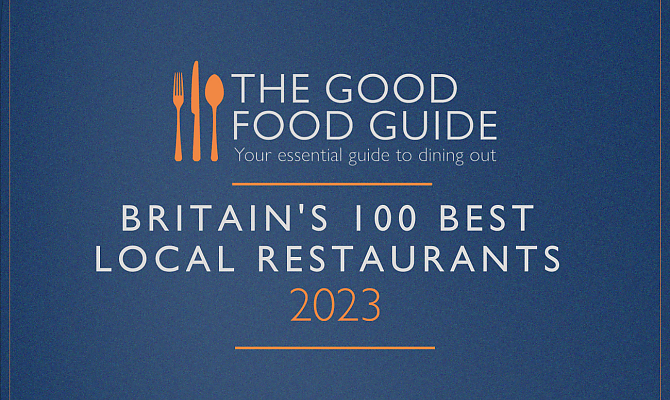 The Good Food Guide has announced Britain's 100 Best Local Restaurants with over 37,000 public nominations. All of the restaurants in the list have been inspected by Good Food Guide inspectors, travelling the length and breadth of England, Scotland and Wales, to compile the final list.
Tallow, a neighbourhood restaurant in Southborough, Royal Tunbridge Wells has been named the overall Best Local Restaurant by The Good Food Guide, topping a list of 100 local favourites across the country.
Regional winners include Les 2 Garçons in London, The Sparrows in the North West, Homestead Kitchen in the North East, The Kinneuchar Inn in Scotland, Seasonality in the South East, Wild Artichokes in the South West, Rocket & Rye in Wales and Tropea in Central and the East of England.
The Good Food Guide's Editor, Elizabeth Carter said of the winner of Britain's 100 Best Local Restaurants 2023; "Tallow stood out, head and shoulders above what is a very strong list this year. For a chef of this quality to be so happily focused on running a neighbourhood restaurant is extraordinary. There's a level of commitment here that would sit happily in many top restaurants. Everything is beautifully thought through, from food you really want to eat - delicious, simple, seasonal - to the remarkably at-ease service and the care of customers.
The menu offers choice (à la carte or tasting) , is affordable, completely changes each month, including the bread and the snacks; regulars like to visit at least once a month in order to try it out. Most live close enough to walk or are a short taxi ride away. They are very lucky."
Tallow owner Donna Taylor said of the award; "What an unexpected and humbling acknowledgement for the whole team at Tallow, and such a privilege to be considered alongside restaurants we love and respect.
We're incredibly proud to receive confirmation from our guests that Tallow has become what we had hoped, an accessible, relaxed dining experience that they wish to enjoy over and over again."
The complete list includes city centre locations , as well as suburban and rural offerings. Typically, Best Local Restaurants have been geographically located in classic 'neighbourhood' locations, but The Good Food Guide's team of inspectors found that connection to the community is far more important than the restaurant's address. Les 2 Garçons in London and Higher Ground, a bistro in central Manchester both epitomise this.
A public nomination for Higher Ground read:"A friendly, welcoming local restaurant in the heart of the city centre, creating a much-needed link to the local food system. Using local produce from the restaurant's partner farm, Cinderwood Market Garden, guests are able to connect with the seasons and the land. Many regulars and neighbours meet here and enjoy each other's company, often bumping into other friends which creates a real sense of community"'
Britain's 100 Best Local Restaurants will provide a huge boost to the hospitality industry across the country, highlighting those who often miss the spotlight whilst providing an excellent and vital service to their community.
Kate Nicholls, CEO of UKHospitality said of the awards; "Local restaurants are so often the heartbeat of communities; providing jobs, generating economic growth and, most importantly, providing fantastic food. It's brilliant to see such huge support from the public for their local restaurants and is deserved recognition of their hard work. This sort of support is invaluable as venues face ever-rising costs and is essential in keeping valued businesses viable."
Thom Hetherington, Co-founder of the Northern Bar and Restaurant Show said; "The Good Food Guide was a revelation to me as a fledgling foodie 25 years ago, and its authority and independence is as crucial to today's diners as ever - not just highlighting big names, but shining a light on the sometimes hidden restaurant gems that locals love and others need to know about."
The list was released at 1pm on Friday 7th July. It is now available to read here www.thegoodfoodguide.co.uk/best-local-restaurant/best-local-restaurant-award-winners-2023 at 1pm on Friday 7th July.
The full list of restaurants can be found below, together with their Best Local Restaurant region. Regional winners are highlighted in bold type;
Central & East of England
Tropea, West Midlands
Watson and Walpole, Suffolk
Chapter, West Midlands
Brix & Bones, Norfolk
Stiffkey Red Lion, Norfolk
Fancett's Bistro, Cambridgeshire
The Kilpeck Inn, Herefordshire
Hitchen's Barn, Rutland
Lark, Suffolk
The Silver Cup, Hertfordshire
London
Les 2 Garçons, London
Copper & Ink, London
Sam's Riverside, London
The Holland, London
Giulia, London
Akub Restaurant, London
Hawthorn, London
Church Road, London
North East
Homestead Kitchen, North Yorkshire
The Hispanist, East Yorkshire
Hearth, East Yorkshire
Ophelia, Tyne & Wear
Coin, West Yorkshire
Brooks, West Yorkshire
Long Friday, Tyne & Wear
The Orange Bird, South Yorkshire
Bantam, North Yorkshire
Hinnies, Tyne & Wear
Tonco, South Yorkshire
Hern, West Yorkshire
The Kirkstyle Inn and Sportsman's Rest, Northumberland
North West
The Spärrows, Greater Manchester
Four & Twenty, Cumbria
Belzan, Merseyside
10 Tib Lane, Greater Manchester
The Yan, Cumbria
Edinburgh Castle, Greater Manchester
Another Hand, Greater Manchester
Covino, Cheshire
Parkers Arms, Lancashire
Bombay to Mumbai, Greater Manchester
The Nag's Head, Cheshire
The White Horse, Cheshire
Lily's Vegetarian Indian Cuisine, Greater Manchester
Kysty, Cumbria
Higher Ground, Greater Manchester
Scotland
The Kinneuchar Inn, Fife
The Loveable Rogue, Strathclyde
Celentano's, Strathclyd
Bar Brett, Strathclyde
Eighty Eight, Strathclyde
The Palmerston, Lothians
L'Escargot Bleu, Lothians
Ga Ga Kitchen & Bar, Strathclyde
Gloriosa,Strathclyde
Eusebi Deli, Strathclyde
The Oystercatcher, Argyll & Bute
The Dory Bistro, Fife
The Galleon Bistro, Highlands & Islands
KORA by Tom Kitchin, Lothians
The Bothy, Moray
South East
Tallow, Kent - (Overall winner)
Seasonality, Berkshire (South East regional winner)
The Greyhound, Buckinghamshire
The Dew Drop Inn, Berkshire
Samphire, Kent
Five Little Pigs, Oxfordshire
Quince, Kent
The Victoria Oxshott, Surrey
The Pilgrim, Buckinghamshire
Palmito, East Sussex
The Purefoy Arms, Hampshire
Pompette, Oxfordshire
The Folkestone Wine Company, Kent
The Goods Shed, Kent
Fourth and Church, East Sussex
South West
Wild Artichokes, Devon
Sonny Stores, Bristol
Pythouse Kitchen Garden, Wiltshire
The Greenhouse, Cornwall
Art Sushi, Dorset
Bank, Bristol
Little Hollows Pasta, Bristol
The Cotley Inn, Somerset
Iford Manor Cafe & Kitchen, Wiltshire
Caper and Cure, Bristol
Brassica, Dorset
Littlefrench, Bristol
The Rocket Store, Cornwall
Andria, Devon
Beckford Canteen, Somerset
The Exmoor Forest Inn, Somerset
The Halfway at Kineton, Gloucestershire
Wales
Rocket & Rye, Glamorgan
Y Polyn, Carmarthenshire
The Warren, Carmarthenshire
Heathcock, Glamorgan
Paternoster Farm, Pembrokeshire
The Black Bear Inn, Monmouthshire
Yr Hen Printworks, Ceredigion
ENDS -
IMAGES FROM TALLOW CAN BE FOUND HERE
Additional images and quotes from regional winners are available on request.
NOTES TO EDITORS:
The Good Food Guide was first compiled by Raymond Postgate in 1951. Appalled by the British post-war dining experience, Postgate recruited an army of volunteers to inspect restaurants anonymously and report back. His aims were simple; among them, 'to raise the standard of cooking in Britain' and 'to do ourselves all a bit of good by making our holidays, travels and evenings out in due course more enjoyable'.
Much has changed since the very first edition of The Good Food Guide but the ethos of the the original book remains firmly in place. The Guide is about empowering diners, helping readers to find the very best places to eat and encouraging restaurants to offer the best possible food, service and experience.
Acquired by CODE Hospitality in 2021, The Good Food Guide is now a fully digital publication (desktop and app) featuring over 900 restaurants, pubs, cafes and wine bars across Britain. All reviews are conducted anonymously by a network of 30 inspectors and paid for in full. No establishment can buy their way into the Guide and the publication is one of the most trusted sources of where to eat well in Britain. Diners can pay for access to the Guide monthly or annually.
Instagram: https://www.instagram.com/goodfoodguideuk/
Twitter: https://twitter.com/GoodFoodGuideUK
Website: https://www.thegoodfoodguide.co.uk
For further information, interview requests and images please contact:
Lucy Noone Blake // India Morris
Discover more about the Best Local Restaurant Awards from The Good Food Guide