She famously only employs women as chefs at her award-winning Indian restaurant, and now Asma Khan is taking on a large new premises – and an even bigger mission. 

The pioneering restaurateur is moving Darjeeling Express from London's Soho to a site in Covent Garden, with a sweeping dining space and additional deli. And when the deli closes at 6pm, it will become a classroom for female food bosses of the future. 
'I don't want to teach women how to cook, I want to teach them how to lead,' says Asma. 'There are not enough women in decision-making positions in hospitality, which concerns me. Too many people who look the same – are the same – are in positions of power. I want to teach women how to set up businesses, groups and collectives, and learn to work together. I want to show them that actually your greatest strength is the fact that you're a woman. 'We get to be number one not by crushing people – we get there by collaboration. And if we help other women succeed, this will be good for all of us.'
The mentoring school is the next step in Asma's mission to give women more self-confidence and control. Her own hierarchy-free kitchen is made up of self-taught home cooks who were mostly working as nannies when she recruited
them – a part-time system meant they could combine restaurant shifts with their
other jobs, or with their own childcare.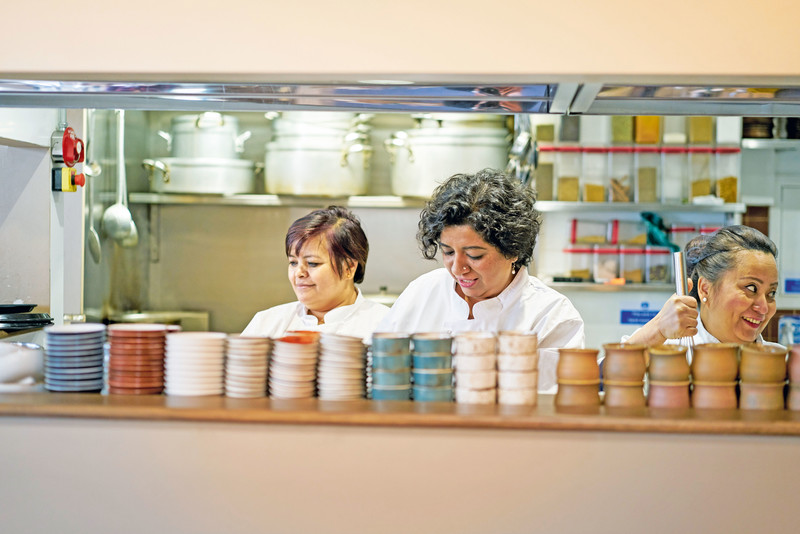 The larger size of the new site – the former Carluccio's flagship – means employing more cooks, but only 'women whom it will benefit, rather than those who will benefit me,' she says. 'I want to bring in women who might want to open their own restaurant or café, and they can learn how to run a kitchen.' Ironically Asma, 51, who featured in the Emmy-nominated Netflix series Chef's Table, couldn't cook at all when she moved from Calcutta to the UK to be with her academic husband in her early 20s. Homesick for her homeland, she learned to make traditional Indian dishes while juggling a PhD and raising two sons. It soon took over her life.

In 2012 she started a supper club, serving traditional family style feasts in her London home with her South Asian friends helping in the kitchen. This morphed into a pub pop-up, and in the summer of 2017 she opened Darjeeling Express off Garrick Street where, pre-lockdown, securing a table meant booking months in advance.

The new site opens next month with three eight-course tasting menus – one vegan, one biryani, and one taking diners on a 'railway journey' from the food of Calcutta up to the Himalayas. But it's the mentoring school that's particularly firing her up. 'This is really what I want to do,' says Asma. 'I could be thinking about my business, but this excites me more because I want to see change.'

The idea is to start off with hospitality, then branch out. 'I'm dealing with the industry I know best at the moment, but I see this really as something universal. Every woman can do whatever she wants to do. What holds us back is our insecurities.' Nor, she says, should age be a barrier. 'In my culture, in your late 40s and 50s you're seen as being in the autumn of your life. The average age of the women cooking in my kitchen is 50, and I tell people that this is the spring of my life! Just watch me grow.

'I've seen other women grow too,' she adds. 'All you have to do is stand behind them and say, 'You are amazing.' Many of my team of women were highly insecure, had never been out of their house, had very poor English – and now they're the giants on whose shoulders I stand.'
Originally published in Waitrose Weekend magazine, pick up a copy instore or read it online here.
Published October 2020