Who says car parks shouldn't have the best views? Who says that storage area round the back couldn't be the perfect spot to eat? Who says that a graffiti-loaded trailer and drive-through shouldn't be right at home in the grounds of a rose-clad country house hotel?

As the hospitality industry edges towards reopening this weekend (from 4 July),
pub owners, restaurateurs and chefs have been adapting unused outdoor spaces and turning ideas into eating areas where guests can feel looked after, well fed and reassured that government guidelines on social distancing and cleanliness are being strictly adhered to.

'There are some positives from this awful period,' says Sue Williams, general manager of Whatley Manor, near Malmesbury. 'We're seeing innovation and lots of fresh new ideas.' The hotel's car park is now home to Niall Keating's Paradise Carriage trailer, from where the Great British Menu 2020 winner makes food for drive-through customers. During full lockdown, Niall had used the trailer to deliver meals to key workers in his hometown of Stoke-on-Trent. 'We're lucky to have open-minded owners,' says Sue, 'and it keeps us connected with locals.' The regularly changing menu is, of course, served Niall-style: there might be a lobster roll, or lightly battered turbot in a brioche bun with tarragon sauce, or a Whatley Manor 'cheesesteak' made with aged sirloin. The trailer will remain until the end of September.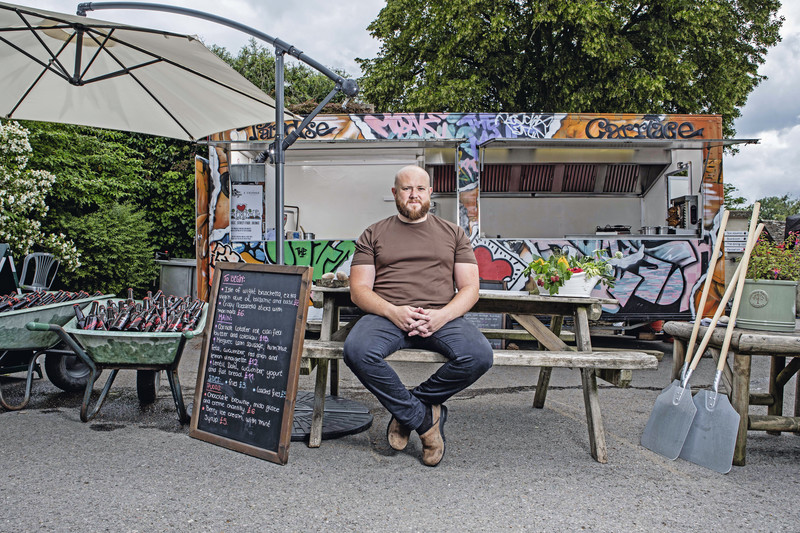 The car park at The White Horse in Brancaster Staithe, Norfolk, has been reclaimed too. Where previously guests' cars were blessed with the close-up view of rippling creeks and tufty marshes, now their owners can enjoy it over a meal served at tables on 'grassed' areas, or in a clear-sided marquee.
A shipping container has been transformed into the Marshside Bar, with a hatch on the side, the interior kitted out for head chef Fran Hartshorne to prepare the likes of fresh Brancaster oysters with shallot vinegar and laden seafood platters. 'We'd hoped to use the container for summer festivals,' says general manager Rob Williamson. 'That can't happen, but being creative like this is refreshing and inspiring.'

It's the same at Tuddenham Mill near Newmarket where lateral thinking and imagination have led to the creation of The Secret Garden. A path leads guests towards a little-visited area by the Mill's meadow, where a tent is illuminated by hanging lights and rustic foliage wound round supports. There will be tables, firepits and a menu of dishes delivered from the kitchen in boxes. Small boxes might include arancini or charcuterie, and bigger ones lobster claw pappardelle or a brisket burger with local Baron Bigod cheese. 'We won't be doing 50 salad leaves on every plate,' says chef patron Lee Bye, 'it will be tasty, rugged food, served in a relaxing environment. Wellbeing is so precious these days – and the Suffolk sunsets here are incredible!'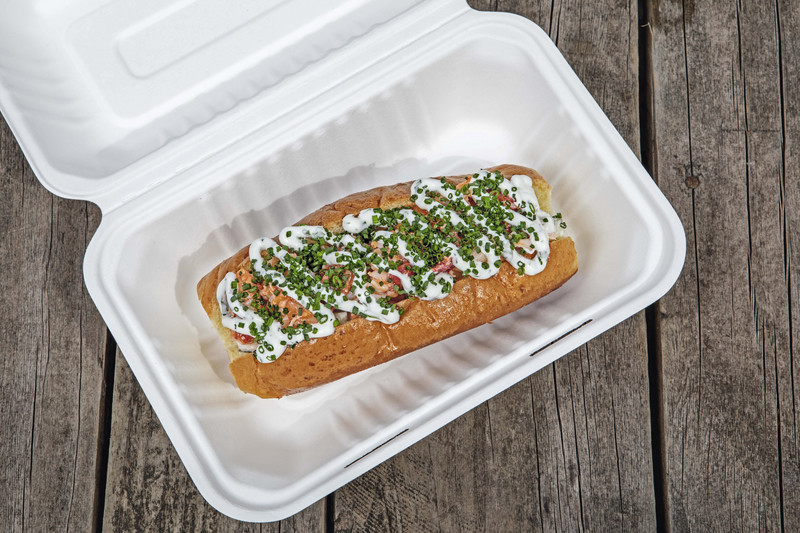 In Sedbergh, James Ratcliffe has cleared a courtyard storage area behind The Black Bull coaching inn. He's cleaned everything, brushed up the cobbles, brought tables over from his Three Hares café (currently running as a deli) and sourced a marquee. A local blacksmith is forging a spit and A-frame so a cauldron can hang over a firepit. James and his wife, head chef Nina Matsunaga, will cook: 'We might do a whole side of salmon on the griddle, or wild boar stew or pulled venison in the cauldron, whole goat or Dexter beef on the spit. It'll be rustic and fun!'

There'll be a similar vibe at the back of The Goods Shed, Canterbury. Owner Susanna Sait has strimmed and tidied an 'overgrown wasteland' to create a new eating space. 'We've put woodchip down to make it a bit civilised, but still Goods Shed rustic,' says Susanna. 'I've got pots of geraniums and we've planted espalier fruit trees, which will eventually look lovely.' Parasols and a shade sail will protect the tables and a simple menu will be cooked on a drum barbecue. It might include a pork chop with pickled asparagus, or grilled fish with spring green kimchi. 'We've been curing, salting, smoking and pickling to preserve produce,' adds Susanna and it's these dishes that are in tune with The Goods Shed's commitment to local and seasonal. 'These past months have been a challenge, but an opportunity,' says Susanna. 'Customers will roll with what we can offer and accept it might be a bit different.'
Claire Topham, owner of The Alice Hawthorn pub in Nun Monkton, near Harrogate, agrees. 'We're excited but apprehensive. It's like opening a new business.' A grassed area by some renovated and new-build bedrooms was to be left as just that, but Claire decided to have the space landscaped and put to work as an attractive eating area. Pizzas from a new Italian wood-fired oven will be available alongside a 'garden menu' of fish, grills and salads. 'Hospitality is about giving people a good time and I think we're going to do just that!' says Claire.

Restaurant dining, outdoors
While some embrace the rustic look, other restaurants plan to keep things as elegant outside as they are inside. Crisp Walk, the passageway beside Sam's Riverside in Hammersmith, London, will be home to Sam's Seafood Bar.
'We've not used the space before, but it will be an extension of the restaurant in look and feel,' says owner Sam Harrison. With its verdant English garden decor and pops of orange throughout the interior, the new bar will carry the same theme and will be a place to enjoy mainly seafood and shellfish – the likes of lobster roll and chips, a 'shuckers platter', and a shrimp salad – as well as Gusbourne English sparkling wine and frozen Casamigos margaritas.

Galton Blackiston at Morston Hall, Norfolk, will listen to what guests want as eating alfresco isn't the norm at his country house hotel. 'I'll be super-flexible. If people want to eat somewhere in the garden they can,' says Galton.
At Little Barwick House, Yeovil, six terrace tables will be as carefully arranged as those inside. 'We want guests to relax, so being outside is important,' says Emma Ford who has run the restaurant with rooms for 20 years alongside her husband and chef Tim. 'We've never used the terrace, but it's a lovely spot, looking over lawns and a cedar.' Classics such as Dover sole, Forde Abbey beef, and a summer pudding terrine will be served, in one lunch sitting only, at white-clothed tables decorated with fresh flowers. 'This has reinvented the way we work, it's refreshed us!' says Emma.
Use the GFG search bar to find up-to-date restaurant information, including reopening dates, takeaway services, booking details and more. Be sure to call ahead before making a journey.