When the developer and restaurateur Harry Handelsman arrived in King's Cross in 1998, it was, by his own admission, 'a bit of a no-go area', at least when it came to running luxury hotels. 'There were some takeaways, you could go go-karting, and it was an area known for women of leisure, shall we say,' he tells The Good Food Guide.
'Nobody wanted to get into property in King's Cross – people stayed south of Oxford Street. But I saw this iconic, derelict, beautiful building in a s***** location and had a clear vision. It was, and is, fantastic, full of mystery.'
The St. Pancras Renaissance Hotel, once the Midland Grand Hotel, was designed by George Gilbert Scott – the prolific Gothic Revival architect – and opened in 1873 before closing in its then form in 1935. Today the building is as imposing as it is grandiose: a beaming, darkish red medley of bricks and turrets.
Anybody who has alighted at Gare du Nord station in Paris will attest to its lacklustre appearance. To European travellers arriving by rail into London, St. Pancras is a majestic place, and soon it will have a restaurant befitting of its locale. The Midland Grand Dining Room, in the original hotel restaurant, will open next year as a 'high-end brasserie'.
'This project has been a labour of love', Handelsman says. 'I've always gone to places others don't and now, after seeing King's Cross flourish, evolve, and capture the imagination, I think it's a good time to open a standout restaurant.
'King's Cross was once a gastronomic desert. It is now turning into a culinary paradise.'
Even Britain's economic difficulties having such a dramatic impact on the hospitality industry will not deter Handelsman's quest to trumpet the iconic: 'I feel I have an obligation to see these buildings used and enjoyed. London is the greatest city in the world, even if there are so many challenges. And the best thing to do is to go out and eat.'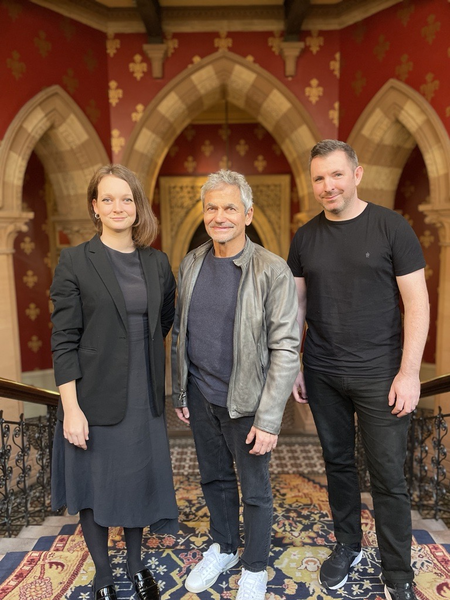 In charge of the kitchen will be Patrick Powell, Handelsman's long-time collaborator who has already performed party tricks at Allegra, the restaurant at Manhattan Loft Gardens in Stratford, and at Chiltern Firehouse before it.
Powell says he and Handelsman had been 'talking about the brasserie for years' before finally embarking on the process. The Midland Grand sounds like the realisation of a dream.
Powell says: 'We've been planning it for years. We're here in the gateway to Paris, in this historic building, and there's an opportunity to create something truly special.
'The food will be pan-French. Traditional but not constrained by any tropes. The restaurant first opened in 1873 and so we'll sort of play on that with the menu, serving some classics.
'Mostly we want to do comforting and approachable food that people just want to eat. I think that's an area that has been forgotten a bit in London.'
Powell says dishes will include soufflés, coq au vin, sole meunière; there will be oysters, crudités and fruits de mer; steak frites and gougères, the epitome of culinary succour, will feature too, naturally.
Diners might walk into the 80-cover restaurant and become enthralled by their surroundings. It is a room of high ceilings and delicate edging, enormous windows, banquettes and a plushly carpeted floor. These types might spend big – and they'll be able to. Lobster will be available, as will a French-focused list of delicious wine.
But there will be a bar menu, too. 'Anyone who wants to stop by for a burger and a glass of wine before getting on the train will be able to do that', Powell adds. 'The good thing about à la carte and a brasserie-style is that we can be approachable. We're going to do playful bar snacks and have fun with it. The whole point is that people come out and enjoy themselves.'
The final piece of the puzzle is Emma Underwood, perhaps London's most hallowed general manager. She says The Midland Grand will be the 'standout opening' of 2023 – spring is all she can say – in 'London's most beautiful dining room'.
'It's a restaurant that will be for everyone', she tells The Good Food Guide. 'It's a stunning room full of natural light, and so all it needs is great food and service. I think generous, warm restaurants, which don't take anything too seriously, are needed more than ever.'
The Midland Grand, at the time of writing, is still being built; glassware has yet to be chosen and artwork is not hung on the walls. Downstairs, the chef's table needs more than a lick of paint and the private dining room requires serious TLC. The DJ booth isn't finished, either. Renovation can be a long and arduous task, but work is underway and it's safe to say its summation will be splendid.
Underwood says: 'It's going to be so beautiful. There'll be an outside terrace seating 30-40, and guests will come through the revolving doors, which are being refurbished. The bar area is going to be great fun – people will be able to eat and then stay late into the evening.'
The word 'pizazz' is rarely used today. It might be adulatory but is probably a correct piece of analysis given the scale of The Midland Grand and the ideas being flung about within it. Come spring, we won't know what London will look like; the toils of time are weighing heavy. It would be reasonable to wager, then, that many of us will need to pitch up in King's Cross, where we will find bouillabaisse and champagne under a canopy of opulence, and maybe even Skrillex playing behind the DJ decks next door.
— by Josh Barrie