The winner of this year's Good Food Guide Chef to Watch award, Ben's diminutive Broadstairs restaurant, Stark, only has space for 12 diners at a time.
From a galley kitchen tucked in the corner, Ben serves a carefully prepared six-course tasting menu singlehandedly.
The restaurant – once a sandwich shop – is so small it doesn't even have a loo, although the landlady from the pub up the road welcomes Stark's diners.
'It's amazing that there's this much buzz around Stark,' says Ben. 'I guess it means I'm doing something right.
'It has gone crazy since the award and we're fully booked for the next three months, with waiting lists for most evenings.
'The attention really has seemed to spark a lot of intrigue about what we do here, so we are definitely seeing a lot of customers from much further afield. We have no Friday or Saturday night tables left for 2017 at all now, but it's a good problem to have.'
Until now, Stark has been a best-kept secret for lucky Broadstairs residents, but the restaurant's new-found success has gone down well with the locals.
'Our regular customers are really happy for us since all the attention. We've built up some really lovely relationships with many locals that come to eat with us, so they're sharing our excitement and success.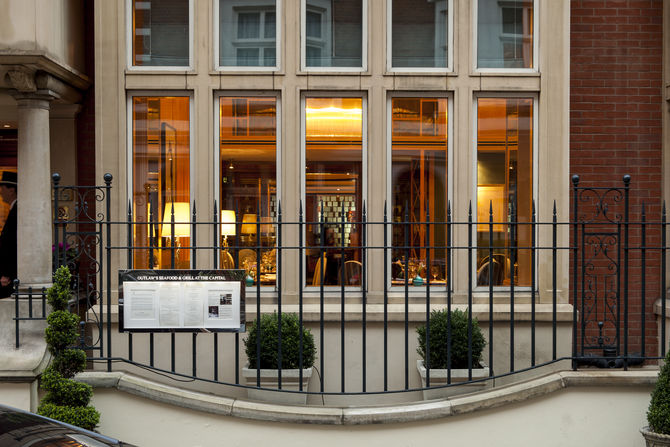 Described as 'dazzling' by the Good Food Guide's Consultant Editor Elizabeth Carter, the six-course menu at Stark costs £45 and dishes might include hake, seaweed and dashi; venison, celeriac and walnut, perhaps finishing with muscovado tart and rhubarb.
Ben's penchant for simplicity and flavour has seen Stark attract glowing reviews from national food critics, as has his keen eye for the seasons. He says he doesn't understand how any chef can't write menus around seasonal ingredients.
'Why would you do that? If it's not in season, it just doesn't have any flavour and doesn't have the right to be on the plate.
'It just makes sense to use the best ingredients, ones that aren't force-grown or shipped from too far, to get the best result from them.'
Prior to opening Stark in December 2016, Ben worked at Dover's Marquis at Alkham and Rhodes W1 in London, as well as competing in MasterChef: The Professionals in 2014.
He also worked under the highly regarded Graham Garrett at West House in Biddenden, Kent, an experience that proved invaluable when it came to becoming his own boss.
'West House was a busy, in-demand restaurant, so I learnt how to manage my time effectively during my time working there. Those skills help to keep me on track throughout the day at Stark while prepping and making sure it's all done for service in the evening.'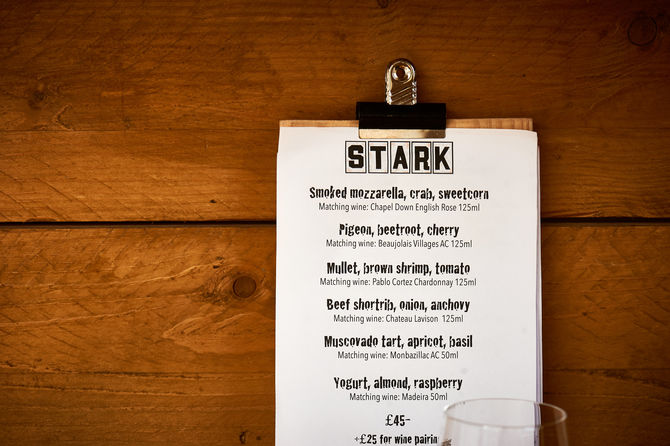 The fact Stark is too small to have its own toilet has grabbed the headlines as much as the restaurant itself. There are now plans to install one at the restaurant, although the landlady of the local pub has proven a godsend until now.
'Jackie at the Wrotham Arms pub down the road is lovely; we couldn't have asked for a nicer neighbour. She's so relaxed about it all and genuinely doesn't mind our customers using her toilets. It's lovely to know that people like that still exist.'
Stark's success is all the more significant considering Ben nearly left the restaurant business in 2015 due to a bout of depression, but he says the Stark's success, as well as the support of his wife, Sophie, and daughters Ivy and Rosa, has helped him back on track.
'My recovery was opening Stark. After that period of my life, I wasn't scared of failure in a business, it was about making the most of my life with my girls.
'I've always been conscious of money and thought I stood a decent enough chance of success if the site and finances were right.'
As for the future, Ben says he has no immediate plans to open a larger site and is happy to keep things small and manageable.
'At the moment, we're happy as we are. The main aim of Stark was for me to continue cheffing, but see my wife and kids more than I was.
'I've never earned much money until now, so as long as we're able to maintain the modest lifestyle we had then we didn't see the harm in trying. We like it being just the two of us at the moment, so it'll stay that way for now.'
Related article; The West House
Published September 2017