In Henley-upon-Thames, chef Shaun Dickens has thrown fine-dining formality overboard at his boathouse restaurant, renaming it Bistro at the Boathouse. His new-look menu zips across the globe from buffalo wings with hot sauce, blue cheese and celery to glazed pork belly with peanut and chilli and roast chicken breast with salsify and pan juices. Weekend breakfasts involve Bloody Marys, bacon baps and American-style pancakes.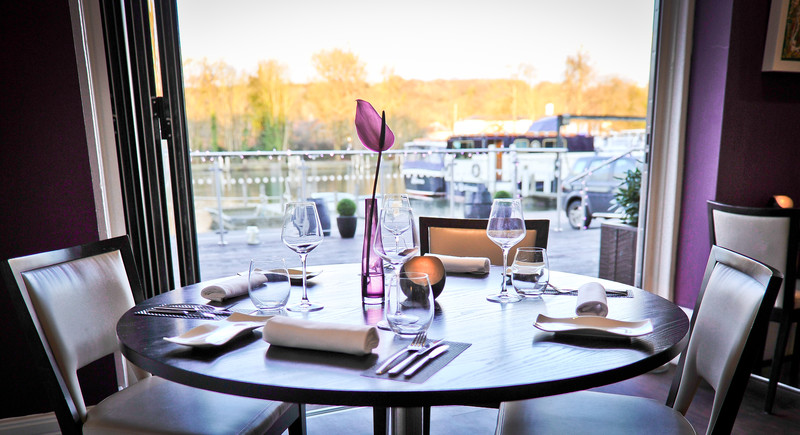 Atul Kochhar's Marlow restaurant Sindhu at the Compleat Angler takes its name from the Sanskrit word for the Indus River. The Thames makes a scenic stand-in: the views through the stained-glass windows over Marlow Weir are quite something. Atul Kochhar cooks in typically creative and contemporary style: rabbit samosas, jackfruit tacos, and truffle and chanterelle kichadi are just a few of his bright ideas.
The enchanting setting is quintessentially English; the cuisine totemically French. The Waterside Inn, founded by the Roux brothers in 1972, is a proud bastion of traditional Gallic haute cuisine. Chef patron Alain Roux continues the family name with menus that include the likes of pike quenelle à la lyonnaise, rabbit with Armagnac sauce, and Challans duck with chestnut choux buns. The wine cellar, no surprise, is cent pour cent Français.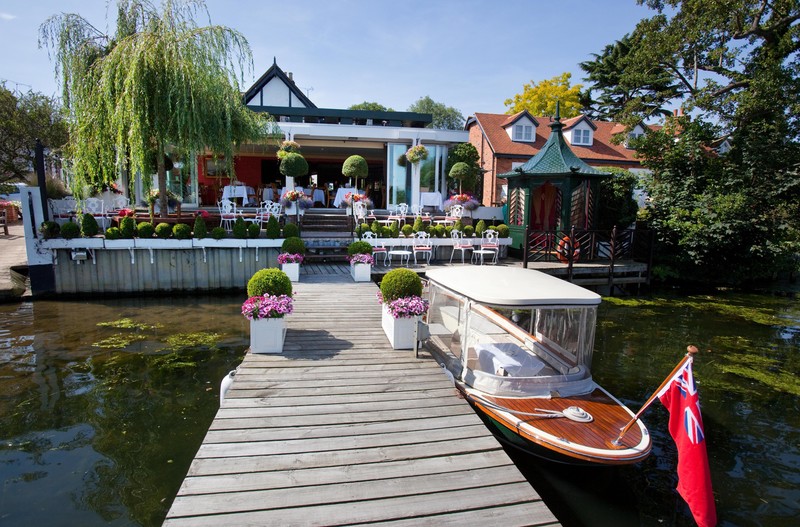 There's no shortage of vistas in leafy Richmond-upon-Thames. Two well situated spots are the grand Victorian Petersham Hotel and, downstream, the Bingham Riverhouse. Of the two, the Petersham is the more formal, with its plush carpets and chandeliers though the restaurant remains closed until at least 2 September when it will reopen to serve afternoon tea Wednesday to Sunday. You may have to wait longer to enjoy Jean-Didier Gouges' dinner menus which run from classic smoked salmon and caviar-topped blinis to imaginative vegan creations such as quinoa with black truffle and miso tuile. Meanwhile at the Bingham, Masterchef: The Professionals winner Steven Edwards is settling into his brand new home. From his first menu, dishes such as duck liver pâté on duck fat brioche with blood orange, and salt-baked pork with clotted cream mash and blackened squash look very promising indeed.
The River Café hugs a wide curve of the Thames just downstream from Hammersmith Bridge. It's this setting that gives this much adored Italian institution, founded by Ruth Rogers and the late Rose Gray in 1987, its alfresco appeal. A post-prandial constitutional along the Thames Path is just the thing after platefuls of risotto all'Amarone, chargrilled leg of lamb with chickpeas, and mozzarella di bufala with Cedro lemon and Florence fennel.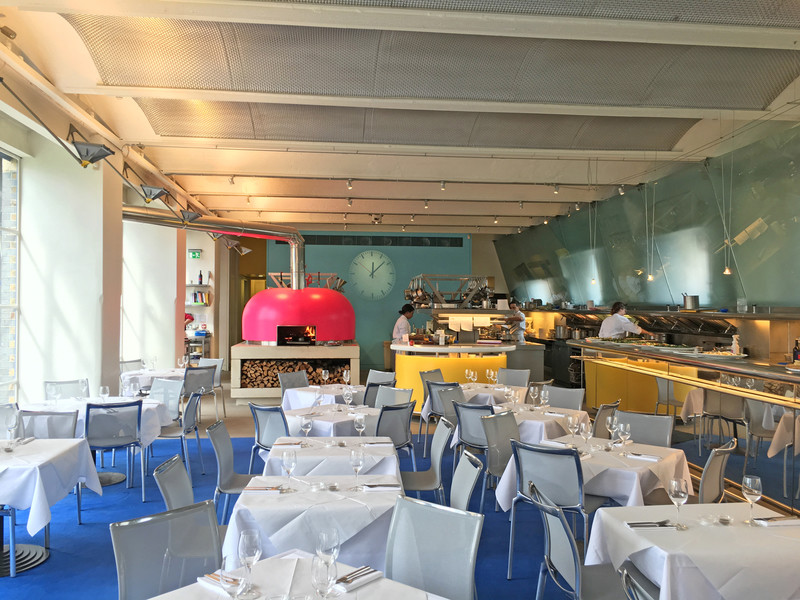 With the iconic towers of Battersea Power Station looming large above it, the latest branch of popular seafood mini-chain Wright Brothers might just be its most impressive yet. Pop in for pound-a-pop oysters between 3pm and 6pm; settle in with a chilled bottle of Picpoul and a luxurious shellfish platter on the terrace; or see what's new from the Josper grill (Galician octopus or pork collar with palourde clams, with any luck).
Not even the most jaded Londoner could fail to be impressed by the views from Le Pont de la Tour. Tower Bridge, illuminated by night, looks close enough to touch. Established in 1991, this grand Francophile institution is the jewel in D&D London's crown. For a special occasion, a towering platter of fruits de mer paired with something French and fizzy from the epic wine list is hard to beat.
Published August 2020