**The Little Gloster closed in September 2020**
"We've been here nine years but I really feel that right now the restaurant is the most alive it's ever been. We have the strongest team ever. Obviously it's hard work but we've found a balance too."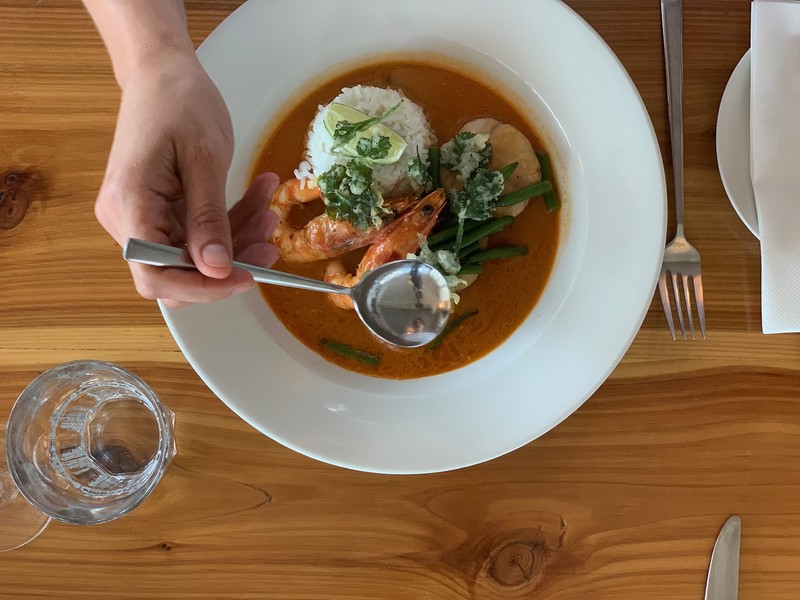 Ben and Holly (Holly runs the front of house, events and marketing as well as making the pasta every week) have a three-year-old son, Uffa, so life is certainly busy, but creating a family-friendly atmosphere with appealingly priced menus is important to the couple. Offering a set menu for just £16.95 for two courses, or £20 for three, alongside starters at around £8 to £9 and plenty of mains under £20 has no doubt helped secure a strong local following year-round. Three B&B rooms, prettily decorated and with views of Gurnard Bay toward Cowes, add to the draw.
Picture the scene: a laid-back little restaurant just steps from the Solent where you can pull up a deckchair, sit at a picnic table, or lounge on a beanbag in front of a magnificent sea view. It might be summer-sparkly with yachts, kayaks and paddle-boards, or winter-rocky with white-topped waves (you can look at these from the glass-fronted, Scandi-vibe, dining room if it's chilly). You might catch a spectacular sunset over a flat-calm evening sea.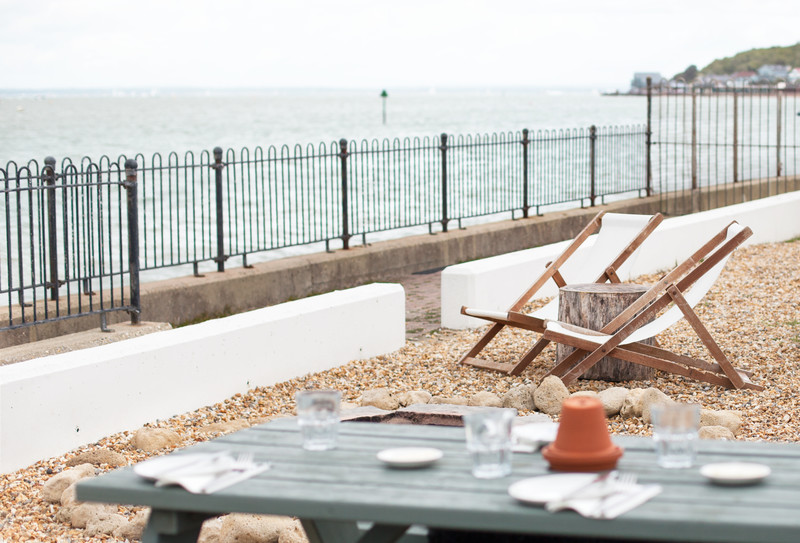 Soak it all up as you wait for your food. The Little Gloster melds the fine cooking of first-rate ingredients with the best of coastal relaxation. Look out for gleaming, super-fresh mackerel, or turbot cooked whole on the bone to share, or lobster simply grilled with garlic butter and served with hot, salty, skinny fries, or half a dozen Porthilly oysters with a classic mignonette dressing. Your chargrilled flat iron steak will come sliced, pink and tender, your burger big and juicy, your day-boat hake sweet and plump alongside garden courgettes and rainbow chard.
Thursday is homemade pasta day. It could be ribbons of pappardelle curled through a wild mushroom and black truffle sauce, or little agnolotti filled with ricotta, lemon and nutmeg and served with nothing more than butter-slicked just-podded peas, or ravioli with smoked garlic, spinach, ricotta and a fresh egg yolk. You might finish with a fun piña colada baked Alaska – one Guide inspector's favourite – or a blueberry semifreddo with local berries and sable biscuit.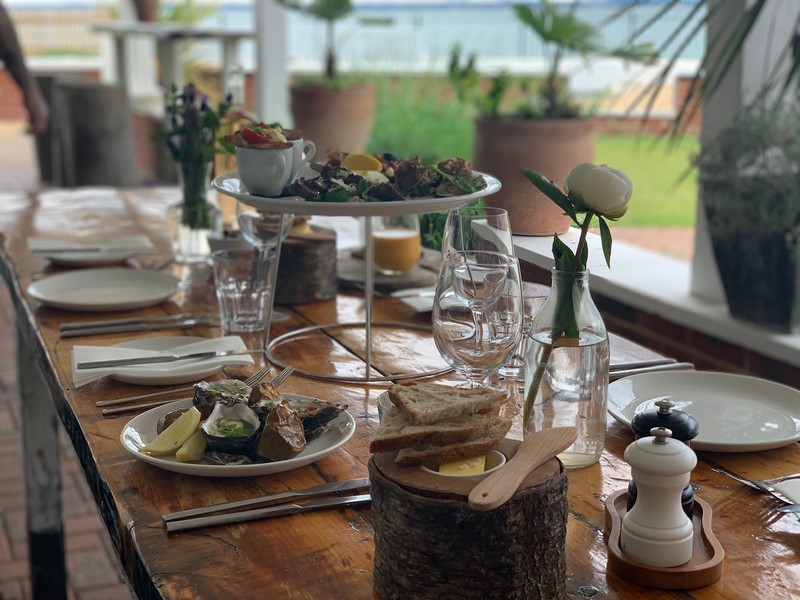 The no-fuss setting, friendly service, and delicious, thoughtfully sourced, simply prepared food make for a seductive proposition. It's no surprise that the decision to award The Little Gloster the coveted Best Local Restaurant award in the 2020 Good Food Guide was unanimous.
It's also not surprising, given the marine setting, that sustainability is high on the Little Gloster agenda. Ben has paddle-boarded around the island to raise awareness of ocean pollution, and is proud of the low food miles on his menu – Isle of Wight tomatoes, fish from local day-boats, chalk stream trout from Hampshire, are all favourite ingredients.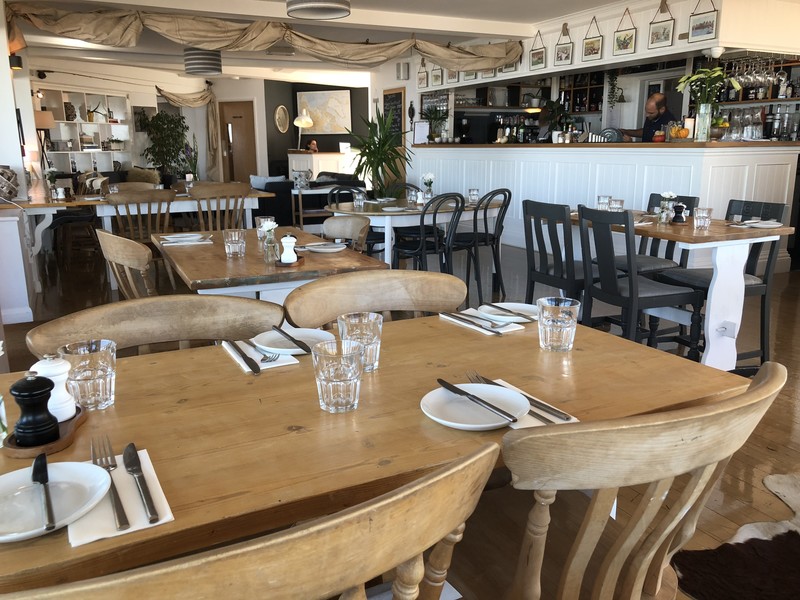 And he has food and hospitality running in his veins. The name of the restaurant honours the Gloster Hotel in Cowes, now no longer in existence, that his grandparents ran and where he got his first taste of the industry. Starting out as a teenage pot-wash, he worked his way through the kitchen ranks, eventually travelling the globe as a chef on some of the largest superyachts in the world.
The dream of opening his own place on dry land became reality in 2010. "I got the keys on 1 April that year, and opened a couple of months later after refurbishing the restaurant, kitchen and B&B. I met Holly in the October and she joined the business. We've built this together, with a great team around us." That team includes sous chef Jay Santiago who has been at The Little Gloster since the beginning.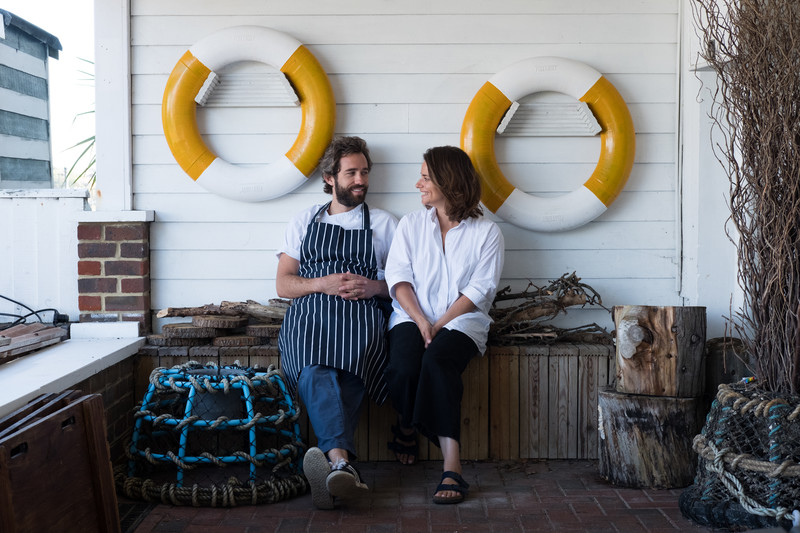 Where next? "We've got no ambitions to expand to another site," says Ben. "You see it so often – people do well in one place and then open another and it becomes too much. But I'm so pleased about this award. Getting into the Guide was exciting, but to win this is fantastic recognition. I hope the island will be proud too."