This is a place for people who barely glance at bills, sitting, as it does, at the more vertiginous extreme of expense account excess. The wine list is thicker than The Joy of Cooking, and the reek of Mammon mingles with the scent of seared beef. Here, Prime Rib is sliced like a British roast. Prices start at $74 (£60) for the 'English cut, thin sliced and delicate', going up to the '4 Charles Cut' at $144.95 a plate (£118).
4 Charles Prime Rib opens at 5pm, and last orders are at 11.30pm. It runs, apparently, on a 'debenture' system, in that each table is owned by an individual who paid upfront before opening. They let the restaurant know what day they want their table and for the rest of the week, it goes back into the reservation system. Tables are released 30 days in advance and sell out in seconds. But the rich man has more chance of passing through the eye of that needle than securing a prime spot at 4 Charles Prime Rib.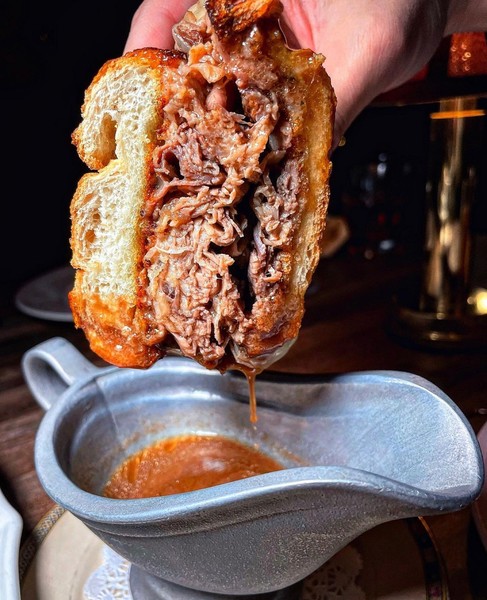 Arriving at 8.30pm, a party of six (one of whom was a 'friend' of the restaurant), we stay for a couple of hours. As we dine, the small two-tops around us are turned an astonishing four times. The food? Well, the Wagyu burger is way too rich (it always is), but the French Dip sandwich is a masterpiece of its form, and the tissue-paper thin slices of sweet, grain-fed roast beef, cooked a blushing pink, were pretty fine too.
As we tottered out into the night, the streets were abuzz - not just crowded with merry revellers, but al fresco restaurant 'boxes' too, filled with extra tables and chairs to mop up any overspill. Pretty they ain't, but New York is back with a bang. Everywhere we eat, from Crown Shy (posh food in an unposh room, but the atmosphere is thicker than a Hawksmoor Chateaubriand) to Dante (newish Aussie owners, and solid), Minetta Tavern (same as ever) to J G Melon (I managed three between-meal cheeseburgers in three days), every seat is full.
Before the pandemic, fickle as I am, my eyes started to wander west towards Los Angeles and its plethora of proper Mexican and Thai. New York seemed to have lost its restaurant mojo, stuck in a Noughties time warp. How wrong I was. No city has a greater understanding of a proper martini or of brusque but efficient service; of bonkers, transient trends; of flesh grilled over glowing coals. There's quality here at every level. And just like London, a buoyant hospitality industry sits at the thumping heart of it all. God it was good to be back.