Folkestone's relationship with the Nepalese community began to blossom in 2000, when The Royal Gurkha Rifles (1st Battalion) base moved from Aldershot to Folkestone, although the association with Britain stretches back further. During the Anglo-Nepalese war in the early 19th century, a 600-strong Nepalese garrison held out against 5,000 British troops for more than a month before the survivors fought their way through the besieging force and escaped into the hills. That battle established the Gurkha's reputation as fearless warriors and the British soon recruited them under the East India Company banner to fight alongside rather than against them. Wise move.
'An army marches on its stomach' is a well-known idiom, and having been immersed in the glories of Nepalese cuisine since moving to Folkestone in 2019, I can attest that the Gurkhas have some barnstorming dishes with which to fortify themselves before thrusting themselves back into the breach. The gruelling Dhoku Race, which must be completed as part of the Gurkha selection process, involves running up a mountain in the Himalayas, with a wicker basket filled with 70lbs of sand strapped to their heads – 10,000 young hopefuls compete for 320 places. As one of the most challenging entry processes in the world, it needs some serious refuelling.
Folkestone's first Nepalese restaurant opened in 2001. Gurkha Palace is tucked away in the little enclave of Enbrook Valley, an unassuming spot a short stroll away from the beach in Sandgate – the epitome of a perfect local restaurant. Slickly run by Rabin Shrestha and his son Suprim, it hums with the happy murmur of long-time regulars, a contented buzz that is testament to the quality of the food. Juwano prawn curry cooked in a beguling rich sauce of lovage seeds is a beauty, while lamb shanks khasi kutta come in a thick spiced sauce of tomato, garlic and ginger, a village style curry, as they describe it. Or how about the Sherpa khasi, a feisty lamb dish with seventeen herbs and spices with a touch of coconut milk.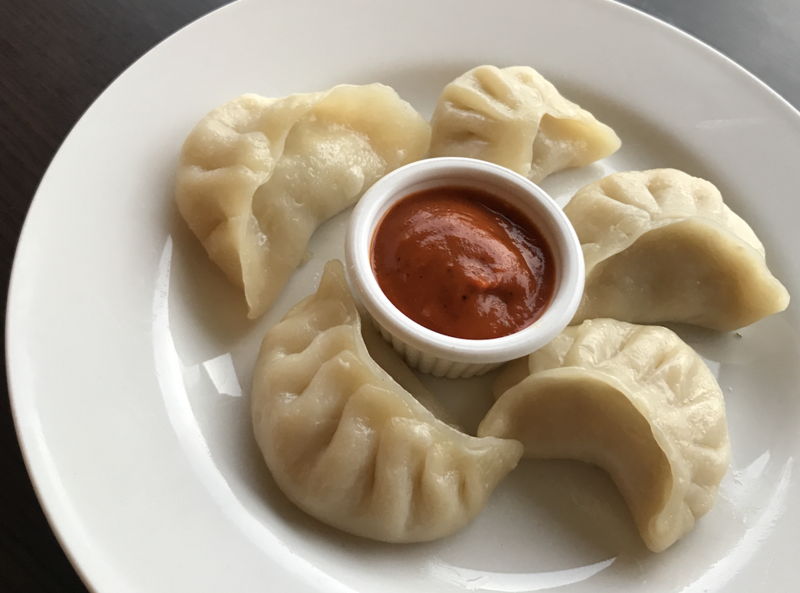 It's the momo dumplings of Nepal, however, that have particularly captured my imagination and adoration, bordering on a form of dumpling fetish. The Himalayan momo is thought to have spread to Nepal from Tibet, brought by Nepali merchants of the Newar community from their trading adventures. These distinctively pleated little pucks of joy, either simply steamed and served with a spicy tomato chutney (achar) sauce, fried, or the killer 'C Momos', stir-fried in a tangy chilli sauce that struts between a sweet/sour vibe and addictive chilli heat.
Annapurna restaurant is where I first tasted momos, and it is this cute spot in the centre of Folkestone, run by former Gurkha Tej Tamang and his wife Sangita, that has been my gateway into Nepalese food. From fabulous lacy battered vegetable pakoras and deeply flavoured tarkari curries, to jhol momos served in an alluring gravy, dining here is like experiencing the home cooking of a Nepalese family. It's a gem that has earnt a fiercely loyal clientele, of which I am one. Sangita was the first chef to offer aloo nimki on a menu in the UK, the potato and wheat cracker beloved of teenagers in Nepal is a soothingly compelling combination of crunch, spicy masala, chunks of creamy potato and chilli.
The Himalayan Café is another stalwart, the closest restaurant to the Gurkha Rifles base around the corner in Shorncliffe barracks - originally established in 1794 as a base for soldiers during the Napoleonic wars. It's always packed with Nepalese soldiers and in-the-know locals. Originally opened in 2011 by Tej at Annapurna, it's now run by his cousin Athit Tamang and family and offers a true taste of Gurkha-style food. A short stagger from my house, I'm often bouncing in here for fried pork momos, pillowy puffs of puri bread with aloo curry, and wonderful thukpa noodle soups – the size and heft of these bowls make proper marching food, enough ammunition for taking down an advancing battalion, I reckon.
Folkestone Nepalese Community Centre is a dedicated space designed to be used as a social hub and to help the elderly and older veterans access digital services. The Everest Cash & Carry, a few doors away, is a Nepalese Aladdin's cave piled high with jars of spicy Nepalese pickles, a huge array of dried pulses, chillies and fresh herbs, pastes and relishes – walking out with some pickled red cherry peppers (dalla) and bamboo shoots (tama) feels like striking gold.
The highest profile in recent years for the Nepalese community in the UK was when Joanna Lumley, whose father served as a Gurkha officer, led the high-profile and successful Gurkha Justice Campaign in 2008, fighting for the right for all Gurkha veterans who had served for four years or more before 1997 to be allowed to settle in Britain. A life-size Gurkha statue was unveiled in Folkestone by Lumley in 2015 on the anniversary marking 200 years of service to the British Crown, a fitting and lasting tribute to the town's relationship to the Nepalese community.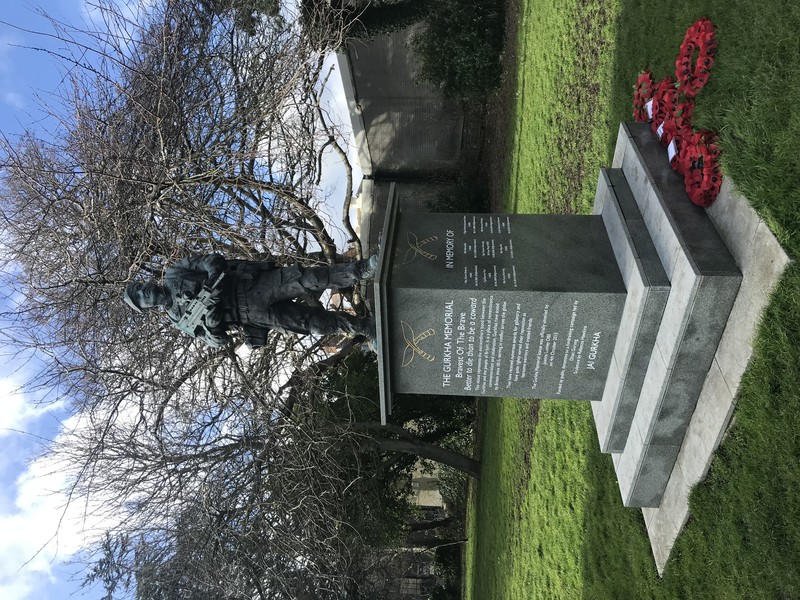 There's a real sense that this is a relationship that has true harmony, with the community an integrated and visible part of living in Folkestone, from the Gurkhas pounding along the seafront in backpacks as part of daily training, to the access to the kind of homestyle cooking that would otherwise require a flight to Kathmandu and a foray into the mountains. As Tej Tamang said when I asked him what the reception has been like since he arrived in Folkestone in 2000 after serving with the Gurkhas in Hong Kong: 'People like us living here and the locals are happy for us to be in Folkestone. We have a good connection with the local council and have been welcomed warmly by the community, which made me happy to stay.'
While Nepalese cuisine has been a relatively unexplored landscape for many of us in the UK, we are starting to see the glimmers of what we may glibly describe as a nascent trend. Momos are popping up on restaurant menus; a momo-focused spot has recently opened two sites in London; momos have landed on the front cover of Waitrose magazine – this marker feels particularly significant. My introduction into the food of Nepal began with the momo dumpling, and I have a feeling that this may be the same for many others. Momo Mia, here we go again.
Read more from Zeren Wilson at bittenandwritten.com