The Good Food Guide 2002
A really civilised place in a strange location' was how one impressed visitor summed up the appeal of this upmarket dining pub. It stands seemingly in the middle of nowhere – sea on one side, marshland on the other – and first impressions are of a fairly weather-beaten old pub. Inside, however, the appearance is tasteful and modern: cream-painted walls, bare floorboards, contemporary lighting and chunky tables.
Stephen Harris – co-proprietor and self-taught chef – has an admirable down-to-earth philosophy: to do simple things well, and to use only local produce. His 'short and sweet' blackboard menu offers a modern version of country cooking. A recommended starter is a platter of antipasti for two, incorporating (among other things) bresaola, fresh anchovies, hard-boiled quails' eggs and oysters topped with chorizo. Main course, meanwhile, might include local turbot braised in Vin Jaune with morels, or a heartier, well-flavoured rump of lamb with a large portion of boulangère potatoes and a richly flavoured gravy made with the roasting juices. Properly made tarte Tatin is a dessert speciality. Alongside well-kept Shepherd Neame beers are around a dozen wines from £9.95; five available by the glass.
The Good Food Guide 2007
Head west out of Whitstable along the coast road, past the caravan park and beach-hut shantytown, and soon you will reach this weather-beaten old pub standing in the shelter of the sea wall on the edge of open marshland.
An unadorned rusticity prevails inside, with bare floorboards, chunky pine tables and a motley collection of chairs; colourful works by local artists provide interest. The setting might lead you to expect simple pub grub, and terse blackboard menus certainly don't oversell the food. But here it is all about flavour, on which score the food made a big impact at inspection, notably a slab of Seasalter ham terrine containing chunks of home-cured ham from locally raised pigs, set in a subtly herby, spicy jelly and served with a fried egg, cornichons and excellent home-baked bread fried in garlic butter. For main course, there might be poached native lobster with asparagus, new potatoes and a light yet intensely flavoured sauce, or perhaps braised shoulder of flavoursome salt-marsh lamb with mint sauce, while playful desserts include a pairing of burnt cream and rhubarb sorbet sprinkled with popping candy.
A handful of wines are listed on a blackboard, priced from around £12 and including a local English wine.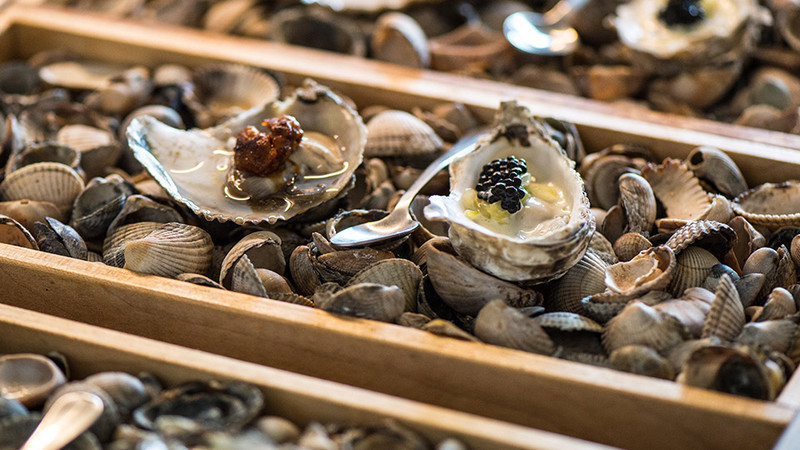 The Good Food Guide 2012
As you make the pilgrimage from Whitstable across windswept marshes, it's worth remembering that this area once fed the kitchens of Canterbury Cathedral. These days, however, it's an unofficial harvesting ground for The Sportsman – a gently buzzing, weather-beaten pub serving some of the most astonishing food of its kind in the UK. The landscape sets the mood – especially if the moon is full, or shimmering seaside light is streaming through the windows – and the whole place has a very special charge. Forget the poncey posturing of 'fine dining' and relish fine food as it should be, with paper napkins and dressed-down service. Stephen and Philip Harris have masterminded proceedings here since 1999, and have accrued sackfuls of self-sufficient cred along the way – baking 'fantastic' breads, churning their own butter, making sea salt, dry-curing hams, foraging 'free food' and supporting the locality's producers. The result is a chalked-up, daily menu full of delights – extraordinarily intense chicken liver pâté with mushroom carpaccio, deeply flavoured beetroot soup and unctuous pork belly with the 'most perfect crackling and mash you could ever find' are just some of its seasonal joys. As for fish, the mussel and bacon chowder garnished with ground bacon and chives is a bowl of pure potency, red mullet comes with a barnstorming bouillabaisse sauce, and brill fillets are simply laid on a heap of cabbage with a richly resonant vin jaune sauce. Meanwhile, desserts are from 'pudding heaven', especially the cherry and almond tart with cream-cheese ice cream. Philip Harris is happy to proffer shrewd advice when it comes to choosing from the tidy, affordable wine list. Bottles start at £15.95



The Good Food Guide 2015
Steve Harris's enterprise, hailed as a trailblazer when opening 15 years ago, has stood the test of time. The spare, scrubbed rustic interior has changed little, along with the paper napkins and laid-back feel. Harris remains obsessively influenced by the ingredients available on the doorstep, his cooking delightfully simple. Most plump for the carte – the dishes chalked on a blackboard to emphasise their daily changing nature – but a tasting menu is available with 48 hours' notice. It's the sheer, dazzling flavours that stand out, whether the 'moreish' onion bhajia accompanying curried cauliflower soup, brill 'perfectly cooked and simply adorned', a superb saddle of lamb (cooked three ways) with creamed potato tart and greens, or a generous, rich tarte Tatin, for two. The short wine list opens at £16.95.
The Good Food Guide 2018
The Sportsman could hardly be lower key if it tried. Stephen Harris is confident enough to do things his way rather than follow restaurant fashion. A recent refit has improved facilities and brightened things up, providing space enough for all to enjoy the generously proportioned tables of reclaimed wood, while service is smooth and friendly, and never overbearing – the idea is to relax, to enjoy food, drink and hospitality. The repertoire includes an eight-course tasting menu (to be ordered when booking, although a truncated version is available on the day) and a blackboard à la carte of long-standing favourites, the latter suiting the ingredient-focused ethos but matching the pub setting by being simpler in concept and execution. Indeed, dazzling freshness and supremely good raw materials (from a finely honed network of local suppliers) are the kitchen's hallmarks, shown with breathtaking execution on our tasting menu, whether crab with sweet and creamy hollandaise spooned over the top, or the renowned slip sole grilled with seaweed butter. Then there was a full-throttle thrill in slurping down three different types of oyster – natural with a nugget of homemade chorizo, creamily poached and topped with caviar, or buried under a stunning apple granita – and undeniable pleasure in licking the remains of the glossy vin jaune sauce that accompanied a chunk of brill topped with an intensely flavoured smoked pork rasher. A real treat was the mini roast dinner – a magnificent, full-flavoured and tender roast lamb rack – served with slow-cooked shoulder, a selection of vegetables and mint sauce. Equally impressive, a mini mushroom and celeriac tart with a runny egg yoke hidden under celeriac foam; the bread – sourdough, focaccia and soda bread – with home-churned butter and Seasalter salt; and a light, intense Bramley apple soufflé with salted-caramel ice cream that brought up the rear. The short, reasonably priced wine list opens at £17.95.