The Good Food Guide 1997
Heston Blumenthal has hit the ground running, having opened his business in August 1995 after working with, well, hardly anybody. He learnt about food by eating in most of France's top restaurants, and merely had a short spell with Marco Pierre White before diving straight into the thick of things. The beamed and listed building, formerly the Bell & Ringers, was a pub for some 200 years, and is now open-plan and stylishly decorated with a beaten copper bar, painted wall panels and dried twigs and teasels. The combination of seriousness and informality is epitomised by the smart Reidel wine glasses and bare wooden tables.
The menu is short, the skills classical, the cooking modern. It is difficult to get more simple and direct than a conical mound of herb and leaf salad, or steak and chips with sauce moelle. What these plain-sounding dishes hide is a serious concern with the science of food and cooking that leads Heston Blumenthal to re-jig many of the techniques that others take for granted, from preparing lentils to making stocks. Chips, for instance, are blanched, refrigerated, cooked in ground-nut oil, refrigerated, and cooked again in oven-rendered veal fat. Petit salé of duck, perhaps designed to become a signature dish, is a Franco-Chinese collaboration involving brining, spicing, poaching and roasting, and comes with especially fine potato purée.
All this activity heightens and concentrates flavours, putting the focus squarely where it belongs, in smooth Marco-style parfait of foie gras and chicken livers with its compote of figs, or in a chicken breast with a stuffing of herbs underneath its skin. Lemon tart, and a dish of nuts enclosed in salted butter caramel served with a gooey, chocolatey sorbet are recommended for desserts. Forty-odd wines soon escalate in price, there are no half-bottles, but around ten are available by the glass. House wines start at £13. Parking can be a problem.
The Good Food Guide 2000
The cooking is exciting because Blumenthal is a one-off. He does not do Grand Cuisine, and is not an imitator. He dissects modern cooking, and reshuffles the components in a highly personal way. 'There are no simple dishes', reckoned one observer; 'everything undergoes an odyssey.' This might begin with an inch-thick slab of foie gras sitting on slices of marinated salmon, on a handful of crystallised seaweed, the plate drizzled with an oyster-flavoured vinaigrette, or with a 'brilliantly conceived and executed' cuttlefish cannelloni, which one reported voted his dish of the year: sections of the body are filled with a farce of duck confit, duck ham, foie gras, cuttlefish and maple syrup, then presented on parsley purée[…] Significantly, the highlight of an inspection meal was a 'simple, classic' variant on tarte Tatin, served with a pungent ice cream flavoured with Tahitian vanilla. But it is difficult to resist a millefeuille of pain d'epices ice cream with pineapple and chilli jelly, which requires A-level chemistry to set the pineapple juice: a reporter who described Blumenthal as 'almost obsessive' was correct, apart from the 'almost'.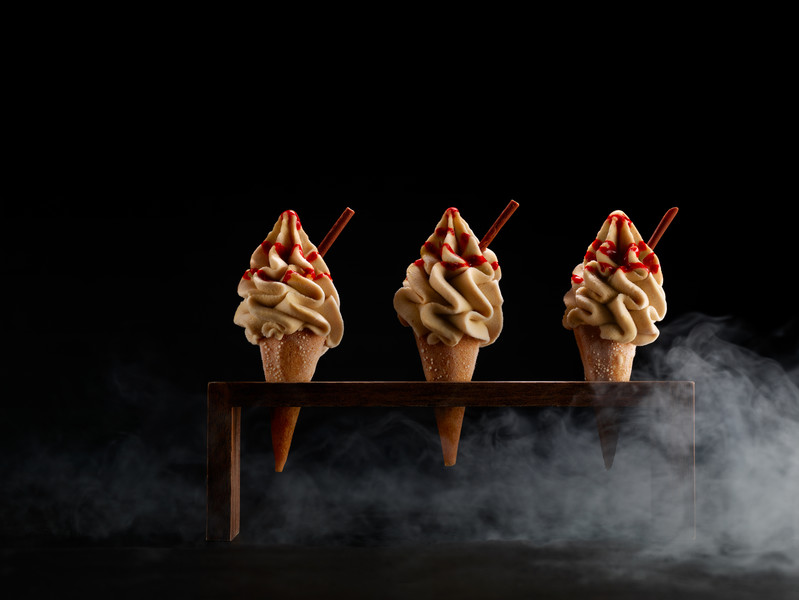 The Good Food Guide 2002
Although hardly sumptuous or opulent, the newly preened duck is no longer as rustic or spartan as it was. Refurbishment, with red-brown leather sofas, fibre-optic lighting, white walls and contemporary art has given a more modern, elegant, cheerful and metropolitan feel; and at long last it has an indoor toilet. It is still relaxed, and Britain's most innovative chef continues to tease, delight and provoke with his strikingly individual approach to food. If you want a name for it, Heston Blumenthal suggests 'molecular gastronomy' and it you want to enjoy it, leave your preconceptions at the door.
The Good Food Guide 2003
Blumenthal insists that he is not simply trying to be wacky for the sake of it; he is just following the logic produced by scientific answers to his simple questions. Even so, this can lead to some unusual dishes, such as sardines on buttered toast ice cream, or soft, creamy sweetbreads, crusted with pollen and cooked in salt-crust with hay, accompanied by half a dozen sweet and juicy cockles piled into a shell. The bottom line, however, is the food tastes good. A plate of huge, succulent roast scallops comes on a bed of caramelised cauliflower purée with oloroso jelly: 'I could have eaten buckets of it.' A degree of sweetness is often applied to meat dishes too, perhaps the result of Blumenthal's research with flavour perception, or of his penchant for nostalgia food, reckoning that the smells and tastes of childhood can be among the most exciting, and therefore worth trying to capture.
For the latest restaurant news and recommendations subscribe to our newsletter.