Levitt's 'Wonderful Almost Human Automatic Donut Machine', placed on public display in his Harlem bakery, wasn't just a fabulous spectacle, it was a state-of-the-art appliance that boosted his output to 1,000 rings an hour. 
Without Levitt's invention, it is hard to imagine the humble snack going on to become the sugar-dusted sensation, that it is today. For they aren't just delicious, they're democratic – cheaply and readily available at street vendors, convenience store counters and high-street bakeries everywhere.
Ring cycle
Even before Levitt got to them, sugary fried dough was well loved. Civilisations have enjoyed variations on the theme for millennia. Regional variations are as many as they are delicious: think of Israel's jam-filled sufganiyah, Malaysia's sweet potato kuih keria, Spanish churros, and Poland's Shrove Tuesday pączki. But it's in the United States that doughnuts reached their pop-culinary apogee. Initially, the American doughnut or 'donut' was a more homespun, handmade affair, with origins in the 'olykoek' ('oil cake') brought to New York by late 18th-century Dutch settlers. Ring doughnuts came in 1847, when young American seaman Hanson Gregory stamped a hole in one before baking to solve the problem of an uncooked centre.
Ring-o star
Surveying the scene in the UK, it's clear that the doughnut's many-layered history, its wealth of associations – high, low, old, new, fast, slow  – is what makes the doughnut so appealing to today's chefs. We've spotted them on menus up and down the country, everywhere from fine-dining restaurants to hip high-street hangouts. Here are some of the best: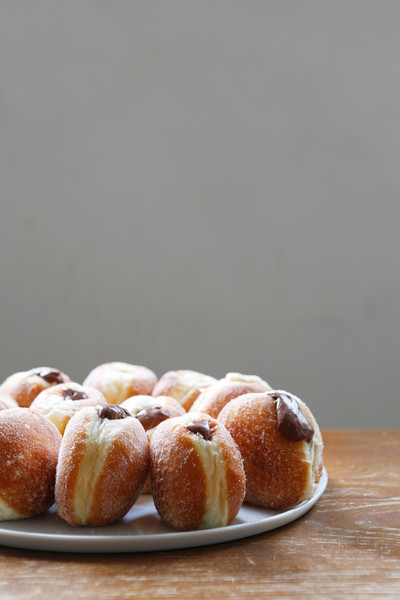 Pure and simple
For classic flavours, look no further than St John Bread and Wine in London's Spitalfields where generously sized custard-filled doughnuts appear on the daily breakfast menu. The special doughnuts at Cora Pearl in Covent Garden are similarly proportioned and easy on the eye with their sparkling coat of pink raspberry sugar or green-hued pine.
Salt and spice
For the not so sweet-toothed, there's a trend for savoury doughnuts. Across Adam Handling's London restaurants (Frog by Adam Handling, The Frog), proceedings begin not with gougères but with cheese doughnuts, concealed beneath a blanket of Parmesan and black truffle. Meanwhile, at Spitalfields Indian restaurant Gunpowder, the fearsomely spiced vermicelli-coated venison version has a cult following. Lancashire's Cartford Inn has been known to serve black pudding doughnuts with celeriac remoulade and, in a more exotic vein, onion churros with baba ganoush. There's no flavour a doughnut can't handle: witness cornflake doughnuts with ewe's milk cheese, pickled onions and bacon jam at Tailors in Warwick.
Fruit loops­­­
The simplicity of doughnuts – the basic recipe is little more than eggs, flour, sugar and milk – makes them a superb vehicle for just about any ingredient. Fruit sings in their company. Lemon curd is a classic flavour note, complemented by fennel sugar at The Cider Barn in Pembridge, Herefordshire. Sweet-tart Yorkshire rhubarb is another perfect pairing: Ockenden Manor's study in rhubarb features jam, custard, a doughnut and rhubarb ripple ice cream. Burnt Truffle in Heswall introduces apple granita and buttermilk custard to its doughnuts; while at York's Skosh, the latest iteration of its signature doughnut-and-shake dessert is salted peanut butter with banana custard.
Nuts about chocolate
One flavour trumps all, of course: chocolate. Sugared chocolate doughnuts with salted caramel are a light-hearted addition to the menu at Chez Bruce in Wandsworth. At The Anchor in Burwell, hot chocolate sauce is all that's needed to partner its freshly made doughnuts, while at Manchester Spanish restaurant El Gato Negro, the mini doughnuts with hot chocolate sauce are a spin on churros.
We challenge you to finish them without licking your lips.
You might also like...