Frances Atkins has been one of the few top female fine-dining chefs in Great Britain over the past two decades and is well known for her steady and successful stewardship of The Yorke Arms in Ramsgill, Nidderdale. Upon her arrival in 1997, Atkins gently evolved the pub into a refined restaurant, harvesting the best produce from the surrounding Yorkshire landscapes. It became a destination for any touring diner worth their salt.
In 2017, Atkins sold the business to Yorkshire entrepreneur Jonathan Turner. Although Atkins ended up staying on for a further three years, it inevitably spelt the end of an era. When COVID restrictions hit, the owners converted the restaurant to a private hire venue and Atkins was cut loose.
For the chef whose steely resilience had propelled her so far, there was a silver lining. Free from restrictive covenants, it was possibly to forge a new business with her two right-hand men: chef Roger Olive and manager John Tullett. 'Looking at it in a positive way, it was great for us because I probably wouldn't have been able to form a new company with the boys.'
Their longevity as colleagues is incredibly rare in the industry, spanning the best part of 20 years: Olive joined Atkins as sous chef at the Yorke Arms; Tullet had worked with Atkins before that, in London. As Atkins explains: 'We're aware of each other's failings. We're able to manage them and turn them into a joke. If one of us disagrees about something, we reach a compromise.'
It's fortunate they get on so well because the early stages of Paradise confined the trio to working from an Airstream wagon which has been parked outside the entrance of Daleside Nurseries in Killinghall, a couple of miles north of Harrogate. The wagon was a necessary intermediate step to opening Paradise, a way to build up resources in a format that was well adapted to survive the fluctuating restrictions of the pandemic.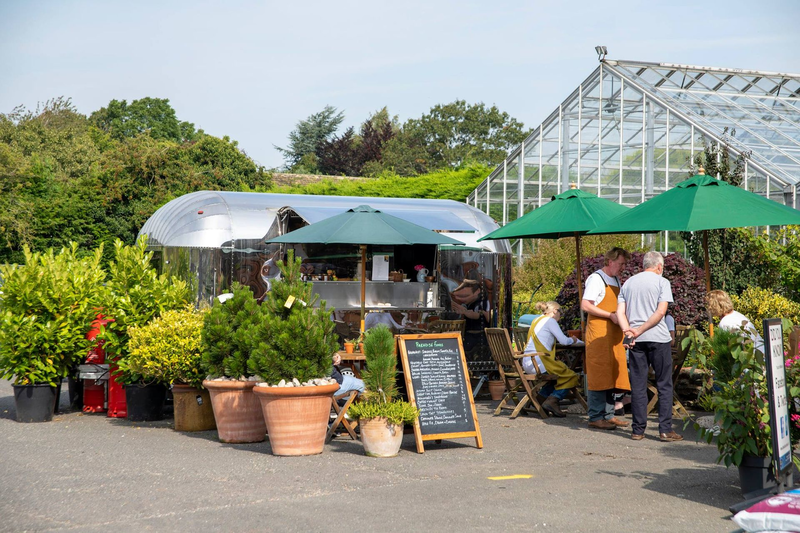 It's has been an unusual juxtaposition seeing Atkins work in such a humble setting. While Daleside Nurseries is a quality garden centre, the cooking - not overly complex but thoughtful and refined - was at odds with bamboo plates and wooden cutlery. But in a world where dining in a restaurant was a distant dream, it fitted the times perfectly. On sunny days an al-fresco seat under the brightly coloured parasols worked just as well as chillier months in the plant-filled greenhouse.
The wagon, a handsome, glinting thing had some difficulties of its own. The trio settled on a supplier in Ireland to build it. 'We thought it was great fun when we were getting started,' says Atkins, 'but we had lots of drama'. Once it was paid for and out for delivery, the driver got drunk on the way to the ferry and it got lost. 'Anyway, it finally arrived, and we were thrilled. But we've boiled and frozen in that tin can.'
From the outset the team had the support of their past customers at the Yorke Arms. 'Nearly all our own database came round; even people we haven't seen in years. It's been superb'. And while the trio served coffees and cakes, vegetable tarts and seasonal soups, the foundations of the permanent space began.
Tucked around the back of Daleside Nurseries, the site enjoys an outlook onto the North Yorkshire countryside. Construction has taken a year, hampered by the usual COVID-induced delays, but the result is a lofty, light-filled space with a flagstone floor, decorated with plants. A marble counter looks into the large semi-open kitchen – the place to enjoy chef dinners. 'Although we're calling ourselves a café, it's very much a restaurant or, at least, a restaurant-cum-café,' says Atkins.
The style of cooking, while seen as an evolution of her food at the Yorke Arms, marks a return to the simplicity that featured earlier in her career. 'I thoroughly believe that over complex food has had its day,' says Atkins, 'I mean I've been guilty of it – we've all guilty of it - because you're striving to produce something different'. Dishes run along the lines of slow cooked Nidderdale lamb with seasonal vegetables, pan-fried scallops with chorizo, squid and a ponzu dressing, or truffled meatballs with tarragon pasta.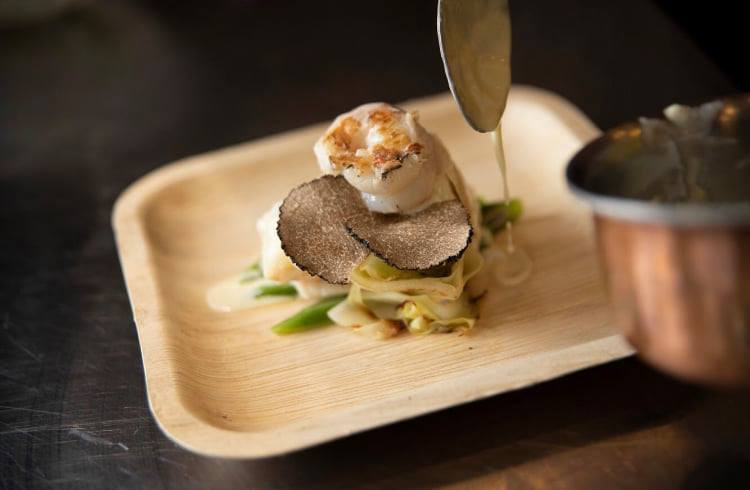 Her suppliers, with whom she has forged long standing relationships, have accompanied her through the transition from Yorke Arms to Paradise. Many of the herbs and vegetables featuring on the menu are grown onsite at Daleside and the plan is to build an increasingly self-sustaining system.
When it comes to staffing, Atkins is an advocate of nurturing new talent in the industry and will be weaving together kitchen and service roles as a form of training. 'The staff here will be learning,' says Atkins. 'They might spend the morning making a vegetable dish under Roger's instruction. Then they will be part of putting it on the plate and giving it to guests. It helps to give a sense of responsibility.'
Atkins is driving decades of experience into this new project. Her first step into the industry was a waitressing job at The Box Tree in Ilkley where she graduated to the kitchen and first cut her teeth. Though her first marriage caused a hiatus in cooking professionally, her career soon blossomed again once the marriage ended.
She talks fondly of her restaurant in Great Missenden, a 20-seater village restaurant (formerly a café) where her second husband, Bill, ran front of house in the evenings. When he wasn't there, a sliding door from the kitchen allowed her to look after both sides at once. 'It was very happy times,' Atkins remembers. 'I was very naïve as far as the business was concerned. But I was so ambitious and so anxious to be like Raymond Blanc. It was a very idealistic time for me.'
From here the couple moved to running The Old Plow, a roadside inn which the 1988 edition of The Good Food Guide marked out as 'one of the finest eating places in the Home Counties'. Much like now her food was described as 'meticulous without being effete'.
34 years later Atkins has life in her yet. Paradise is open six days a week, with a handful of evening services for which booking is strongly recommended. After the Airstream interlude, it's a return to very long hours. Though Atkins has no plans to slow down yet, her thoughts run ahead to when her legacy will be handed onto Roger Olive and John Tullett: 'I'm very committed to the boys,' she says. 'I'm glad I'm able to create something new that, when I'm probably six-feet under, they will be able to continue, and hopefully bring in younger people. It's an ethos.'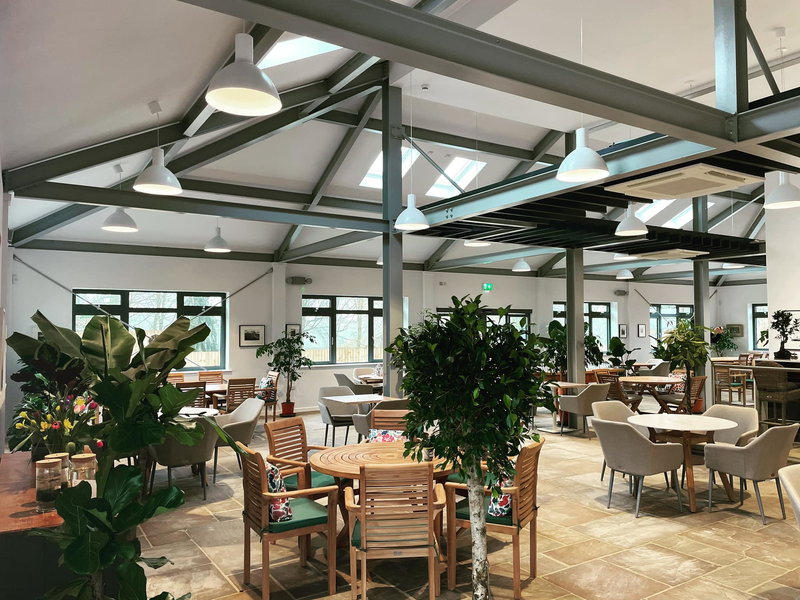 Paradise at Daleside Nurseries
Ripon Road
Killinghall
Harrogate HG3 2AY
paradisewithfrj.co.uk