Burrowes said he is designing the menu now and will put on dishes inspired by his travels around the world. It will be 'very Mayfair and very over the top', he said, 'a really fun space' with 'caviar everywhere'.
He went on: 'There's no set theme. It will just be sexy and delicious. Expect king crab, tacos, sashimi, 'fish and chips with a twist', lobster, scallop ceviche, steaks. I am really over the top so that's what it will be - something really fun and opulent for Mayfair.'
'I think food is a bit too serious at the moment. I don't really think anyone's doing crazy international cuisine, other than dodgy hotel buffets. It will be luxurious, and a bit gimmicky and ready for Instagram, but that's cool with me.'
Burrowes said he is using the same quality suppliers he's always used in London, and despite the outlandish nature of his food, ingredients will be 'of the highest quality'. Cocktails will be a big deal too, 'as I'm not a stranger to a cocktail or two', he added, and he is currently putting a team together.
'I'm being bold with it - it's not a fusion restaurant, it's just a place full of my favourite things to eat. I don't think anything has to be in a box.'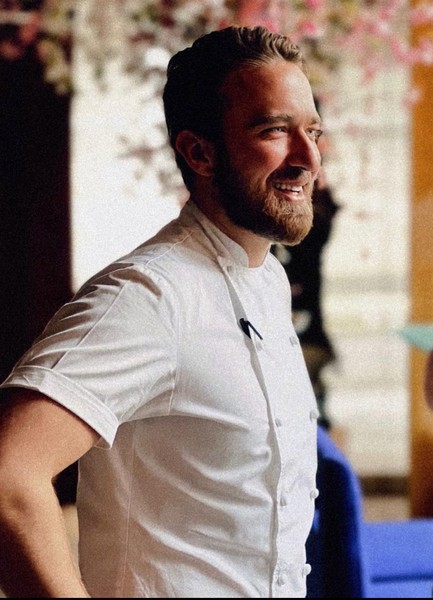 All this is possible thanks to the Cream Group, which has brought Burrowes in as its executive chef. As well as launching his own venture, the chef will oversee the food at each venue, including Restaurant Ours, The Windmill Soho, and will run events at Cirque le Soir, Reighn, and others.
'I'm redesigning the menu at Ours now - it's going live next week,' he told CODE. 'It's a beautiful space and there's so much potential, but the food needed an overhaul. I'm simplifying things and making sure the chefs get things spot on.
'The Cream Group is great - I've been given the licence to be creative. The guys do night clubs really well, they're the best in the game. I think it's fair to say the food across the group could be improved.
'I already feel at home here. I'm looking after some awesome restaurants. Ours is a real vibe - it's an amazing place that deserves better food.'
Ours will relaunch on Wednesday, but there's no date set yet for Burrowes' Mayfair restaurants. It won't be the last new venue he'll be looking after, he added.
'It's good to be a part of the Cream Group. I get on really well with the team. They own crazy night clubs and I'm a bit of a party boy so it's a very good cultural fit.
'The group is huge and wants to get bigger. There are plans to expand, and I'm here to make sure there's the same consistency throughout the brand so that the food is on point.'
Burrowes is looking for staff. Interested? Get in touch via Instagram, or email him on: toby@cream-group.com